"The Lobster," "Swiss Army Man," "Wiener-Dog," "Hunt for the Wilderpeople" and "Captain Fantastic"
LOVE, LONGING AND LOSS: SUMMER'S QUIRKY MOVIES

By Nancy S. Kempf
If you're not into superheroes ("Captain America," "X-Men") and super villains ("Suicide Squad"); if thriller ("Jason Bourne," "Independence Day," "Now You See Me") and sci-fi ("Star Trek") and horror ("The Conjuring," "The Purge") and animation ("Angry Birds," "Teenage Mutant Ninja Turtles," "Ice Age") franchises and franchises-to-be ("Warcraft") aren't your thing; if just plain stupid makes you just plain sick ("Neighbors," "Bad Moms," "Mike & Dave Need Wedding Dates")…
Hidden amidst the dross were some lovely little movies about relationships like Whit Stillman's quick-witted adaptation of Jane Austen's "Love & Friendship"; writer/director Rebecca Miller's "Maggie's Plan" in which Greta Gerwig and Julianne Moore are rivals, then co-conspirators in love; and "Don't Think Twice," Mike Birbiglia's charming tale of a sextet of improv comedians and their abiding familial loyalty amidst life's ups and downs.
A number of quirky little subversive gems also made for a delightful summer. "The Lobster" had only a limited release in March and came into the theaters of middle America at the end of May, making it, by default, a summer movie for those of us not living in New York or LA. Then came "Swiss Army Man," "Wiener-Dog," "Captain Fantastic" and "Hunt for the Wilderpeople."
Colin Farrell and Rachel Weisz in "The Lobster"
THE LOBSTER

Greek director Yorgos Lanthimos made his English-speaking debut with "The Lobster," a black comedy about a dystopian world in which being single is a crime. Any adult person who has become mate-less has 45 days to find a new partner. The newly-single must check into a hotel-like institution, strictly run by a rigid staff, expressly designed to facilitate this process. Guests who fail to achieve paired status are turned into an animal of their choosing.
We follow newly divorced David (Colin Farrell in a superb incarnation of a milquetoast who achieves rebel status) into a world that is eerily strange to us but matter-of-fact to him. He arrives with a dog who had been his brother, and should he fail to become half of a twosome, David has chosen to become a lobster. "An excellent choice," the hotelier says to him flatly. The hotel is run like a summer camp – every minute of the day filled with activity, with demonstrations and expeditions.
An obverse system pertains in the forest that lies beyond the hotel. On forest expeditions, hotel guests are expected to hunt each other with stun guns, apparently to reduce the bother of too many failures for the hotelier/warden. During one such pursuit, David discovers his soulmate among a band of escapees hiding there. Played by Rachel Weisz and known only as Short Sighted Woman in the credits, she is also the film's narrator. The forest people observe a wholly chaste covenant, so it is a tragic turn by the time Short Sighted Woman and David are deeply in love – for which there will be consequences.
Lanthimos wrote the script with Efthymis Filippou, with whom he previously collaborated on "Dogtooth" and "Alps." Writing for rogerebert.com, Sheila O'Malley says, "Lanthimos is interested, here and in his other films, in the sometimes pathological human need for systems. Why wait for a totalitarian government to institute rules from the top-down when human beings submit to atomization of every aspect of their lives all on their own?" This is true, but Lanthimos is doing something more, I think. Perhaps unwittingly, "The Lobster" recalls a classic American novel, Sherwood Anderson's 1919 "Winesburg, Ohio." The book consists of 22 interconnected stories that Anderson introduces with a preface that concerns a writer and the book he purportedly wrote near the end of his life. "It was never published," the narrator says, "but I saw it once and it made an indelible impression on my mind." The book was called "The Book of the Grotesque" and it
"had one central thought that is very strange and has always remained with me. [….]
That in the beginning when the world was young there were a great many thoughts but no such thing as a truth. Man made the truths himself and each truth was a composite of a great many vague thoughts. [….]
"The old man had listed hundreds of the truths in his book. I will not try to tell you of all of them. There was the truth of virginity and the truth of passion, the truth of wealth and of poverty, of thrift and of profligacy, of carelessness and abandon. Hundreds and hundreds were the truths and they were all beautiful.
"And then the people came along. Each as he appeared snatched up one of the truths and some who were quite strong snatched up a dozen of them.

"It was the truths that made the people grotesques. The old man had quite an elaborate theory concerning the matter. It was his notion that the moment one of the people took one of the truths to himself, called it his truth, and tried to live his life by it, he became a grotesque and the truth he embraced became a falsehood."
I think Anderson's concept – or something similar or parallel to it – informs "The Lobster." The regular assemblies the hotel "guests" are required to attend stress the dangers of being single in the world and the safe haven of mating. But they also intimate that one will be successful only with a mate who shares one's defining flaw: Lisping Man (John C. Reilly) needs to find a woman who lisps, Lame Man (Ben Whishaw) a woman who limps. That love becomes manifest in the shared flaw is the innate law that informs the narrative arc of "The Lobster," whether within the walls of the institution or in the forest and the inverted laws of exile.
Through the lens of cinematographer Thimios Bakatakis, the hotel scenes recall a feeling of Hemingway's clean well-lighted place; the forest scenes a somewhat murky atmosphere like a setting from Longfellow's "Evangeline" where, in the forest primeval, "The murmuring pines and the hemlocks,/Bearded with moss, and in garments green, indistinct in the twilight…"; and the excursions into the city have a simultaneous feel of Big Brother patrols and techno-consumerism.
The soundtrack, predominated by classical chamber pieces – from an early Beethoven to Russians Alexander Borodin, Igor Stravinsky and Alfred Schnittke to Benjamin Britten – also includes two haunting early 20th century popular Greek songs by Takis Morakis and by Danae Stratigopoulou about love and loss that are incorporated into poignant visual sequences, as well as Nick Cave's "Where the Wild Roses Grow" loosely based on the Appalachian murder ballad "Down in the Willow Garden."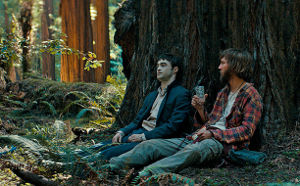 Daniel Radcliffe and Paul Dano in "Swiss Army Man"
SWISS ARMY MAN

The premise of Daniel Scheinert and Daniel Kwan's "Swiss Army Man," which they wrote and directed, is no less absurdist, in part because we are reminded time and again of the realities that attend to the corporeal. We find Hank (Paul Dano) stranded on an island, sick with loneliness, trying to hang himself, when, of a sudden, a fellow soul washes ashore. Our desperate castaway manages to extricate himself from the noose and urgently runs to the aid of the beached man. Alas, it is too late, and grief attaches to Hank with the clutch of an unguis. He tries to let the body go, but his need is too great, so he drags the corpse into his lair and before long has christened him Manny (Daniel Radcliffe).
Both actors excel in what is essentially a two-man performance, but Radcliffe is particularly adept in what would seem to be a close to impossible feat. As Hank becomes gradually more delirious from hunger and sheer exhaustion, Manny becomes more animated (with Hank's help) – and talkative – in Hank's mind's eye. Radcliffe manages to allow us to suspend disbelief and hold the conviction that over the course of three or four days, Manny is beset by the process of rigor mortis, while at the same time becoming a very real friend to Hank.
Again, I can't help but see a literary forebear in "Swiss Army Man," and though, as obvious as the title reference to Johann David Wyss's 1812 "The Swiss Family Robinson" is, I am instead thinking of Samuel Beckett's 1953 play "Waiting for Godot." That absurdist masterpiece opens with Gogo (Estragon) saying to Didi (Vladimir) "Nothing to be done." Yet as the magnum opus unfolds, we come to learn there is much to be done – through kindness, companionship, pity, and the need for grace – all despite the failure of Godot ever to materialize. Indeed in the face of that failure we create our salvation through each other.
There is a passage in the second act of "Godot" where the pompous and exploitative master Pozzo of the first act has been reduced to a pathetic blind man dragged along by his slave Lucky. Gogo and Didi, the two tramps, debate what they should do in response to Pozzo's cries for help until finally Didi says,
"[….] Let us do something, while we have the chance! It is not every day that we are needed. Not indeed that we personally are needed. Others would meet the case equally well, if not better. To all mankind they were addressed, those cries for help still ringing in our ears! But at this place, at this moment of time, all mankind is us, whether we like it or not. Let us make the most of it, before it is too late! Let us represent worthily for once the foul brood to which a cruel fate consigned us! What do you say? (Estragon says nothing.) .... What are we doing here, that is the question. And we are blessed in this, that we happen to know the answer. Yes, in this immense confusion one thing alone is clear. We are waiting for Godot to come—
.... Or for night to fall. We have kept our appointment and that's an end to that. We are not saints, but we have kept our appointment. How many people can boast as much?
"Gogo: Billions."
I quote at length to put those last three lines into context. "We are not saints, but we have kept our appointment. How many people can boast as much?" "Billions." Day after day, millennia after millennia people have given and do give solace and devotion and understanding to each other in whatever way they can in the face of indifferent nature, in its finite mortality and its infinitude.
About two thirds through "Swiss Army Man" is a visual and aural expression of the joy and camaraderie and love that grows out of a devoted relationship – no matter how unlikely the pairing – in which Hank re-creates, out of forest branches and dumped detritus, the bus where he has encountered the stranger-girl he longs for. He play-acts the stranger-girl with an orange mop atop his pate and insists Manny play him, Hank – a doppelgänger inversion that allows Hank finally to express his longings through his double. In this magical scene we see the beauty that transcends the flaws of the human condition. Ultimately Hank is Everyman – his doppelgänger, a corpse named Manny, the condition toward which we are all journeying.
Larkin Seiple's cinematography gives a quality of wonderment to the film overall, with dappled forest floor, dancing firelight and glistening waters. The soundtrack consists of two dozen original pieces by Andy Hull and Robert McDowell of the Atlanta-based indie rock band Manchester Orchestra. Dano collaborated on three of the songs, Radcliffe on four, and Dano and Radcliffe together with the musicians collaborated on five.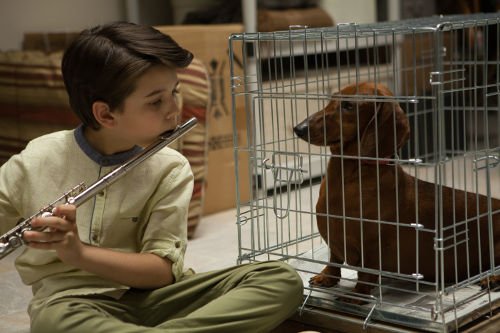 Keaton Nigel Cooke in "Wiener-Dog"
WIENER-DOG

Todd Solondz (1995 "Welcome to the Dollhouse," 1998 "Happiness") wrote and directed "Wiener-Dog," an episodic tale that examines the human conundrum through a dog's-eye view as he is passed from one owner to another. Known for his dissections of suburbia's self-absorbed underbelly, Solondz does not disappoint here. With the exception of a few sympathetic characters – a boy who has just dodged leukemia, a vet assistant (Greta Gerwig) who saves Wiener-Dog from euthanasia, the guy she accompanies on a road trip (Kieran Culkin) who turns out not to be the utter creep we have been introduced to, a sweet Down syndrome couple – the people we meet from the dog's vantage point are self-obsessed, resentful, entitled, undeserving of man's best friend.
The film is bisected by an intermission: a peripatetic sequence evocative of Sergio Leone's Man with No Name in which Wiener-Dog has been green-screened before a montage of various neon-esque landscapes as the soundtrack plays "The Ballad of Weiner-Dog" by Marc Shaiman. The intermission, in addition to reinforcing the episodic nature of the dog's existence, also gives Solondz something of an out in terms of narrative continuity. In Act I, we follow Wiener-Dog from owner to owner, but when we return for Act II, it is not clear how the pup arrived in his new home with an academic film critic (an angst-ridden Danny DeVito proving his enormous thespian range yet again) nor is there a clear transition to his final owner (a bitter Ellen Burstyn proving her enormous thespian range yet again). In this final episode, Solondz takes a detour into magical reverie as the bitter old woman sees incarnations of herself as a girl wondering aloud what her life might have been without resentment and acrimony.
Edward Lachman's cinematography lends grace to the banal settings, and Claude Debussy's "Clair De Lune" creates a melancholy leitmotif as it floats through James Lavino's soundtrack.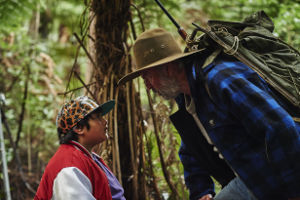 Julian Dennison and Sam Neill in "Hunt for the Wilderpeople"
HUNT FOR THE WILDERPEOPLE

Moving from a perpetually orphaned dachshund to a perpetually orphaned boy, the Kiwi film "Hunt for the Wilderpeople" is Taika Waititi's (Taiki Cohen) film adaption of "Wild Pork and Watercress" (1986) by New Zealand comic novelist Barry Crump. (Waititi co-wrote and -directed with Jemaine Clement last year's uproarious vampire comedy "What We Do in the Shadows.")
This is the end of the line for Ricky (Julian Dennison) who has been thrown out of every foster home into which the system has placed him. He has one last chance before being sent to juvie. He lies, steals, cheats, kicks, burns, hits – and that's not the worst of it, explains social worker Paula (Rachel House). He also composes haiku. Paula delivers Ricky to the childless Bella (Rima Te Wiata) and Hec (Sam Neill). Well, to Bella, really, since Hec would like nothing to do with the boy, but he loves Bella too much to refuse her.
Bella and Hec live in a remote cabin on the edge of the New Zealand bushland, where the first night Ricky determines to run away. He only gets a few meters before petering out. Bella waits for him to awake the next morning and is too good at psychology to fall for his game. Instead, she encourages his escape, but suggests he have a good meal before setting off again. Ricky's hooked – even insisting that he call his new guardians Aunt Bella and Uncle Hec, and, much as Hec hates the idea, it sticks. A few days later, Bella celebrates Ricky's birthday (it's not his birth day, but it is very much a celebration), the first time anyone has ever celebrated anything about Ricky. Only days later, Hec finds Bella on the ground, dead of a heart attack.
Now that Ricky is no longer with a couple, the state sends Hec notice that it will reclaim the boy. This time Ricky runs away for real, and Hec feels obliged to go after him. Ricky and Uncle Hec finally find one another only to discover that law enforcement and the media have concluded that Hec has abducted Ricky. A succession of comic episodes ensues as the fugitives traipse through the bush to elude capture and come, in every sense of the phrase, to one another's rescue.
Lachlan Milne's beautiful cinematography makes the harsh bushland romantic. The wonderful original soundtrack was written, performed and produced by the group Moniker and features the collaborative efforts of Lukasz Buda, Samuel Scott and Conrad Wedde?. Late in the film, Ricky must go for help on his own, and Waititi segues from the Moniker soundtrack to Leonard Cohen's "The Partisan."

"When they poured across the border
I was cautioned to surrender,
this I could not do;
I took my gun and vanished.
I have changed my name so often,
I've lost my wife and children
but I have many friends,
and some of them are with me."
"The Partisan," in turn, segues into Ukrainian composer Mykola Leontovych's 1914 "Carol of the Bells" creating nothing less than a gorgeous sequence that speaks to our need for one another and the existential desolation we experience in the face of isolation.
Ben Cash (Viggo Mortensen) with his brood in "Captain Fantastic"
CAPTAIN FANTASTIC

Matt Ross wrote and directed "Captain Fantastic," the most conventional of our suite of quirky films, but even it turns some conventions on their heads. For example, it varies the old trope of the dying girl by having her die only a few scenes into the film and by having her die by her own hand instead of wasting away from a romanticized disease. She will essentially remain an enigma to us, as we watch her closest intimates grieve.
Viggo Mortensen is Ben Cash. He and the ailing woman, unreconstructed hippies, have been raising their family of six children off the grid somewhere in the wilds of the Pacific Northwest. It is not altogether an idyll. Hard work, filled with rigorous instruction, both physical and intellectual, informs every structured day. Even the youngest children are expected to tackle arduous rock climbing exercises and all are well-schooled in killing game.
Cash has sent their mother to be treated near her parents in New Mexico, and when she dies her overbearing father (Frank Langella) who, it is an understatement to say, wholly objects to the life his daughter and son-in-law have made for their children, mandates that they stay put and not attend the funeral. His haughtiness – and affluence – telegraph why his daughter might have chosen an alternative life, but once the family defiantly arrives, a back and forth begins to suggest that prudence and jeopardy affect both men's points of view and their anger at one another ultimately grows out of their love for those around them.
Cinematographer Stephane Fontaine makes the most of forest verdancy, and the visual enchantment of the film's penultimate scene, which I will not spoil here, is worth the price of admission.
Each of these movies is a variation on the on-the-road convention, which is itself a modern variation of the quest narrative. In "The Lobster," David and Short Sighted Woman come to each other, not through institutions or tribal codes, but through a love that gives them the strength to violate laws. They, Hank and Manny, and Ricky and Uncle Hec sojourn on foot, Weiner-Dog through various conveyances, and Ben Cash and his brood in a dilapidated old school bus outfitted very much like a school. The journey teaches all of them about, not what it means to be human, but what it means to become human. Conventional orthodoxy about what constitutes familial love is turned on its head, and we are all the richer for it.
DVD and streaming release dates for films mentioned in this article:
"The Lobster" available on DVD, Blu-ray, Amazon and Redbox
"Maggie's Plan" available on DVD, Blu-ray, Amazon and Redbox
"Wiener-Dog" available on DVD, Blu-ray and Amazon
"Love & Friendship" available September 6, 2016 on DVD, Amazon, Redbox and Netflix
"Hunt for the Wilderpeople" available September 27, 2016 on DVD
"Swiss Army Man" available October 4, 2016 on DVD, Amazon, Redbox and Netflix
"Captain Fantastic" available October 25, 2016 on DVD, Amazon, Redbox and Netflix
"Don't Think Twice" TBA