On a rainy afternoon Sunday, March 29, the weather outside in midtown Manhattan seemed unfriendly. In contrast, the Hilton Hotel in New York seemed sunny with optimistic entertainment industry professionals from film, stage, television, fashion, concerts and live events who waited in long lines to get into Film, Stage & Showbiz Expo.
The voice specialst coached an attendee at Edge Studio & the Voice Design group booth in Film, Stage & Showbiz Expo on March 29, 2009. Photo by Nadia Kitirath.
This was a bizarre phenomenon, with overflow people standing in long lines to get in. The lines were almost beyond the entrance gate of the hotel. But attendees didn't wait too long because the Expo staff was very organized, and the lines diminished swiftly. People waiting killed time by putting on their make up, reading their scripts and arranging their wardrobes. No doubt most of them were actors; they had a little rehearsa\l time and were preparing to audition. Their rehearsals were a nice prelude to the show inside. This moment was unique and charming to watch.
The exhibition hall was filled by various booths; over 300 exhibitors were displaying computer graphics, visual effects, Web sites and technologies for technical directors, sound engineers and videographers.
Not far from entrance, attendees could stop at Edge Studio & the Voice Design group, where there were long lines for recording and practicing voice overs. The company provided specialists focused on various problem areas. There were simulated recording sessions for announcers, reporters, musical actors and others.
The headshot lane was sponsored by eEmerge Productions, an executive business center, specializing in short-term office and meeting space solutions.
ImAnActor.Com booth at Film, Stage & Showbiz Expo. Photo by Nadia Kitirath.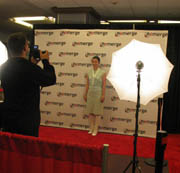 An attendee is photographed by staff of the eEmerge Productions booth at Film, Stage & Showbiz Expo. Photo by Nadia Kitirath.
For actors and actresses, the event provided many consultants for creating an image profile, such as Image Works NYC, ImAnActor.Com, Faces of Tomorrow and Blue Face Photography. The headshot lane was filled with freshly confident actors and actresses who were hopeful that casting directors would notice their pictures. Throughout the day, in the auditions section, there were "get acquainted" auditions with casting directors from Telsey & Company (musical theater, fillm/TV), Binder Casting (Broadway) and Roundabout Theatre Company (a well-known theater producer). Actors made themselves at home on the floor of the waiting area by lying down, sleeping, eating and chatting.
Attendees were seeking showbiz jobs in a bad economy and were looking to the Expo for new hope in their careers. The Expo offered more than 20 industry panels, workshops and focus groups. Topics included the economy's impact on theater and film financing in seminars such as " Show Me the Money: the Independent's Guide to Internet Fundraising and Audience." Other interesting sessions included "Marketing & Advertising Your Production-Marketing is EVERTHING" and "Starting Your Own Business &/or Production Company."
This was a great chance for meeting established people in many fields, including theater, film and television managers, government officials, union executives, directors, cinematographers, designers, make-up artists, prop people and others. In addition, the event was a place for hanging out, trading information and sharing ideas for career advancement. Coffee Distributing Corp even provided free coffee.
It was very clear that this event succeeded in attracting numerous participants who came to pursue their dreams and are always long on passion. However, for me as a reporter, one day was not enough to savor all the information available.