"Katy and Jennifer vs. The Flasher on New Year's"
"Katy and Jennifer vs. The Flasher on New Year's"
Written by Matt Morillo
Directed by Phoebe Leonard-Dettmann
March 16 to April 2, 2023
Theater for the New City, 155 First Avenue, NYC
Reviewed March 16, 2023 by Larry Litt
Katy (Emily Lappi) and Jennifer (Bree Ogaldez) call the cops on a flasher in their hall.
It's New Year's Eve 2002 in New York City. Anxiety, precarity and death are in the air we breathe. This is the new year after the twin tower attack. Survivor's guilt abounds. So does hedonism and anger. Often in the same mind. And the paranoia: is another attack coming. Will I die next? Is there a safe place in the United States? Certainly New York isn't. What to do? Where to go? How to live?
These the questions that 25 year old best friends Katy and Jennifer ask themselves and each other with their every breaths. Sometimes directly often times not in so many words. But the fear and confusion are still there underlying the deep desire to have a good time while they're young and relatively footloose. Perhaps the depth of their confusion and frustration can be relieved by drugs, booze and equally confused young men.
William John Burns as Bobby, the drunk, stoned, angry young fireman.
The women live in a small, cluttered one bedroom, designed by Mark Marcante, that they must uncomfortably share when each brings home a man for a sexual episode. Tonight's man is Bobby, hilariously played by William John Burns, a drunk, stoned, angry young fireman who has PTSD from his days at the WTC attack site. He's brought home by Katy who believes that her roommate Jennifer is out of the house with Scott doing the same things as she. Alas, Jennifer's date didn't come to a happy climax, Jennifer played by Bree Ogaldez telegraphs frustration and anger at Scott for acting like a 'dick.' Somehow Katy interfered with Jennifer's date.
Katy is another case altogether. She's a social dominatrix who wants everyone around her to be happy all the time. Even in these depressing, fearful times. Emily Lappi controls the stage when she decides to help Jennifer get her life back on track by moving to LA. Miss Lappi brings the best out of Jennifer and Bobby. She a catalyst for Matt Morillo's dire times. Emily gives us so many genuine emotions that I wondered if she was going to breakdown and bawl. However she's tough. Just the friend that Jennifer needs.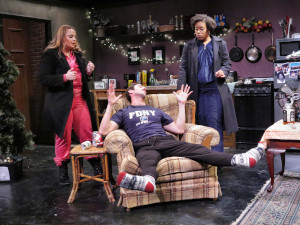 Katy (L) and Jennifer (R) try to rouse Bobby against the flasher who is outside their apartment.
In the midst of this modern life enters a flasher in their apartment building hallway. It's one of the funniest distractions I've ever seen. Director Phoebe Leonard-Dettmann's direction keeps the stage busy and moving at a fast pace. Even the flasher is moving so fast that he appears in real life.
Jennifer (Bree Ogaldez) and Katy (Emily Lappi) spring a trap on the flasher.
This is comedy or dramedy with a touch of slapstick. Matt Morillo always delivers real women struggling to gain control over the world around them. Sometimes they do. By all means get to it. For the truth of those times and for the laughs.