Larry Litt
The Dybbuk

"The Dybbuk"
Written and directed by Julia Pascal
Movement and stage design by Thomas Kampe
Original music by Kyla Greenbaum
A presentation of Theater For The New City's Dream Up Festival
Theater For The New City, 155 First Avenue, NYC
www.dreamupfestival.org
Reviewed August 16, 2010 by Larry Litt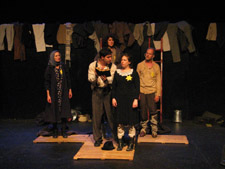 (From l to r) Juliet Dante, Simeon Perlin, Anna Savva (behind), Adi Lerer and Stefan Karsberg in "The Dybbuk." Photo by Cathy Rocher.
I often ask myself, what is Jewish art? Do you know it when you see, hear it? Why is there so little of it? If it's out there, where does it live and flourish?
I don't mean in Hollywood or on commercial television, I mean art that's full of new ideas, thought provoking, not easily classified. Maybe even, dare I say it, for Jews only, in a secular sort of way.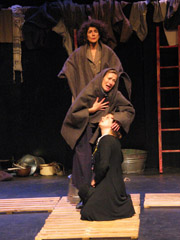 (From the bottom to the top) Adi Lerer, Juliet Dante and Anna Savva in "The Dybbuk." Photo by Cathy Rocher.
The Pascal Theatre Company production of "The Dybbuk" partially answers the "Where is Jewish art?" question. It lives in the Holocaust, the event for Jews that can only be compared to Evangelical Christians' obsession with the Apocalypse. Jews had their European apocalypse in the 1930s and 40s; now we live in the aftermath, The Tribulation. Not exactly the1000 years reign of peace promised in the Book of Revelations.
Pascal's The Dybbuk asks the question, can humans survive with nothing more than stories, mysticism, magic and little hope? This dramatic theater piece with dance and composed sound creates a stage set in a German holding pen for those individuals separated from their families--Jews awaiting deportation and almost certain death. Besides complaining of hunger and filth, the five Jews must do something to occupy their time.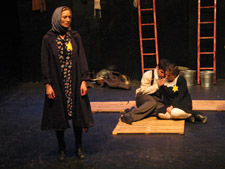 Simeon Perlin in "The Dybbuk." Photo by Cathy Rocher.
Judith/Esther (Juliet Dante) takes the reins, telling and acting out the tale of the dybbuk, a spirit of a dead Jew who hasn't fulfilled his life and now invades the body of a living soul. Two souls in one body makes for a difficult life. How to rid the living of the dead?
Each of the five actors must play several roles as there's a shortage of cast members. Rachel/Leah (Adi Lerer) is on the verge of a mental breakdown, howling in emotional pain. Naomi/Messenger (Anna Savva) opines she is not really Jewish, only half Jewish and doesn't belong with these people. Stefan Karsberg plays five characters-- Jan, Nissan, Menache, Jewish Student and The Rabbi--each of whom is doomed. Simeon Perlin breathes life in the story's holy men: David, Hanan, Nachman and The Rabbi.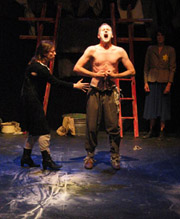 (From l to r) Adi Lerer, Stefan Karsberg and Anna Savva in "The Dybbuk." Photo by Cathy Rocher.
It's a complicated plot with motivations and plot twists worthy of Talmudic scholars. But it's a story they all know and fear, it's their traditional ghost story. Perhaps they too are invaded by dybbuks, perhaps that's why they're where they are.
The moral lesson of The Dybbuk is apparent from the beginning, as Holocaust history is still an open wound for Jews. That Pascal can turn it into a evening of high art with a strong cast is worthy for any audience. It's never maudlin or self pitying, instead this play examines self pity with depth charges.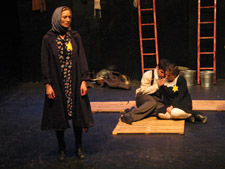 (From l to r) Juliet Dante, Simeon Perlin and Adi Lerer in "The Dybbuk." Photo by Cathy Rocher.
As the storytelling ends, a choreographic, silent retelling of the tale is one of the most striking and haunting moments of theater I've ever seen. I was riveted as the cast created the invasion by the dybbuk, the possession and then the exorcism in movement, sound and lighting that sent chills directly into the heart.
In the end of course we know what happened to the Jews. We still live with the horror, guilt, shame and self hatred because we couldn't stop it. Now we know our enemies and what they're capable of. Knowledge isn't power, storytelling is. The Dybbuk is another way of remembering, a way to keep one's head high when crying.