The Surprise
Written and performed by Martin Dockery
Directed by Jean-Michele Gregory
The Kraine Theater, 85 East 4th St., NY, NY
Part of Frigid Fest 09
Reviewed March 7, 2009 by Larry Litt
What's the difference between family gossip and autobiographical storytelling in a public space? As audience chances are we'll never get to meet the family but the performer, in this case Martin Dockery who tells all, will have to answer to his family for a long time to come. Answer for what? Revealing embarrassing family secrets with wit, humor and an honest sensitivity to relationships that's rare in this genre of the public confession solo performance. It's a form of testifying about sins and desires that makes for great glle of the 'glad that's not me' kind.
Martin Dockery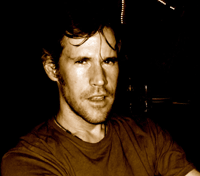 Martin Dockery
Dockery starts by asking a common question: Why is my family so guarded and reticent when it comes to family matters? What do they have to hide? Is there something I should know and don't? Why are they keeping me from the truth? Is it life threatening or just mind numbing? How different are mine from yours?
Answering this conundrum by telling us his family's secret is a fascinating hour of gossip and glamour. First of all, his family is always one step ahead of him. That's because he's trying to figure them out rather than setting the same kinds of unspoken traps. It's a hilarious form of deception, except for the victimized Martin. It's the kind of family that sitcoms are made of. Except they are still real people causing problems for each other. Families are of course an endless source of material and humiliation abounds. But so does insight occasionally. It's good to hear someone else try to figure out why.
The Surprise is ostensibly Dockery's homage to his father's virility and the siblings he's never met in Vietnam. But it's much more. Dockery is a master at weaving his own personal life into his family saga. Travels, girl friends, ecstasies and disappointments are masterfully layered with his own brand of neurotic, self-effacing humor. In this popular theater genre my question always is: can a shared hour of anyone's life story be long enough to tell the whole tale?
Dockery's succeeds in convincing us he's aware of the whole situation. We can assume he goes about his life with a puzzled expression, a curious figure trying to make sense of relationships, seeking beauty and hoping not to create too much panic or pain. His attention to ironic details make us empathize with his ever deepening surprise at how little one can know about the people in one's life. In an hour we know there are people who love and deny, love and hold back, love and frustrate. And that's just the beginning. But Dockery comes out of it, lives to tell the tale, lives on with curiosity about his fellow humans, each with their own stories to tell. He's chosen to do it for them, whether they like it or not is one of the risks.
I'm sure one of the reasons 'The Surprise' is so emotional and theatrical, not just a storytelling event, is the directing talent of Jean-Michele Gregory. She's worked with some of the best of the 'new storytellers' adding her experienced, practiced feel for language, timing and stage presence. I want to see more of this team's work in the future.
Peace and Pleasure,
Larry Litt
Only Vegans Can Save The World