In "Purlie Victorious," Satire and Surrealism Expose Racism's Absurdities
"Purlie Victorious."
Written by Ossie Davis, directed by Kenny Leon.
Music Box Theatre 239 W 45th St, NYC.
https://purlievictorious.com/ Tkts 212-239-6200/ 800-447-7400
100min, no intermission.
Opened Sept 27, 2023.
Reviewed by Lucy Komisar Sept 30, 2023.
Closes Jan 7, 2024.
"Purlie Victorious," playwright-actor Ossie Davis's surreal satire about racism in the Jim Crow South, was first produced in 1961 at the cusp of the new civil rights movement. The Woolworth's lunch counter sit-ins in Greensboro, NC, had just taken place in February 1960.
Davis and his wife Ruby Dee did the star turns as Purlie and Lutiebelle, backed up by Godfrey Cambridge and Alan Alda (Gitlow and Charlie).
Leslie Odom as Purlie.
Photo by Mark J. Franklin.
Six decades later, director Kenny Leon revives this subversive classic at the Music Box Theatre with a stellar cast. Leslie Odom brings infectious zeal and dazzling vocals to the title role. While the play's outdated quirks show its age, perhaps on purpose, Leon employs deft stylistic flourishes to accentuate its enduring themes and make Davis' timely message sing.
The play centers on Purlie (pronounced Pearly, as in the oyster's jewel) Victorious Judson, an idealistic preacher in 1930s Georgia, seeking to reclaim a $500 bequest by a white mistress to a black house servant owed his family. The funds were appropriated by bombastic plantation boss Ol' Cap'n Cotchipee, embodied with buffoonish bluster by Jay O. Sanders.
Leslie Odom as Purlie, Kara Young as Lutiebelle.
Photo by Mark J. Franklin.
Davis grew up in Georgia, and some of the stories mirror real events.
Purlie hatches a clever scheme. He enlists the guileless Lutiebelle Gussie Mae Jenkins, played to hilarious effect by a scene-stealing Kara Young, to impersonate the daughter of Purlie's deceased aunt and demand the inheritance. Young is comically gangly, ill at ease in her costume high heels, having spent her life as she says in white folks' kitchens. She has had the underclass bred into her. Her way out is a marriage proposal. Purlie would be a good prospect. But his proposition to her is "would you be my disciple?" So, a bit of feminism added here.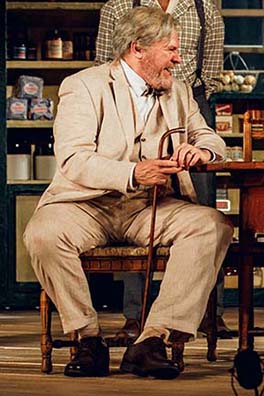 Jay O. Sanders as Cap'n Cotchipee.
Photo by Mark J. Franklin.
Notes about the civil rights movement intrude. The Montgomery Bus boycott happened a few years before. But the blacks in town don't have buses: "We boycott mules."
Some of the Judsons seem to have made an edgy peace with the system. As Purlie's skeptical sister-in-law Missy, Heather Alicia Simms earns laughs while conveying shrewd common sense earned from harsh experience.
On the white side, Charlie Cotchipee (Noah Robbins), the quirky son of Cap'n Cotchipee, unaccountably favors integration. "I didn't think it would do any harm if they went to school together." When he defends civil rights at a bar, he is smashed in the eye. The family maid Idella (Vanessa Bell Calloway) motherly swabs the wound.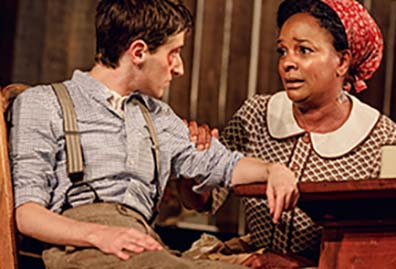 Noah Robbins as Charlie, and Vanessa Bell Calloway as Idella.
Photo by Mark J. Franklin.
Cotchipee, who totes a cane and a bull whip, calls Charlie his semi-Confederate son and asks, "Who's putting integrationist ideas into my boy's head?" Are you trying to get nonviolent with me, boy?" If the commissary he owns has bad food, he tells his son, "Sell it to Negroes." Charlie says, "We're cheating them. How long before they say that's enough or I'll blow your brains out?"
Davis slips in some important economic truths. The colonel says, "You could tamper with the economic foundations of the South."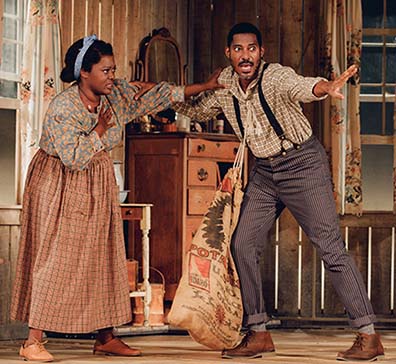 Heather Alicia Simms as Missy and Billy Eugene Jones as her husband, Gitlow.
Photo by Marc J. Franklin.
However the undercover joke is the shrewd Gitlow, Purlie's brother, (a terrific Billy Eugene Jones) who pretends to Otchipee that he is a darkie Uncle Tom, sings "Old Black Joe," and sucks up: "There's still a few of us left!" "You're the boss, boss." Gitlow's minstrel routines underline racism's absurdities.
Otchipee declares, "All my Negroes are happy. To hell with the Supreme Court. I live for the day you sing that spiritual over my grave." Gitlow: "Me too!" Big laugh.
Purlie arranges for Otchipee to get a plaque, "Great White Father of the Year." The proud colonel wants to tell the state's Senator of the honor, and he gives Gitlow $500 to protect him from the NAACP.
Then, events in the plot run amok, and the Captain calls the police when he discovers Lutiebelle is not who she claims to be. But Charlie will be the deus ex machina.
Leslie Odom as Purlie, Kara Young as an elegant Lutiebelle.
Photo by Mark J. Franklin.
A pulpit follows Purlie as a winking symbol of his assumed role as spiritual leader. Odom's clarion voice provides soulful ballast during call-and-response numbers. Charlie has become a member of Purlie's integrated church.
As broad comedy collides with oppression's realities, the play ensures that the haunting trauma of violence and hate resonates beneath the slapstick, showing the clear line from satirical caricature to political commentary.
Visit Lucy's website http://thekomisarscoop.com/