"& Juliet" clever funny feminist rewrite of Shakespeare's star-crossed lovers
"& Juliet."
Book by David West Read, music and lyrics by Max Martin.
Directed by Luke Sheppard, choreographed by Jennifer Weber.
Stephen Sondheim Theatre, 124 West 43rd Street, NYC.
Runtime 2hrs30.
Opened Nov 17, 2022,
Reviewed by Lucy Komisar May 10, 2023.
Closes April 21, 2024.
Don't ban great white male authors, rewrite them! What would happen if a feminist Anne Hathaway did a revision of husband Will Shakespeare's "Romeo and Juliet"? Where Juliet and other female characters in the story turn out to have agency? It's a musical delight (book by David West Read, music and lyrics by Max Martin), even for someone who is not a fan of pop rock. Match that with bravura performances by Lorna Courtney in a star-turn as Juliet and Betsy Wolfe as a tough, appealing Anne, add smashing R&B and rock dancing. I loved it.
Stark Sands as Shakespeare and Betsy Wolfe as Anne Hathoway, photo Matthew Murphy.
This contemporary version takes place in Shoreditch, on the outskirts of London where one of the first English theaters built for that purpose opened in 1576. It's where Shakespeare honed his skills as a great playwright and actor, where one of the plays staged was "Romeo and Juliet."
But the play was problematic for women. Anne asks Will (Stark Sands), "Are you strong enough a man to write a stronger woman?"
Lorna Courtney as Juliet at Romeo's tomb, photo Matthew Murphy.
In Anne's proposed rewrite, Romeo can die, but Juliet wakes up, sits at his tomb and moves on. And, by the way, Romeo had other lovers who come to view the tomb. Juliet is ready for adventure. Where does a young English girl go? To Paris, of course. At the Renaissance Ball, she hangs on a chandelier above terrific glitzy choreography (by Jennifer Weber).
Romeo of course arrives, played by the very Italian looking Daniel J. Maldonado (the understudy) who could be anyone's favorite crooner. Juliet is not impressed: "I killed myself for you!"
Anne continues to argue with Will about the play; to make a point, she breaks his quill.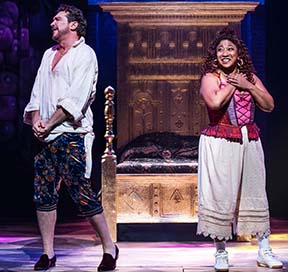 Paulo Szot as Lance and Melanie La Barrie as Angelique, photo Matthew Murphy.
Meanwhile, a widower Frenchman Lance, (Paolo Szot, with a great operatic voice), has fallen for his old love, Angélique (Melanie La Barrie), Juliet's nurse, who turns out to be more sensual than her job had allowed her to express.
The Paris party at the DuBois Castle features the silvery glittery DuBois Band (pronounced almost like the boys' band), a good backup to Courtney's fine bluesy jazzy sound.
In fact, the whole play is back-up to Courtney's smashing vocals of numbers made famous by Britney Spears ("Baby One More Time"), Katy Perry ("I Kissed a Girl"), Taylor Swift ("We Are Never Ever Getting Back Together"). They are among "Max Martin's Hot 100" listed in the Playbill.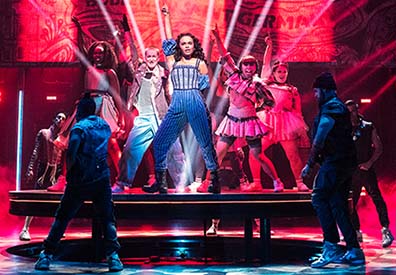 Lorna Courtney as Juliet and the cast, photo Matthew Murphy.
Most important, the dialogue is funny and smart.
This is not a jukebox musical. Director Luke Sheppard stages the play to underline the cleverness and avoid hokey. At the ball she is curating in Paris, Anne declares, "Okay, everyone, there's wine on the terrace… so help yourself to some baguettes, and some croissants, and some French… onion soup. (To herself) I don't know what French people eat…"
Juliet is just getting up to speed: "I got the eye of the tiger, a fighter dancing through the fire/ 'Cause I am the champion, and you're gonna hear me roar."
Will doesn't like this, what happed to his plot? "Okay, I think we've heard just about enough from this one—"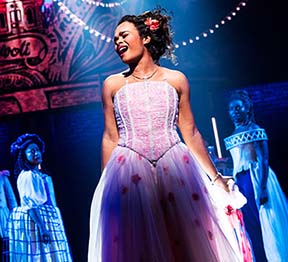 Lorna Courtney as Juliet, photo Matthew Murphy.
Juliet: "Hey! I'm not done! You're gonna hear me roar," beautifully reprising Helen Reddy's "I am Woman, hear me roar" feminist anthem of 50 years ago.
Anne wanted Juliet to take control over her life, to make choices where she'd had none before. It's terrific revisionist Shakespeare. A joyous, lively, full-of-talent production by Sheppard. Waiting for Anne and Read to revise "The Taming of the Shrew."
Visit Lucy's website http://thekomisarscoop.com/