"Bad Cinderella" is a lively musical antidote to the British royals' fake meme.
"Bad Cinderella"
Imperial Theatre, 249 W. 45th St., NYC.
Story and book by Emerald Fennell, lyrics by David Zippel. Directed by Laurence Connor, choreographed by Joann M. Hunter.
https://badcinderellabroadway.com/ Runtime 2:20.
Opened March 23, 2023.
Reviewed by Lucy Komisar March 25, 2023.
Open run.
Linedy Genao as Cinderella, photo Matthew Murphy and Evan Zimmerman.
"Bad Cinderella" is entertaining and fast-paced, a lot like Andrew Lloyd Weber's other musicals. It's camp, which is what ALW does best. And it has terrific politics! In a subtle way, it's about the UK. Brits will get this more than Americans. Just think British royals. Director Laurence Connor runs the story smoothly as some typical pop musical production and then slyly inserts the politics. With witty lyrics by David Zippel. Not one of the musical greats, but I liked it.
The idea is good, a take-down of the beauty industry, but that is not seriously approached. Cinderella is set up as a tough anti-beauty industry dame, but her glamorous dress-up for the ball is just what she says she opposes. The boys with bulging muscles and abs make another argument.
Jordan Dobson as Prince Sebastian and Grace McLean as the Queen, photo Matthew Murphy and Evan Zimmerman.
Then, there's also a little warmongering machismo. War as sex. The setting is French, but the back story is British, and here maybe American. Belleville means beautiful city.
Belleville's in distress,
worrying the crown!
War could cheer us up!
Burn a village down!
Spoiling for a fight!
Never be a wimp!
Thrust your sword with pride!
Don't let it grow limp!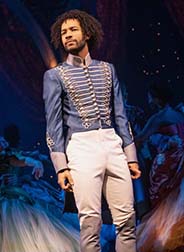 Jordan Dobson as Prince Sebastian, photo Matthew Murphy and Evan Zimmerman.
The Queen (a dominating Grace McLean): We are in real trouble boys. You saw what they did to Charming's statue. It seems that revolution is in….This is how uprisings begin. First, it's an "artistic display," then it's anarchy. (She shudders at the thought.) We all remember what happened to the royal family in Beuxvallet. I can't lose my head. Where would all my hats go? What we need is to secure the line of succession."
Her younger son Sebastian (a sweet, unassuming Jordan Dobson): "Meaning?"
Queen: "It's time to take a bride."
Sebastian: "How is this supposed to stop a revolution?"
Queen: "Well, it's a distraction, isn't it? Everyone loves a Royal Wedding!"
Get it? The British royals joke probably went over better in London.
Sebastian: "But mother. What about love?"
Everyone looks mortified.
Queen: "Love? Darling, love is for peasants. I despised your father, and it was the happiest marriage in the Kingdom! …My son. This is what we do. And if you insist on marrying for love, then let it be for love of money and power." (Reprise British royals joke.)
Meanwhile, the young women sing, "Beauty is our duty. Cellulite is bad. The Queen she can't frown." Means she had a facelift.
Grace McLean as the Queen and Carolee Carmello as the Stepmother, photo Matthew Murphy and Evan Zimmerman.
Prince Sebastian is a nebbish. He likes Cinderella (an assertive Linedy Genao with a sweet full voice). He thinks, "If I kissed Cinderella, she might blacken my eyes! On this earth there's no one like her… And I like her."
Planning the ball, the Queen asks the MC (Ben Lanham), "how many swans?" He replies, "Your Majesty… we're making economies, remember?"
The Queen: "I have made economies. I closed down the hospital! And the orphanage." This is Britain!
A singular moment when the Queen and Stepmother (a terrific Carolee Carmello) attack each other with "I know who you are!"
Morgan Higgins and Sami Gayle as the stepsisters, photo Matthew Murphy and Evan Zimmerman.
Stepmother, "I recognize your majesty from days gone by."
Queen: "The small château where I grew up? Perhaps Versailles?"
Stepmother: "That tawdry inn, in the Pigale." Pigalle is fabled as a red-light district in Paris. Now has a great sex museum. But I digress.
Riposte. Queen: "I vaguely see you dancing with a sweaty man."
Stepmother: "You're thinking of the Ballets russes, where I began."
Queen: "But with a rose and with a fan! I know who you are."
However, her daughters are not thrilled with Sebastian. "He's a loser." She reminds them, "You don't have to look at the champagne bottle when you're popping the cork."
Christina Acosta Robinson as the Godmother, photo Matthew Murphy and Evan Zimmerman.
Meanwhile, Cinderella decides to go to the ball and, horrors, she succumbs to all the Belleville beauty rules. Though this is not pointed out.
"I want to be hot," she tells the Godmother (a terrific Christina Acosta Robinson). Godmother explains "Beauty equals pain." But Cinderella wants "a lotta flash and some glitz, with just a smidgeon of taste."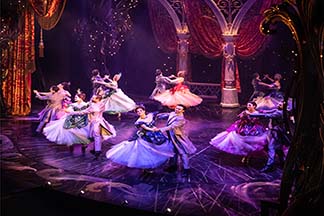 Dancing at the ball, photo Matthew Murphy and Evan Zimmerman.
t the ball, royal music is a foot-tapping march. Then some nice ballet. And throughout good jagged twisting rock dancing. I liked the shows' choreography by JoAnn M. Hunter.
Sebastian isn't happy: "I feel like I'm the fav'rite dish at a buffet, an item on the clearance rack and on display….. And she isn't here. Meanwhile, bimbos are beckoning."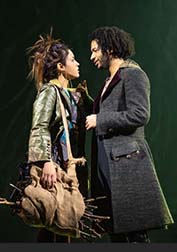 Linedy Genao as Cinderella and Jordan Dobson as Prince Sebastian, photo Matthew Murphy and Evan Zimmerman.
Cinderella's step-sisters don't know about sisterhood, one will undermine the other. A hero, if you could call him that, is the muscle-bound Prince Charming, (Cameron Loyal) who arrives to save his brother from a loveless marriage. "I'm a man's man," he declares. And flicks his pecs. To complete the woke character, his lover is a guy.
Cinderella is leaving town and Sebastian wants to go with her. She says, "You'll still have to pay your own way. And wash your own socks." So, a little hokey, but you get the idea. Great that they don't end up like Charles and Camilla! Maybe that was the point. (I love Zippel's lyrics!)
Visit Lucy's website http://thekomisarscoop.com/