Amy Herzog's take on Ibsen's "A Doll's House" about class as well as women
"A Doll's House."
Written by Henrik Ibsen, adapted by Amy Herzog, directed by Jamie Lloyd.
Hudson Theatre, 141 West 44th Street, New York City.
(855) 801-5876.
https://www.thehudsonbroadway.com/events/a-dolls-house/Runtime 105 minutes, no intermission.
Opened March 9, 2023.
Reviewed by Lucy Komisar March 17, 2023.
closes June 10, 2023.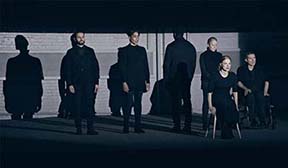 Arian Moayed as Torvald, Jesmille Darbouze as Kristine, Okieriete Onaodowan as Krogstad, Tasha Lawrence as Anne-Marie, Jessica Chastain as Nora, Michael Patrick Thornton as Dr Rank, photo Emilio Madrid.
In a curious way, Jamie Lloyd's powerful production of Henrik Ibsen's "A Doll's House," stark, with black-clad actors sitting on white spindle chairs or standing ranged across the back, seems more real than if it had a traditional set, with 19th-century furnishings matching the 1879 story date. (In fact, "1879" displayed on the backdrop is the most prominent part of the "set.")
This is because there is nothing to grab your attention except the speaking and expressions of the characters, no peak at a nice credenza or colorful glass lamp. The gray backdrop wall has a strip of what may be windows covered with screens. Amy Herzog's adaptation turns the lines into modern speech, which reduces any barrier to fluid comprehension.
Jessica Chastain as Nora Helmer.
Jessica Chastain as Nora is almost a furnishing or art object herself, set on a white spindle chair in her black dress and red hair, slightly leaning back as a turntable moves her in an oval around the stage. Chastain is fighting to get free from Nora's dutiful wife.
When her husband Torvald (Arian Moayed as the perfect male supremacy artifact) refers to her repeatedly as "a little bird," you think it is silly, but then notice how much she is like a bird. He says, "Nora you're still a child." Sometimes she pushes back with a glimmer of consciousness: "Don't be condescending."
Torvald thinks of himself as the serious one and the strength of the family. He's a lawyer and now finally has been promoted to manager at a bank, giving him security and money. Moayed plays him as oblivious to the world of which he considers himself the center. Nora is part of the scenery, a plaything to amuse when desired.
He doesn't know that when he was very ill, to get the money to take them to Italy and save his life, Nora did needlework, borrowed from Nils Krogstad (a very morose Okieriete Onaodowan), a lawyer who worked at the bank and, she says, from her father.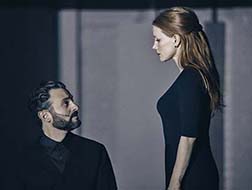 Arian Moayed as Torvald Helmer and Jessica Chastain as wife Nora.
Nora and Torvald have been married for eight years, but have so little communication and he is so domineering, that she can't bring herself to tell him of the loans.
The play is about class as well as gender. Three years ago, when her husband died, Kristine (Jesmille Darbouze) left the city to go to the family home where an ill mother lived with her two brothers. She's not the only financially strapped woman who sacrificed. Nora naïvely asks nurse Anne-Marie (Tasha Lawrence), "How could you give your children to strangers." The nurse says she was lucky to get a job after the children's father took off.
Now Kristine is back and needs work. Nora has asked Torvald to give her a job. He fires Krogstad and hires Kristine in his place. Krogstad's personal scandal is that years ago he forged a signature. Torvald says, "His lies contaminate the home."
Okieriete Onaodowan as Nils Krogstad and Jessica Chastain as Nora Helmer, photo Emilio Madrid.
The irony is that when her father died, Nora forged his name on a bond and back-dated the signature. That is the "loan" she refers to. But Kristine says, "…you couldn't borrow it! A woman needs her husband's consent." Krogstad knows the back story and tells Nora, "If I'm thrown back into the dirt, you're coming with me." Now blackmail is added to the drama.
The story is famous, so one can't give away the ending. When Nora finally admits all to Torvald, he screams curses. And suddenly, as if the verbal slap has awakened her, she is liberated. She declares, "I was your doll wife…I'm a human being. There's no "door" to "slam" in this production, but the words do it. And Chastain's acting, which draws you in till you are rooting for her feminist consciousness to prevail. It does, and she does.
Visit Lucy's website http://thekomisarscoop.com/