"Becomes a Woman," a fine 1930 feminist play with a modern message
"Becomes a Woman"
Written by Betty Smith, directed by Britt Berke.
Mint Theater Company at NY City Center, 131 West 55th Street, NYC. https://minttheater.org/production/becomes-a-woman/
Tkts https://www.nycitycenter.org/pdps/2022-2023/becomes-a-woman/ or 212-581-1212.
Opened Feb 27, 2023.
Reviewed by Lucy Komisar Feb 25, 2023.
Closes March 18, 2023.
Playwright Betty Smith
Betty Smith is famous for her 1943 novel, A Tree Grows in Brooklyn, but before that, she was a playwright. Her 1930 work "Becomes a Woman" is about class and sexism. It has a bit too much soap opera for today's tastes (except as a soap opera!), but is fascinating as a look back at a feminist view of the 1920s. Remember, this was not long after women got the 1920 ratification of the 19th amendment for the vote.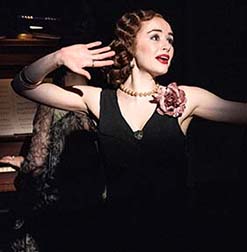 Emma Pfitzer Price as Francie Nolan, photo Todd Cerveris.
Smith was born in 1896 in Williamsburg, Brooklyn. Most of her work was put on at universities and noncommercial theater in the 1920s and 30s, till 1936, when she joined the Federal Theatre Project. This, penned in her early thirties, shows a woman of great talent.
"Becomes a Woman" tells how Francie Nolan (Emma Pfitzer Price), timid at 19, takes her life in hand. She has been hit on by male patrons and the boss at the sheet music department of the dime store where she sings. Price is delightful doing songs of the time. She is also excellent in the role.
Francie puts up at home with a father who dominates his wife, sons and her. Smith's dialogue is sharp and cuts to the essence of women's dilemma.
Peterson Townsend as Leonard Kress Jr. and Emma Pfitzer Price as Francie Nolan, photo Todd Cerveris.
Francie says, "I want a man to decide he likes me before he goes out with me," and she rejects all suitors. But then Leonard Kress Jr. (a suave Peterson Townsend), the son of the store owner, comes along and charms her.
The next two acts, under Britt Berke's smooth realistic direction, are less hokey. It's three months later, and she has invited Leonard to her home. Living and dining rooms are full of packing crates and wet laundry, and she is embarrassed about receiving him in the kitchen. Ma Nolan (a very good Antoinette LaVecchia), tells her, "We can't help what we are. All the people we know are like us."
Jeb Brown as Pa Nolan and Antoinette LaVecchia as Ma Nolan, photo Todd Cerveris.
The plot has some clever twists. Her father (Jeb Brown), an Irish cop, is blustery, exaggerated, perfectly drawn by Brown. After Leonard arrives, Pa Nolan, bragging how important he is, tells of raiding a brothel and finding an important editor there. "He pleaded with me to let him go. He spoke of his position and his family. So finally, I sneaked him out the back way and told him to beat it home. "
He tells how he went to the office of the man, who said, "Mike if ever I could do anything for you… "Supposing I got hold of some inside facts concerning a prominent man that I didn't happen to like. Now would you publish those facts on the front sheet of your paper? "And he says, "I sure would…. that's the kind of influence I got."
Emma Pfitzer Price as Francie Nolan and Antoinette LaVecchia as Ma Nolan, photo Todd Cerveris.
At this point Francie cuts off his blather with the revelation that she and Leonard are going to get married, very soon. Father asks how much he earns. She explains his father owns the Kress stores. Meanwhile, Leonard is no longer thrilled with the prospect of these in-laws. He suddenly has to go. As Francie is distraught, Ma Nolan figures it out. "Do you have to get married?" So, this was the 20s.
First her father slaps her and calls her a slut. But Smith does a clever turn. Pa Nolan declares, "The editor of that tabloid newspaper I was telling you about will be glad to put that in his paper. "Son of rich store owner refuses to marry father's store girl. Says marriage is impossible. Girl to sue."
The rest is equally clever. It goes to a year later. Phillip Taratula exudes sleaze as a blowhard agent who wants to book Francie in Catlin's Cabaret – if she is billed as Mrs. Kress. More money if she wears a scanty outfit.
Duane Boutte as Leonard Kress Sr and Emma Pfitzer Price as Francie Nolan, photo Todd Cerveris.
There are interactions with Leonard and with his father. But Francie has become a woman and can't be manipulated by any of them. Clearly a feminist now, she declares, "Must whether men want me or not be the only reason for my happiness or unhappiness?" Remember, this was written nearly a century ago.
Gina Daniels is warm and persuasive as the older, wiser store colleague, Tessie, who helps Francie out. Pearl Rhein plays a fine 1920s piano as Florry and has a certain panache, though I thought her Brooklyn accent too heavy.
The story would have reverberated with woman in the audience. Maybe for that reason, it wasn't produced.
Smith is a too-little known as a playwright of the first wave of feminism. This production should help begin to change that.
Visit Lucy's website http://thekomisarscoop.com/