"Kimberly Akimbo" is revival about an aging girl; play didn't age so well.
"Kimberly Akimbo"
Based on the play by David Lindsay-Abaire.
Book & lyrics by David Lindsay-Abaire. Music by Jeanine Tesori.
Directed by Jessica Stone.
Choreographed by Danny Mefford.
Booth Theatre, 222 W 45th St, NYC.
https://kimberlyakimbothemusical.com/ 212-239-6200. Runtime 2:25.
Opened Nov 10, 2022.
Reviewed by Lucy Komisar Nov 15, 2022.
Runs 2:25. Open run.

Nina White, Michael Iskander, Fernell Hogan, and Olivia Hardy. Photo by Joan Marcus.
I saw David Lindsay-Abaire's comedy in 2001. It was clever and funny, as his works tend to be. About a girl who has a disease that ages her very fast so while in high school she looks like she's 72. What a difference a couple of decades makes. Now it's a musical, with Lindsay-Abaire doing lyrics and Jeanine Tesori the music. And more school kids have been added.
So instead of a play about adults, it's now about high school. It's lost a lot in the translation. The opening, "It's Saturday night in Bergen County. There are parties everywhere, but we never get invited."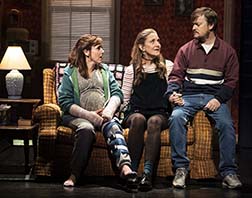 Alli Mauzey as the mother, Victoria Clark as Kim, and Steven Boyer as the father, photo Joan Marcus.
Aside from younger, most of the characters are dysfunctional. Kids that don't fit in at Skater Planet. A father who is drunk most of the time. A mother with carpel tunnel hands, from working in a factory: "I should sue!" Her more than dysfunctional sister Patty.
In the midst of all that, Kimberly's wish is "I wanna be a model for a day, /a famous fashion muse, /in a black Dior cocktail dress /and a pair of Jimmy Choos."
Good to know that even if Kimberly's body is 70s, her mind has not grown up. Victoria Clark, however, is in forever fine singing voice as Kimberly. Most of the others are screechy.
Her best friend is Seth (Justin Cooley) who brings some sanity to the mix. And some smarts with anagrams.
The dregs are represented by Aunt Debra (Bonnie Milligan) who is vulgar and fat. And often in jail. She drags in an entire mailbox to filch letters for a check forgery. At one point she dons a pig mask.
Victoria Clark as Kim and Justin Cooley as Seth, photo Joan Marcus.
And by father Buddy (Steven Boyer) a horrific sexist controlling alcoholic.
The kids know that Kim's life expectancy is 16 and talk about it. Most of the adolescents nurse bruised egos. They seem to think check cashing larceny is ok.
The music is pop country rock which fits the age group.
There once was an interesting story to this play, even something about the idea of getting older, but that got lost 20 years ago.
Visit Lucy's website http://thekomisarscoop.com/