"Mr. Saturday Night" 30 years later is a mixed take on a sexist (for his time) comic; the women are smarter.
"Mr. Saturday Night."
Book by Billy Crystal, Lowell Ganz & Babaloo Mandel. Director John Rando.
Music by Jason Robert Brown, Lyrics by Amanda Green. Choreographer Ellenore Scott.
Nederlander Theater, 208 W 41st St, NYC.
https://mrsaturdaynightonbroadway.com/ Runtime 2hrs35.
Opened April 27, 2022.
Reviewed by Lucy Komisar May 12, 2022.
Closes Sept 4, 2022.
Billy Crystal as Buddy Young, photo Matthew Murphy
Billy Crystal's story, book by Crystal, Lowell Ganz and Babaloo Mandel, based on the 1992 film, requires you to believe that Buddy Young, a washed-up comic got a new start when an Emmy's broadcast mixed up names and announced he had died and the Today Show invited him on to show it wasn't true. Maybe this worked 30 years ago. Now the book is silly, often crude, a bit vulgar, a bit TV, with jokes as dated as the Borscht belt routines he started out with.
"You want left-over meat loaf?" Reply: "And heat up some of the antidote."
Waiter at table: "Is anything ok?"
His brother is flying New York to Florida via Denver to save $10. Buddy says, "Call me next week when you land."
It's embarrassing when he asks the audience to make Jewish scat sounds, and the audience complies.
Chasten Harmon as Annie Wells, photo Matthew Murphy.
Director John Rando is one of my favorite sophisticated comedy guys, but I don't see his touch here.
But there are good parts. I liked the musical numbers. Music by Jason Robert Brown, lyrics by Amanda Green.
A terrific segment is built around Annie Wells (Chasten Harmon) a young agent who handles comedians and doesn't know the history of such greats as Phil Silvers, Gene Wilder, Groucho Marx, Martin and Lewis, Lucille Ball, which she will learn about through photographs in lit frames on the dark wood walls of the Friars Club – a private club for entertaines. "Timing" is a terrific musical number about these comedy classics. It's a classic itself and should be done any place actors study comedy. Harmon is a charmer with a good voice.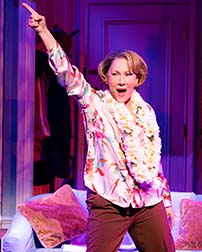 Randy Graff as Elaine Young, photo Matthew Murphy.
Randy Graff is fine as wife Elaine, who marries Buddy because she has a desire for adventure. A lesson to women who tie their futures to men. I liked her "Tahiti," the dream about what she'd really like to do.
Another female who suffered was his daughter Susan (Shoshana Bean), an object of his nastiness. Bean does well all the way to the high notes.
This is getting to be a feminist take on a nasty guy!
But he is misanthropic all around. He destroys himself by getting furious at anyone powerful, including directors. He disses a CBS exec and a film director who could help him.
He is good when he understands that in If I could learn to be like "Any Man But Me." Maybe he will. Stick Around" Susie is schmaltzy, but a good finish.
Billy Crystal as Buddy Young and Shoshana Bean as Susan Young, photo Matthew Murphy.
BTW, only the eagle-eyed will notice that scenic designer Scott Pask has put three (3, count 'em) locks on the front door of the Youngs' New York City apartment!
Visit Lucy's website http://thekomisarscoop.com/