Shakespeare's Richard III meets a woke director; the killer king loses.
Richard III.
Written by William Shakespeare, directed by Robert O'Hara.
Public Theater – Delacorte Theater, 81 Central Park West.
212-967-7555. http://publictheater.org/ Runtime 2:40.
Opened June 21, 2022.
Reviewed by Lucy Komisar July 16, 2022.
Closed July 17, 2022.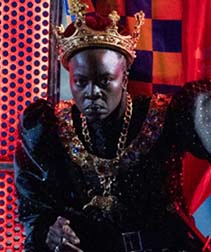 Danai Gurira as Richard III, photo Joan Marcus.
Richard III, the evil scheming murderous soon to be king of England after he murders the competition, was obsessed with his deformity, now believed to be a disease of the spine, which has been portrayed in Shakespeare's play over the centuries as a hump or a withered arm. In the vision of director Robert O'Hara, that essential part of the play is turned on its head. Richard, portrayed by the fiery Danai Gurira, is damaged only in his mind, his ethic, his soul. When he speaks lines about his infirmity, it makes no sense.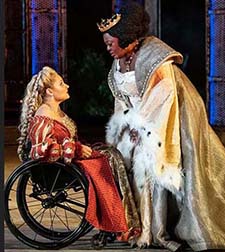 Ali Stroker as Queen Anne and Alicia Simms as Queen Elizabeth, photo Joan Marcus.
Still, after I realized this was Shakespeare as action hero writer, I loved watching Gurira transform Richard into a menacing evil tough guy. Whenever she comes on stage, you see the sparks fly, the sound level spike, you want to take cover. Her black leather gender is irrelevant. What matters is the acting. When she speaks, or shouts, you feel shivers. Richard as reimagined by cable TV.
After ignoring Richard's disability, O'Hara turns the play around by casting disabled actors as key characters. Laudable as it is to give jobs to disabled actors, in some cases their acting did not sustain the concept. Ali Stroker in a wheelchair was brilliant as Ado Annie in "Oklahoma." She is flat as Queen Anne. Also disappointing was Heather Alicia Simms, who appeared to be cast as Queen Elizabeth because she is fat.
Ali Stroker as Queen Anne, Michael Potts as Lord Stanley, Danai Gurira as Richard, Sanjit De Silva as Buckingham and Xavier Pacheco, photo Joan Marcus.
Monique Holt, who is deaf, was Duchess of York, Richard's mother. She might as well have emailed her role. She stood signing while someone else spoke lines. Was the duchess deaf? Not that we know. The play ground to a halt.
Maybe minor, Sharon Washington was fine as Queen Margaret, but why did this grandmother have jet black hair? Hair dye in medieval times? Is this a stand against agism?
The cast amidst the Gothic arches, photo Joan Marcus.
My favorites, Sanjit de Silva as Buckingham, every inch the nobleman, Ariel Shafer as Lord Hastings the same. When the actors persuade you they are who they are, you know they are doing the roles. The problem is that a lot of the woke hires were not. Director O'Hara should just have had actors parade around at intermission with inclusivity signs and not deform Shakespeare's play.

Visit Lucy's website http://thekomisarscoop.com/