"Paradise Square," with stunning dancing & song, shows Irish whites and freed blacks together in 1863 New York.
"Paradise Square."
Written by Christina Anderson, Craig Lucas and Larry Kirwan, directed by Moisés Kaufman.
Ethel Barrymore Theatre, 243 W. 47th St. NYC.
https://www.paradisesquaremusical.com/ 212-239-6200, Runtime 2:40.
Opened April 3, 2022.
Reviewed by Lucy Komisar May 5, 2022.
Closing July 17, 2022
Larry Kirwan's "Paradise Square" is a smart, entertaining, serious, important musical about a real time in America, a look at the role of capitalism in slavery, whites and blacks running the underground railroad, and how capitalists divided them. Director Moises Kaufman knows how to make a show suffused with music into a riveting dramatic play.
Joaquina Kalukango as Nelly O'Brien and Matt Bogart as Willie O'Brien, photo Kevin Berne.
In 1863, what is now Chatham Square in New York's Chinatown, at the time of the Civil War, Five Points was a run-down area marked with bars and prostitutes. One of the bars, the Paradise Square saloon, was run by Nelly (Joaquina Kalulango), a black free woman married to Willie O'Brien (Matt Bogart), an Irish immigrant. Kalulango dominates the show with a powerful presence and voice. Bogart and the rest of the cast are also excellent.
The juxtaposition of those who came to America seeking better lives and those transported as slaves to miserable ones is the underlying theme. They can live together. Nelly's sister Annie (Chilina Kennedy) is also in an interracial marriage, to Rev. Samuel Jacob Lewis (Nathaniel Stampley), who is a stationmaster on the underground railroad.
John Dossett as Frederic Tiggens, with Ben Michael, Josh Davis, photo Kevin Berne.
Political party boss Frederic Tiggens (John Dossett) represents the bad guys. The war has disrupted the cotton business. A businessman complains, "We lose money in the South and political power here in New York."
Tiggens sets out the problem: "With the coloreds and the Irish united around the ballot it's only a matter of time before they unite to fight for higher wages. No businessman in New York can survive such calamity. And what's at the center of it all?" The saloon. He'll figure a way to break that alliance.
I'd have liked to see a lot more of that political theme, because there was indeed a successful movement to weaponize Irish workers against blacks. Instead, the play focuses on the personal stories.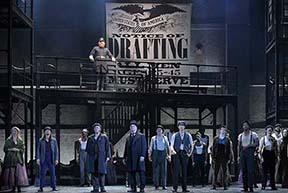 Kevin Dennis as Mike, John Dossett as Tiggens (5th and 6th from left), A.J. Shively as Owen Duignan (6th from right) and Ensemble, photo Kevin Berne.
The divisions first happen without Tiggens' intervention. The draft board declares that all white men are drafted unless they pay $300 or hire a substitute. And there are work conflicts
The most dramatic moment comes with the arrival of the escaped slave, Jonah, who takes the name Washington Henry (Sidney DuPont). He reaches the saloon on the underground RR but won't leave for the next safe place until his girlfriend Angelina (Gabrielle McClinton) arrives.
His presence is revealed by a hapless white pianist Milton Moore aka Stephen Foster (Jacob Fishel), who had been playing at the saloon.
Sidney DuPont as Washington Henry, A.J. Shively as Owen Duignan photo Kevin Berne.
Through it all is Bill T. Jones' magical choreography, there's a dance of slave workers bent over and the traditional Irish whites' step dancing and blacks' tap and jazz leaps. And a bluesy sound.
But we see the war driving divisions. Nelly also does step dancing. And fighting for the north is the 69th , the first all Irish regiment in the country. But the dance is used to set up a competition for the $300 the Irish immigrant Owen Duignan (A.J.Shively) needs to buy his way out of the draft. It's more than a year's wage. An Irish Longshoreman says, "This is a rich man's war that the poor and immigrant will have to fight." And escaped slave Washington Henry also wants the cash for a new life.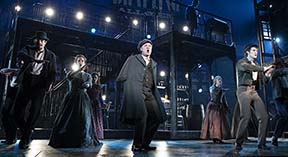 At front, Kevin Dennis as 'Lucky' Mike Quinlan, A.J. Shively as Owen Duignan and company in Paradise Square, photo Julieta Cervantes.
Highlighting that conflict, Mike (Kevin Dennis), who loses an arm in the war, comes back without a job and resents the blacks working. Tiggens tells him, "It'll only get worse if they win this war. Freed slaves will flood the city and take your jobs!
In fact, there was a real attack by whites on Five Points, over 100 people killed, blood in the streets. But politics is a backdrop not the play's story, which becomes too melodramatic.
The best parts, aside from the show-stopping dancing, are the singing by Nelly/Kalukango, Annie/Kennedy and Angelina/McClinton.
Visit Lucy's website http://thekomisarscoop.com/