"Hangmen" a surreal killer comedy by Martin McDonagh, master of the genre
"Hangmen."
Written by Martin McDonagh; Directed by Matthew Dunster.
John Golden Theater 252 W. 45th St, New York City.
212-239-6200. https://hangmenbroadway.com/ Runtime 2:20.
Opened April 21, 2022.
Reviewed by Lucy Komisar April 23, 2022.
closes June 18, 2022.
Martin McDonagh is brilliant at dark surreal comedy. I loved his past plays "The Beauty Queen of Leenane," "The Pillowman," "The Lieutenant of Inishmore," "A Behanding in Spokane" (it is as it sounds), and "The Cripple of Inishmaan." I wouldn't normally reel off such a list but they are every one smart, funny and very bleak comments on the human condition. Mayhem and murder abound. Nothing turns out as expected.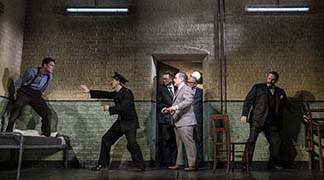 Josh Goulding as Hennessey, Ryan Pope as guard, Jeremy Crutchley as doctor, Andy Nyman as Syd, John Horton as governor, David Threlfall as Harry, photo Joan Marcus.
"Hangmen" is good, but not quite as good as his other plays. (It's a hard standard to meet.) It's 1963. The brick wall of a prison room. Hennessey (Josh Goulding) is going to be hung/ or hanged. For raping, killing a young girl. He protests innocence; he never even met the girl. The grammar becomes an issue which seems a misdirected concern when one is taking a human life. Hers? Maybe his.
Two years later, the scene shifts to a pub with frosted glass windows, yellow buttercup lamps and curving dark wood bar with beer tap handles that pull local lagers and Guinness. It's Lancashire in the North, and sometimes the dialect is a little hard to follow.
Jeremy Crutchley as Fry, Richard Hollis as Bill, David Threlfall as Harry, Tracie Bennett as Alice, Ryan Pope as Charlie, John Horton as Arthur, Owen Campbell as Clegg, photo Joan Marcus.
Harry (a blustery David Threlfall), a hangman for 25 years, is behind the bar. The Labor Party's campaign against capital punishment seems about to be victorious. (It would be abolished except for treason.) Reporter Clegg (Owen Campbell) wants a comment. Harry is as nasty now as he was then.
And still focused on his "craft." Discussing manners of state killing, he comments that the guillotine is quick "but messy and French…who's going to clean up mess after?"
He has a rivalry going with Pierrepoint, another hangman, who killed a lot of Germans "both during and after the war, so there should be a bit of an asterisk against some of his numbers." He says, "If you subtracted Albert's Nazis from his normals…we'd definitely be running neck and neck." Harry hung 233. Clegg asks, "Are you saying then that the death penalty never worked as a deterrent?"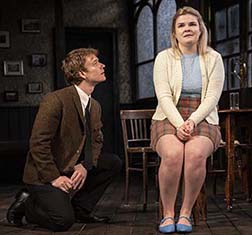 Alfie Allen as Mooney and Gaby French as Shirley, photo Joan Marcus.
Hennessey is a shadowy mystery that will be resuscitated, as it were, by a curious shady character, a stranger from London named Mooney (Alfie Allen). He takes an interest in Harry's daughter Shirley (Gaby French), 15, naïve and shy. Mooney inquires about renting a room at the pub. Harry's wife Alice (Tracie Bennett) asks for references.
"Your husband killed 200 fucking people," Mooney shouts. "Where's his fucking references?" Turns out Mooney saw Hennessey the night before at a B&B in Walthamstow (in East London), 300 miles from the Norfolk murder. And another woman was attacked at the site a year to the day Hennessey was hanged. It's the second anniversary today. Director Matthew Dunster turns on the mood of heavy menace.
David Threlfall as Harry, Andy Nyman as Syd, Richard Hollis as Bill, John Horton as Arthur, Ryan Pope as Charlies, photo Joan Marcus.
dd to the mix Arthur (John Horton), an old guy who always tells the truth even when embarrassing, and Syd (Andy Nyman) who had been Harry's assistant, was fired for making some untoward remark about a hanged man's sexual parts, and now has some connection to Mooney. And police inspector Fry (Jeremy Crutchley) who spends most work days at the bar and seems uninterested in prosecuting crime.
The protagonists, as it were, Alfie Allen as Peter Mooney and David Threlfall as Harry Wade, photo Joan Marcus.
If this is a murder mystery — and it is — these clues and a red herring only begin the odd twists and false turns that McDonagh's brain-teasing thriller takes. And, by the way, consider the case of capital punishment based on no real evidence. When the hangman is a murderer.

Visit Lucy's website http://thekomisarscoop.com/