"The Skin of Our Teeth" in uneven production still packs a message
"The Skin of Our Teeth."
Written by Thornton Wilder. Directed by Lileana Blain-Cruz.
Vivian Beaumont Theater at Lincoln Center, 150 West 65th Street, NYC.
Tkts. 212-239-6200 or 800-447-7400. Runtime: 2:55.
Opened April 25, 2022.
Reviewed by Lucy Komisar April 27, 2022.
Closes May 29, 2022.
Thornton Wilder's 1942 play won a Pulitzer Prize the next year. I haven't seen the play before or the 1983 film. So, I must assume it got the prize for this moment in wartime to tell people that humans have gone through worse times. Lileana Blain-Cruz's direction is sometimes so hokey that you think you're watching TV. But then she goes on target. The play at the end seems to show how the bad son represents the U.S. militarists now threatening America and the world through their "let's destroy Russia" operation so they can be the hegemons/rulers of the world.
Roslyn Ruff as Mrs Antrobus, Julian Robertson as son Henry, James Vincent Meredith as Mr Antrobus and Paige Gilbert as daughter Gladys, photo Julieta Cervantes.
In fact, it starts with a 1950's style "news of the world" TV opening of an ice age in New Jersey. People seeking help are turned back by the American Antrobus family, which cares only about itself. They represent the dominant selfish surviving humans. They have a lot of stuff. They come out of TV sit-coms. Their acting is sit-com style, too.
There's some dumb dialogue by the actress/maid Sabina (the excellent Gabby Beans) complaining, "I who have been in every single play by August Wilson…." Part of forgettable, bring-it-up-to-date text. That considered, it's surprising there's no mention of the fact that the family is black, though their sitcom-black demeanor makes that obvious.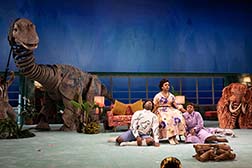 The puppet dinosaur and mammoth, Julian Robertson as son Henry, Roslyn Ruff as Mrs Antrobus, Paige Gilbert as daughter Gladys, photo Julieta Cervantes.
My favorites of this first of three acts are the puppet dinosaur and mammoth who invade the family home but act like pets. Ice is moving from the north. "Burn everything except Shakespeare." Well, climate change and book burning certainly makes this timely.
Lindsay Rico is terrific as a singing telegram delivery person. We don't have them anymore, just singing emails.
So, a mélange of old and modern history, Henry Antrobus, a stand-in for Cain and all evil, hit his brother with a rock. People outside the windows, representing various ethnic groups, are asking for warmth.
James Vincent Meredith as Mr Antrobus and people seeking shelter, photo Julieta Cervantes.
Moses says some words in Hebrew , and there's a mix-up between labor law and The Ten Commandments. A group sings "Jingle Bells." A kid wants to read a poem by Maya Angelou, who by the way is a dreadful poet. But the message is "inclusive." And it's leaden.
The second act in Atlantic City is better. The ice retreated, so it's carnival time. There's a beer brewery and a slide in a lively set by Adam Rigg. The watchword of the future is enjoy yourself.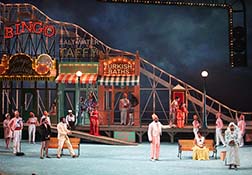 Atlantic City, with Roslyn Ruff as disapproving Mrs Antrobus on the right, photo Julieta Cervantes.
Atlantic City is the land of sin, represented by men with Turkish fezes and the ever-good Gabby Beans as the sultry French winner of a beauty pageant. (Obviously how Americans viewed the French at that time.) The warning is death by regret. You should have lived for pleasure but missed it. But iniquity will bring on The Flood.
Priscilla Lopez as fortune teller Esmeralda, photo Julieta Cervantes.
ery good here is Priscilla Lopez as Esmeralda the fortune teller. The Antrobus family still behaves like TV characters, but she and the others are properly theatrical.
Act 3, better still.
First, kudos to the excellent Donnetta Lavinia Grays as the stage manager. Wilder killed the fourth wall way back then.
James Vincent Meredith as military officer returning to family; above are the ghosts of the dead, photo Julieta Cervantes.
There's been a war, but it's over, Henry became a general. Well, he was a killer, right, so that sounds about right. He wants to burn the books his father saved. He says, "I'm going to be free, even if I have to kill half the world for it." Well, that's how militarists think. So maybe this is the message. His "free" means others are not, means dominate, means be the hegemon. (Familiar?) Did Wilder predict the American Deep State and its warrior arm?
But then Wilder takes an out. Henry feels hated, blocked. "I don't live here. I don't belong to anybody." Makes him sound like an abused kid. He says the emptiness of being hated means you have to fill up with the one thought, "You have to strike and fight and kill."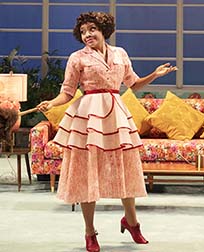 Gabby Beans as Sabina, photo Julieta Cervantes.
Sabina comments, "The world's an awful place." But the issue is to rebuild. "We have to go on for ages and ages yet."
Maybe it's a good play for this time when the Henrys running Washington want to spread war wherever they can, even if it kills half the world by guns, disease or famine. Though I doubt an audience bombarded with Deep State propaganda will make the connection.
Visit Lucy's website http://thekomisarscoop.com/