"Forbidden Broadway: The Next Generation" trades woke for clever
"Forbidden Broadway The Next Generation."
Created, written and directed by Gerard Alessandriini, produced by Gerry McIntyre.
The Triad, 158 West 72nd St, NYC .
(212) 279-4200; www.forbiddenbroadway.com
Opened Oct 16, 2019, closes Nov 29, 2019.
Reviewed by Lucy Komisar Oct 19, 2019.
90 min.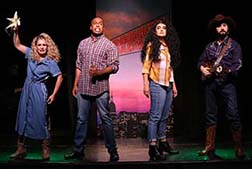 Jenny Lee Stern, Immanuel Houston, Aline Mayagoitia and Chris Collins-Pisano, in 'Woke-lahoma,' Photo by Carol Rosegg.
The forbidden is sweet. Especially when it comes to Gerard Alessandrini's "Forbidden Broadway" musical parodies. This is their 37th year, and as some years are skipped, aficionados look forward to them like a vintage Premier Cru. Good music. Check. Clever book. Check. Terrific performers. Check.
The venue is The Triad, a small cabaret where you can sip wine (or other drinks) at tables well-raked to view the stage and performers who are smart, comic and in excellent voice.
This year's event includes these highlights. The pointed musical commentary keeps you grinning.
Woke-lahoma. The title says it all about a play with Ado Annie in a wheelchair. To the tune of "Oh, what a miserable mornin!" Chris Collins-Pisano sings about the lonely, disturbed farm hand, "I have a sneaking suspicion Jud Fry is possibly gay."
Moulin Rude (Rouge) for most visual overload. Like Follies without a soul. They convert the film to this big vulgar show. Yes!
Joshua Turchin, Immanuel Houston, Aline Mayagoitia, Chris Collins-Pisano and Jenny Lee Stern, spoofing 'Moulin Rouge,' photo by Carol Rosegg.
Aline Mayagoitia plays Karen Olivo in a Sparkling Diamond Medley, featuring, "I can sing in an inferior show."
The heroine, channeling Mimi, has consumption. How long does she get to live? 75 pop songs! This show has so many tunes, none of them written for it, that it deserves a jukebox musical award for sound overload, too.
Immanuel Houston is terrific as Jeremy Pope in Aint Too Proud, about the Temptations with his "Aint too proud to be a Jersey clone" and "I'm doing it all alone." Pope did take oversized credit.
Jenny Lee Stern as Gwen Verdon and Chris Collins-Pisano as Bob Fosse, photo by Carol Rosegg.
Chris in a striped jacket and green hair is on the mark as Beetlejuice, "king of the great second-rate play."
Chris and Jenny Lee Stern do a fine Fosse and Verdon high-kicking dance parody.
Joshua Turchin in Evan Has-Been (Hansen) is an overacting, pre-bordering neurotic trying to be precocious. He is also great as Tootsie in a red sequin gown: "We are a sitcom from hell."
Jenny does a comic take-off of Renee Zellweger, the fake Judy Garland, complaining about "some B star playing me."
Chris is a funny Tevye in the Yiddish Fiddler. "Tradition" becomes "Translation." And "Bush up your Yiddish and they'll all ka-vel!"
Aline Mayagoitia, Chris Collins-Pisano, Immanuel Houston, Jenny Lee Stern and Joshua Turchin, in 'The Ferryman,'
photo by Carol Rosegg.
I liked the soft shoe in Harry Potter and his Cursed Children, as "a slightly overrated play with capes and rods."
There a bit of straight theater too, with a comic "How are things in Irish drama?" About The (full of gore) Ferryman, with our favorite Aunt Maggie making good use of a gun.
Much credit to Dustin Cross's costumes and Conor Donnelly's wigs. Well done choreography by Gerry McIntyre. At the lively piano, Fred Barton.
Visit Lucy's website http://thekomisarscoop.com/