Public's "Much Ado About Nothing" takes Shakespeare to black Atlanta
"Much Ado About Nothing."
Written by William Shakespeare; directed by Kenny Leon.
Public theater at the Delacorte Theater in Central Park, West 81st Street & East 79th Street.
https://www.publictheater.org/Tickets/Calendar/PlayDetailsCollection/SITP/Much-Ado-2019/
Opened June 11, 2019; closes June 23, 2019
Reviewed by Lucy Komisar June 6, 2019

A large banner on the brick house says "Stacey Abrams 2020." It's next spring. Abrams, who last year lost a close race for governor of Georgia amid reports of voter suppression, had talked then about running for president. The relevance of the sign is that Abrams is a black woman, and this version of Shakespeare's play about love and trust – or mistrust — sets it not Messina, Italy, but in modern-day Atlanta, with a black cast speaking in the local accent.
Danielle Brooks as Beatrice, Olivia Washington as Margaret, Erik Laray Harvey as Antonio, Chuck Cooper as Leonato, Tiffany Denise Hobbs as Ursula, Margaret Odette as Hero. Photo by Joan Marcus.
To the story: troops returning from a war victory have been invited to stay at the upscale red brick villa of Leonato, the governor. Director Kenny Leon's take is not just modern, but political. The men carry signs that say, "Hate is not a family value" and "Restore democracy now."
One of the soldiers, Count Claudio, loves Leonato's daughter, Hero. He wants to marry her and a wedding is set. But the evil duke, Don John, has his aides persuade the malleable Claudio that Hero is untrue by arranging for Margaret, a servant, to be near Hero's window in a compromising scenario. At the wedding, Claudio denounces Hero, she faints, and Leonato later tells Claudio she has died.
Danielle Brooks as Beatrice and Grantham Coleman as Benedick, Photo by Joan Marcus.
Meanwhile Benedick and Beatrice, who had been reveling in mutual enmity, are the targets of friends' plots to bring them together, persuading each that the other is mad for him/her.
Is Beatrice (Danielle Brooks) a Stacey Abrams character? Brooks is as she describes herself in a playbill interview is "plus size," as is Abrams. They are both also very feisty.
There's no political analog for my favorite in the cast, Grantham Coleman, who is smooth, cool, laid-back and comic as Benedick.
With Hero (Margaret Odette) "dead," Leonato (Chuck Cooper) has gotten Claudio's pledge to wed his "niece," who will be veiled.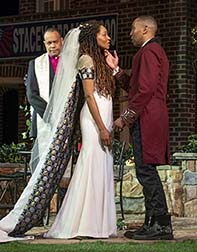 Tyrone Mitchell Henderson as the Friar, Margaret Odette as Hero, Jeremie Harris as Claudio, Photo by Joan Marcus.
But as a response to his foolish evidence-free accusation of infidelity, when Hero takes off her veil, and before Shakespeare's scripted kiss, she gives Claudio (Jeremie Harris) a resounding slap on the face. This feminist addition is the only time she shows any spirit.
In fact, aside from Beatrice, the other women don't show much character. When Hero and her attendant Ursula (Tiffany Denise Hobbs) arrive home on the eve of the first ill-fated wedding, they are laden down with boxes from Chanel and other high-end retailers. She seems a spoiled rich girl.
Cooper as Leonato has presence, turning some of his script to laugh lines, but aside from him and Benedick, most of the men in the cast are also not distinctive. Cooper's brother Antonio (Erik Laray Harvey) is portrayed as a doddering old guy, but you do notice him.
There's some good jazzy choreography by Camille A. Brown. And terrific soul and gospel singing, especially by Brooks and Olivia Washington, who plays Margaret.
The masquerade dance, photo by Joan Marcus.
However, Beatrice climbing into the audience and moving around to sit on people's laps is rather silly. After the soldiers march off, Beatrice declares, "War is not the answer. Only love can conquer hate." Scholars can argue if Shakespeare agreed.

Visit Lucy's website http://thekomisarscoop.com/