Splendid "Carmen Jones" places
black wartime workers in Bizet's opera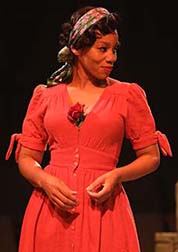 Anika Noni Rose as Carmen Jones. Photo by Joan Marcus.
"Carmen Jones"
Classic Stage, 136 East 13th St, New York City.
Based on Henri Meilhac and Ludovic Halévy's adaptation of Prosper Mérimée's "Carmen."
Book and lyrics adapted by Oscar Hammerstein II. Music by Georges Bizet, directed by John Doyle, choreographed by Bill T. Jones.
212-677-4210, https://www.classicstage.org/shows/2018/06/carmen-jones/
Opened June 27, 2018, closes Aug 19, 2018.
Reviewed by Lucy Komisar June 23, 2018.
95 mins with no intermission.

"Win That War!" sing workers in a parachute factory in a town about 1,000 miles south of Chicago. It's a striking transformation of Georges Bizet's opera "Carmen," about a worker in a Spanish cigar factory in 1820, to wartime US in 1943 with a book and lyrics by Oscar Hammerstein II.
The "Carmen" triangle is still a sultry tangle between Carmen and a military guy, now army instead of militia, and a big-time prize fighter replacing the toreador, the word Bizet's French opera invented to mean torero (bull fighter) because it had the right syllables.
Clifton Duncan as Joe, Anika Noni rose as Carmen. Photo by Joan Marcus.
Hammerstein reset the story with a black cast, and this is the first major New York revival since its debut on Broadway 75 years ago. Elegantly directed by John Doyle, this is an intimate production in the Classic Stage's small theater in the square, a chamber opera where you can practically touch the performers.
Carmen (Anika Noni Rose) is a factory worker who has taken as her lover a US army guy, Joe (Clifton Duncan). She is sultry, seductive, in a low-cut red flowing dress, high heels, and a thrilling mezzo soprano. Her "If I love you, that's the end of you" is a killer. As her desperate lover, Duncan is a remarkable tenor.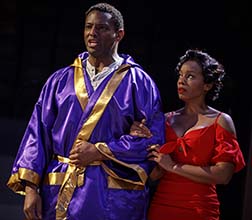 David Aron Damane as Husky Miller, Anika Noni Rose as Carmen. Photo by Joan Marcus.
Rose sees a way to move up in the world when a famous prizefighter, Husky Miller (David Aron Damane), comes to town. His great bass does a brilliant operatic "Stand up and fight" to the music of the Toreador song.
Along the way are the dramas of those who lives intersect, especially Cindy Lou (Lindsay Roberts), Joe's hometown girl, who travels to see him. She has a lovely sweet soprano.
In fact, the operatic voices of the cast are quite wonderful. The audience responded with many bravos and bravas. As operas usually go, the love triangle ends badly. But the production is a small glory.
Visit Lucy's website http://thekomisarscoop.com/