Written by August Wilson, directed by Ruben Santiago-Hudson.
Manhattan Theatre Club, 261 West 47th St., New York City
(212) 239-6200. http://jitneybroadway.com
Opened Jan 19, 2017; closes March 12, 2017.
Reviewed by Lucy Komisar Jan 25, 2017.
You can feel the humanity pulsating and striving through the drab surroundings of the car service office in "Jitney" by the great American playwright August Wilson, who died in 2005. The protagonists, moving in an orbit around the solid Becker (a resolute, moving John Douglas Thompson), who set up the cooperative 18 years ago, are working class guys with jobs, if you want to include the numbers guy, Shealy (Harvy Blanks).
Michael Potts as Turnbo, John Douglas Thompson as Becker, Anthony Chisholm as Fielding, Keith Randolph Smith as Doub, André Holland as Youngblood. Photo by Joan Marcus.
The office has a scruffy sofa, tables that are wood crates, a fridge stuck with clippings, mismatched faded tiles. Through large store windows you see two old cars. The background sound is blues and R&B. The year is 1977.
These men live a hardscrabble existence, but in the Hill District of Pittsburgh, they are a community. They know each other, sometimes too well as we see with Turnbo (Michael Potts), the busy-body, gossiping and interfering in people's lives.
The older men have settled into their routines. Becker worked in a steel mill for 27 years till he retired with a pension and a small house and started the car service. He wears a suit, white shirt and vest to work. Fielding (Anthony Chisholm), a drunk whose wife left him decades ago, is still a sympathetic character. When he feels strongly, his voice becomes a terrific half-screech.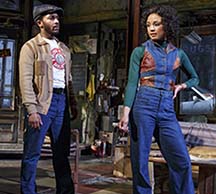 André Holland as Youngboood and, Carra Patterson as Rena. Photo by Joan Marcus.
Doub (Keith Randolph Smith) is sober and solid. We even appreciate Shealy, who uses the pay phone to get calls from his numbers clients and establishes his presence with flashy suits of bright green or gold.
Then there are the young guys who take different paths. Youngblood (a strong, intense André Holland) is a Vietnam veteran struggling to buy a house for himself, his girlfriend (the very sensitive and smooth Carra Patterson) and their child so they can move out of the projects. Though he is clueless about how to go about it. You don't "surprise" her with a done deal!
And Becker's hot-headed son, Booster (a rather cool Brandon J. Birden), is back from 20 years in prison after shooting the white girlfriend who lied that he had raped her when her father caught them in a lover's lane.
The son argues he did what was right for him; he seems not to have a clue.
Brandon J. Dirden as Booster John Douglas Thompson as Becker. Photo by Joan Marcus.
Becker expresses deep fury as he rejects his son, declaring, "Everything I gave you, you threw away."
The men deal with each other in bits and pieces, interrupted by the regular rings of the pay phone and their answers, "car service." Some of them talk a lot about women who aren't there, either about love or lechery. They spar, joke, bicker.
Halfway through the story we learn the city wants to tear down their block for urban renewal. Except in such cases, the city routinely just creates boarded-up buildings and empty lots that stay vacant for years. Putting holes in the community. Always a leader, Becker has an idea how to fight the city's plan. For all of them, it's about survival. And tragedy is always lurking.
The acting is excellent; the actors inhabit their roles. The black dialect may be hard for some to understand at first, but you get into it.
Ruben Santiago-Hudson's direction is subtle, not in your face. The characters have their flaws. But they are nothing as against the system. He makes you understand their struggle for survival in an order that is stacked against them.
________________________________________________________________________________________
"Jitney" Takes Us on a Powerful Journey

Jitney
Directed by Ruben Santiago-Hudson
Samuel J. Friedman Theatre
261 W. 47th St.
Opened: Jan. 19, 2017
Tickets: 212-541-8457, www.telecharge.com
Closes March 12, 2017
Reviewed by Paulanne Simmons Jan. 19, 2017


Michael Potts as Turnbo, John Douglas Thompson as Becker, Anthony Chisholm as Fielding, Keith Randolph Smith as Doub, André Holland as Youngblood. Photo by Joan Marcus.
August Wilson's "Jitney," the eighth in his "Pittsburgh Cycle," was written in 1979. Since then, it has been performed at regional theaters, including the Studio Theatre and the Kennedy Center, both in Washington, D.C., and Denver Center for the Performing Arts. This season it is our great good fortune to witness the play's premiere, produced by the Manhattan Theatre Club at the Samuel J. Friedman Theatre.
Impeccably directed by Ruben Santiago-Hudson, the production features the always wonderful John Douglas Thompson as Becker, the hardworking owner of a jitney station servicing the black community of Pittsburgh. Twenty years ago, Becker's life was torn apart when his son, Booster, was sent to jail for murder. Since then Becker has been able to show compassion for everyone but his son.
The reasons for Booster's actions are complicated and deeply involved with racism and human dignity. The night I saw the play, Brandon J. Dirden's understudy, Stephen Tyrone Williams, did a fine job portraying the many warring emotions that turned a promising young man into a murderer and destroyed his relationship with his father.
When Booster returns, some time in the middle of the play, he is not bitter, even though his father never visited him while he was in jail. He wants to explain. He wants to break through the wall his father has built between them. But Becker is too filled with anger and disappointment to understand his son's pain.
Although, as with so much of Wilson's work, the father-son relationship dominates, "Jitney" is to a certain extent, an ensemble piece. Subplots abound.
One of the drivers, Youngblood (the dynamic André Holland), has a son with his girlfriend, Rena (the sassy and vulnerable Carra Patterson) and wants to settle down in a home of their own. Although he has previously been unfaithful, Youngblood insists he is now going straight. But Turnbo (Michael Potts), the company gossip with a vicious streak, does not believe him and spreads rumors that Youngblood is going out with Rena's sister.
Fielding (Anthony Chisholm) is an alcoholic, a former tailor for the jazz greats who has fallen on hard times. Becker shows him the compassion he withholds from his son.
Shealy (Harvy Blanks) is not a driver but runs a numbers operation from the station. His stories of the women he has loved and lost add a light but still poignant note to the production.
These characters provide a chorus that comments not only on the major conflict developed in the play but also the daily lives of these struggling citizens who are so much at the mercy of city officials who neither know nor care about them.
Clearly, Wilson is just as interested in this microcosm of African-American life in America as he is in the individual stories of his characters. David Gallo's set with the back windows of the station open to the city, reinforces this impression, as does the characters' perpetual coming and going, and of course, the constant ring of the station's telephone.
In this small world, people bicker and betray, but they also love and support one another. If Wilson's vision is bleak, it is not without hope. There may be little justice in this world, he tells us, but there most certainly can be love.