Fiddler on the Roof
"Fiddler on the Roof."
Book by Joseph Stein, music by Jerry Bock, lyrics by Sheldon Harnick.
Directed by Bartlett Sherr, choreographed by Hofesh Shechter, inspired by the work of Jerome Robbins.
Broadway Theatre, 1681 Broadway, New York City.
(212) 239-6200; http://fiddlermusical.com/
Opened Dec 20, 2015; closes Dec 31, 2016
Reviewed by Lucy Komisar Oct. 28, 2016

Danny Burstein as Tevye. Photo by Joan Marcus.
When can it be more relevant to look at the politics of theater? In this year of bizarre reaction, "Fiddler" continues to be the quintessential representation of popular struggle. This is a brilliant production by Bartlett Sherr, with stars Danny Bernstein and Jessica Hecht, major actors of our time. They are supported by an excellent ensemble cast.
In Russia of the early 1900s, a Jewish community in Russia is confronting the challenges of social modernization and the political threat of the Czar.
We are in the imaginary village of Anatevka, where Chagal's fiddler flies up to musically comment on events. And such crucial matters as, "Why does a girl have to read? Will it get her a husband?"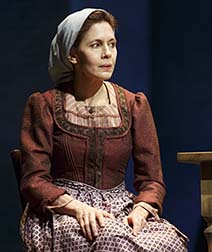 Jessica Hecht as Golde. Photo by oan Marcus.
Tevye (the compelling Danny Burstein), charming but of a past century, is the head of the family. He has to confront state repression and the need to marry off five daughters.
And to deal with the life he's been dealt, as the memorable songs by Jerry Bock and Sheldon Harnick describe it: "If I were a rich man" and "Tradition."
Jessica Hecht is terrific as Golde, the wife and mother of the family, who cares about "tradition" but also those daughters. Is anyone thinking about where politics is leading them?
Adam Kantor as Motel the tailor and Alexandra Silber as Tzeitel. Photo by Joan Marcus.
The matchmaker Yente (Alix Korey, with a perfect New York accent) considers the prospects of Tzeitel (Alexandra Silber) who is in love with Motel, the taylor (Adam Kantor). But is that an economically desirable match? It turns out that girls are people with their own desires, quite a radical thought.
When she is promised to marry an old guy, Lazer Wolf, the butcher (Adam Dannheisser), we see Tevye's surreal dream vision of the butcher's late wife, Fruma Sarah (Jessica Vosk), who appears to attack the match!
Jessica Hecht as Golde, Danny Burstein as Tevye and Jessica Vosk as Fruma Sarah, who arrives in a dream. Photo by Joan Marcus.
The ghost fantasy figure with long fingers is set against the brown and black earth colors. Colors are important in Donald Holder's lighting. A rose colored sky means hope, then it changes.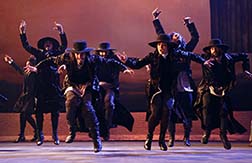 The Jewish men dancing. Photo by Joan Marcus.
Hofesh Shecher's vivid choreography moves from the Jewish men's traditional movements to the dances of the military. And then troops attack the wedding party and steal candles. Joy changes to darkness.
Samantha Massell as Hodel and Ben Rappaport as Perchik, the radical student. Photo by Joan Marcus.
Perchek, a student (Ben Rappaport), warns of pogroms coming. He talks politics and falls in love with and promises affection and solidarity to the daughter Hodel (Samantha Massell), who has a lilting soprano. Ah, love and politics. He is a harbinger of what is coming.
And about love — in the older generation, feelings were often not expressed. Tevye asks Golde, who has always put herself and her needs in the background, "Do you love me?" The duet creates an exquisite moment.
Politics intervenes. Perchek is arrested and sent to Siberia. Hodel will join him.
The departure. Photo by Joan Marcus.
The community will escape, by train and boat. Because this story is about the origin of Russian Jews in America.
There are elegant visuals, with moving trees and silhouettes. At one point Golde urges them all to, "Behave ourselves. We are not in America yet." This wonderful iconic play will always be in America.