"She Loves Me."

Book by Joe Masteroff, music by Jerry Bock, lyrics by Sheldon Harnick, directed by Scott Ellis, based on play by Miklos Laszlo.
Roundabout Theatre Company, Studio 54, 254 West 54th Street, New York City.
212-719-1300; http://www.roundabouttheatre.org/Shows-Events/She-Loves-Me.aspx
Opened March 17, 2016; closes July 10, 2016.
Reviewed by Lucy Komisar March 22, 2016.
Laura Benanti as Amalia Balash. Photo by Joan Marcus.
Laura Benanti is stunning and luminous as Amalia, a smart, assertive clerk in an upscale perfume shop in 1934 Budapest. Her trilling soprano shimmers.
The story itself is corny, schmaltzy. The slow start makes you think sit com, but it gets better. Its light fluff is underpinned by some serious commentary about the economic condition of workers and the way men treat women.
It's based on "Parfumerie," a play by Miklos Laszlo, that was made into "The Shop Around the Corner," a film with James Stewart. Nora Ephron later used the story for "You've Got Mail."
The shop. Photo from video.
The social stage is set by a parade of bourgeois ladies who enter the shop and leave with ribbon-tied boxes. The colorful storybook design is a bit magical, like a dollhouse. (Set by David Rockwell.) All around are glass cases with the expensive scents and soaps the rich ladies want. As they depart, an obsequious line of clerks sings "thank you" and "please come again."
But the back story is about the staff. They arrive in the morning. Ilona (the excellent Jane Krakowski) has spent the night with Steven (Gavin Creel), but they show up separately, fooling no one. Creel is a good comic as the two timing phony.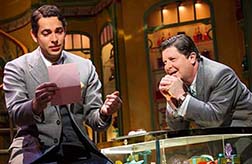 Zachary Levi as Georg Nowack and Michael McGrath as Ladislav Sipos. Photo by Joan Marcus.
Amalia and Georg (the charming baritone, Zachary Levi) have been corresponding through a lonely hearts club and don't know it's to each other. Georg tells co-worker Ladislav (Michael McGrath), about the letters.
Ladislav has other concerns. Mr.Maraczek (Byron Jennings), the owner, is domineering, even nasty. Ladislav intimidated by his ire, and humbly bows and scrapes. He thinks of himself as only a speck in the universe, and wonders, "Where's my pride, deep inside where it does not show? I'm a coward with a wife and children to support."
Laszlo knew of those problems. When his father died, the youth had to support the family at a succession of odd jobs. His play "The Happiest Man," about a cynical, disillusioned factory worker who lives in a dream world to survive, won the Hungarian Royal Academy Award for Literature in 1934. But with the Nazis bearing down, the Jewish playwright left for New York.
Gavin Creel as Steven Kodaly and Jane Krakowski as Ilona Ritter. Photo by Joan Marcus.
He also understood the feminist complaint about men. In a great erotic dance number, Steven tells Ilona, "I love you Ilona — Come with me Ilona." But she resolves not to trust him. "I must be cousin to a cat. I always wind up with that rat."
Then there's an interesting twist. Mrs. Maraczek is involved with one of clerks. Mr. Maraczeck learns this from a private detective. And then a shot rings out.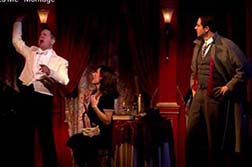 Waiter, Amalia and Georg at the Imperial Cafe. Photo from video.
Meanwhile, the blind date of Amalia and Georg will take place at the terrific Café Imperial, a rendezvous for lovers gathered in the folds of fancy red curtains, hiding behind menus as (in a great musical number) they set up assignations and affairs. The waiter: "Good to see you again, Mr. Liszt." Light shines on a conga line of women in black gowns and men in tuxes. (Choreography by Warren Carlyle.) But though Amalia waits at a bistro table, Georg never identifies himself.
Laura Benanti as Amalia Balash and Zachary Levi as Georg Nowack. Photo byJoan Marcus.
My favorite bit of the play is the iconic song "Dear Friend," which you probably know as the one about ice cream. "Dear Friend, I am so sorry about last night…" Georg arrives and brings her ice cream. Benanti does the number gloriously sitting on her bed in pajamas.
ICE CREAM… HE BROUGHT ME ICE CREAM…
VANILLA ICE CREAM… IMAGINE THAT!
ICE CREAM… AND FOR THE FIRST TIME
WE WERE TOGETHER WITHOUT A SPAT!
Here's where we have to tip hats to composer Jerry Bock and lyricist Sheldon Harnick. And to a song that was intrinsic to the play and also lives in cabaret.
Zachary Levi as Georg Nowack and Laura Benanti as Amalia Balash. Photo Joan Marcus.
Well, identities are straightened out. Sparks ignite. To conclude with Georg singing, "She loves me, and to my amazement I love her…."
A somewhat hokey but very charming finish to director Scott Ellis's delightful production. With some good social commentary along the way.