"Echoes"
Written by Henry Naylor; directed by Henry Naylor and Emma Buttler.
Redbard Theatre and Gilded Balloon Productions at 59E59 Theaters, 59 East 59th Street, New York City.
(212) 279-4200 or www.59e59.org.
Opened April 24, 2016; closes May 4, 2016.
Reviewed by Lucy Komisar April 23, 2016.
"Echoes" is a powerful and intense play that explores the imperialist mindset as it compares the experiences of two women who lived 175 years apart in Ipswich, England, and were each swept up in the murderous rampage of "godly" imperialist killers. It won a Spirit of the Fringe award in Edinburgh last year and transferred to London.
British playwright Henry Naylor began as a satirist but moved to serious drama, perhaps because his subjects were too brutal for levity. At the Edinburgh fringe festival in 2014, I saw his play "The Collector," an unnerving and memorable tale based in Abu Graib about American brutality toward Muslim prisoners and America's flouting of its moral commitment to people who believed its stated values and risked their lives to help the American project. It won a Fringe First Award.
Felicity Houlbrooke as Tillie and Filipa Braganca as Samira. Photo by Carol Rosegg.
This play continues his investigation of the immorality of the political killers and how some victims fought back.
The story is told through the interweaving monologues of two women. One is middle class Tillie (Felicity Houlbrooke), 17, a top student who in the mid-1800s wants to find a husband and sails to India, where fighters for the Empire need wives.
Except that the army lieutenant she is going to marry is suddenly posted to Kabul, Afghanistan, to protect the Indian trade routes against the Russians. He tells her, "It is God's work, to spread our peace, wealth and civilization through commerce."
Samira (Filipa Braganca), also 17, a Muslim in contemporary Ipswich, decides to go to Syria to become the wife of an ISIS fighter. She sees her choice as home — where she doesn't like her suitors, the politics or the press lies about Muslims — and Paradise, more specifically the Caliphate. Wearing a long abaya and a head covering that reveals only her face, she goes to Raqqa, controlled by Islamist militants.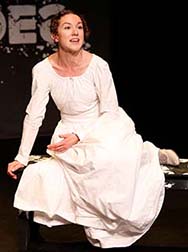 Felicity Houlbrooke as Tillie. Photo by Carol Rosegg.
Naylor sets a feminist tone that makes it clear how the domination and abuse of women is central to the psyches of the men who carry out authoritarian projects.
Both women had bought into the myth of empire, both are willing to do their "service" to the men, but the husbands are crude and uncaring. The lieutenant is annoyed when Tillie gets her period; "the empire needs children." Samira's "husband" lifts her veil and "circles like a man inspecting a second-hand car." Naylor's descriptions are vivid.331-84-88-40-00
Houlbrooke and Braganca are excellent in displaying the young women's growing awareness of what they have bought into, with their hope and calm turning into anger and rebellion. Under the cinematic direction of Naylor and Emma Buttler, they persuade the audience that the subjects and the actors of their monologues really exist, move, react.
Doing "God's work," aside from abusive treatment of women, involves general brutality toward those deemed enemies. The Lieutenant flogs a beggar. When Tillie protests, he replies, "Why, if you had been alone with this savage, I can't imagine what he would have done to you.' She says, 'The only savage here was you, sir.' He punches her. "Hard. A soldier's punch, practiced in war."
Samira discovers she will be in a house with her husband's first wife and a young girl, a Yazidi slave.
Filipa Braganca as Samira. Photo by Carol Rosegg.
She says, "My husband's idea of foreplay is to show me YouTube videos of himself. I think he imagines I'll be impressed. 'Watch this.' He's tying a string of explosives round the necks of ten 'pagans.' When she challenges that, he beats and rapes her.
The women's consciousness soars. Houlbrooke's compliant, all-for-the-empire demeanor turns courageous to take the side of the victims. Braganca's almost meek willingness to diminish herself for the Caliphate becomes a challenge to the evil of the militants. Each in her own way refuses to define herself by the "husbands" and the politics they represent. You realize that the Caliphate is an ironic "echo" of British imperialism.