A "China Doll" is Al Pacino character's prize for life of corrupt dealing

"China Doll"
Written by David Mamet, directed by Pam MacKinnon.
Gerald Schoenfeld Theatre, 236 W 45th ST, New York City.
212-239-6200 or 800-447-7400. http://www.chinadollbroadway.com/.
Opened Dec 2, 2015; closes Jan 31, 2016.
Reviewed by Lucy Komisar Jan 28, 2016.
Al Pacino as Mickey Ross, photo by Jeremy Daniel.
The title suggests this play by David Mamet is about a woman, but it's really about politics and corruption. And the trendy topic of tax evasion.
Al Pacino is in top form in a slightly over-the-top caricature of a character, a portrayal which in this case is warranted. His Mickey Ross is a heavy-New-York-accented probably Jewish character who made big bucks in ways that probably skirted or shattered legality. At least it's clear he doesn't care much about the law.
Pacino, with longish gray hair and a goatee, is moody, arrogant, laconic, a schmoozer.
In the past, Ross has been a political power, or at least donor, which is sometimes the same thing, and now has been targeted by a political opponent running for governor who wants to destroy him.
Now, maybe 70, he is planning to change his life by marrying the much younger Francine, who we never see, an interior decorator, who he acknowledges is in love with his money. That's okay, a fair trade. The China Doll is his prize.
He has bought a $60-million plane to fly them from Toronto, where she is waiting in a hotel, to London and onwards. He is someplace in the U.S., never said where, probably New York. The set is a modern apartment with floor-to-ceiling windows and a terrace filled with tall grass. Or maybe it's the Hamptons. Or Connecticut.
Christopher Denham as Carson, photo by Jeremy Daniel.
But he learns that the pilot of the Swiss company, Aerstar, claiming an emergency – a fuel gage malfunction — has touched down in the U.S., which makes Ross liable for $5 million in state taxes on the purchase of the plane. He was going to keep it out of the country.
The tax claim occurs because someone in Switzerland changed the Swiss registration and tail letters to an American one. And when the plane landed, Francine, who was aboard, was abused – strip searched. The trail leads to some opposition politicians who play rough.
A lot of phone calls to Ross's lawyer and the politician's guy are handed off by Carson (Christopher Denham), a gofer for Ross.
Ross has some ammunition, a file of documents that apparently show a politician running for governor and/or his father, the former governor, in corrupt doings. He scoffs at the politician's claim that he and his father have devoted their lives to public service. "How did they get so rich?" Some fancy fireplace stones came from England at the suggestion of a decorator who redid the state house. But the candidate needs an issue to "save the people." Ross comments, "The only time he ever saw the people, they were waxing his car." He adds that, "The old guy was in bed with more judges than Miss America."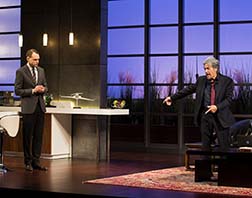 Christopher Denham as Carson and Al Pacino as Mickey Ross, photo by Jeremy Daniel.
.Carson seems the ultimate yes-man, taking talking-downs that his boss will routinely apologize for. As Ross apologizes to others in an abject way and swiftly changes tack. His smarmy forgive me, expertly honeyed by Pacino, is not to be believed. But playwright Mamet's advice also appears to be to watch out for people close to you who know too much.
Most of the "action" is Ross talking on the phone to lawyers, to Francine, to the Swiss company. You hardly notice that those characters are not present.
My main issue is with Mamet. The plot turns to Ross being accused of violating the Foreign Corrupt Practices Act (FCPA) by involvement in a bribe that got the British Francine an exemption to work as an interior designer for the Swiss company that produced the plane. Aerstar would have paid the bribe, which would not have violated the FPCA unless it had a legal presence in the U.S. Violators must be Americans or U.S.-related companies. And the amount would have been so small as to be irrelevant and never the object of an FCPA suit. The Justice Department goes after the big money. Why didn't Ross's lawyer tell him that?
I say this as an investigative journalist who for years has written about cases involving the FCPA. They deal with bribes of millions and multi-millions, generally paid by American companies to top foreign government officials or to people who run foreign government-owned companies. Never would such a case deal with the piddling amount of getting an exemption to allow a designer to work on the interior of a plane. Hey, Mamet, you're supposed to do research on such matters!
At the end, Mamet presents a good deus ex machina which should be an advice to young acolytes about dealing with mentors who know more than they do.
Director Pam MacKinnon maintains a too-slow pace, but maybe that's Mamet's text. The actors have to say all the words. Or sometimes it's Pacino's too-labored delivery, which can't work for every line.
Still, the play displays Pacino's acting talents and smartly deals with the corruption, tax evasion and bribery roiling our country. It held me till the (literally) crashing dénouement.