by Lucy Komisar
"A View From the Bridge" is strong minimalist depiction of honor vs. betrayal

"A View From the Bridge."
Written by Arthur Miller, directed by Ivo Van Hove.
Lyceum Theatre, 149 West 45th Street, New York City.
(212) 239-6200. http://www.aviewfromthebridgebroadway.com/
Opened Nov 12, 2015; closes Feb 21, 2016.
Reviewed by Lucy Komisar Dec 11, 2015.
In Arthur Miller's tragedy of poverty and patriarchy, director Ivo Van Hove strips out the naturalism of sets and real entrances and exits, so you have just the sense of primal actors. Is that why they wear street clothes but go barefoot? To remind us of the natural animal? (Otherwise it's an affectation.)
The surreal sense begins with the pinkish light that suffuses the stage when longshoremen Eddie (a riveting and tragic Mark Strong) and Louis (Richard Hansell) appear after a hard day at the docks. There is chorale music in the background. They are in Red Hook, Brooklyn.
Mark Strong as Eddie and company. Photo by Jan Versweyveld.
Catherine (portrayed as childish rather than sultry by Phoebe Fox) jumps into Eddie's arms, he caresses her hair, almost flirtatious, touching. She is 17 and in business school learning steno. Wife Beatrice (a tough, cool Nicola Walker) knows there is something wrong.
The dramatic event is the arrival of two young Italian men, cousins of Beatrice: blonde Rodolfo (the charming Russell Tovey) a single guy, and Marco (Michael Zegen), married with three kids. They are illegal immigrants. There's no work for them in Italy. They traveled to the U.S. with the help of the Mafia, which they have to pay off by working as longshoremen, and will stay at the Carbone household, hoping to avoid capture by immigration authorities. Eddie is edgy about them.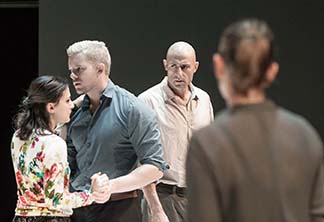 Phoebe Fox as Catherine, Russel Tovey as Rodolfo, Mark Strong as Eddie, Nicola Walker as Beatrice. Photo by Jan Versweyveld.
Rodolfo's working-class fantasy is being a messenger with a motor cycle. He also sings and once lived for months on what he earned in tips when he did a replacement act at a hotel. Dock workers call the likable Rodolfo 'paper doll' because he sings and jokes. Marco wants to make money to send to his wife to buy medicine for his kids.
The mood is not happy at the Carbone home. Beatrice asks, "When am I going to be a wife again?" Lawyer Alfieri (Michael Gould), laconic with a New York accent and striped suit, understands: "A man works hard, he brings up a child, sometimes it's a niece, sometimes even a daughter, and he never realizes it, but through the years – there is too much love for the daughter, there is too much love for the niece."
The characters stand in a minimalist glass enclosure or sit on the surrounding benches, sometimes with their backs to us. We hear the beat of a drum. More primal?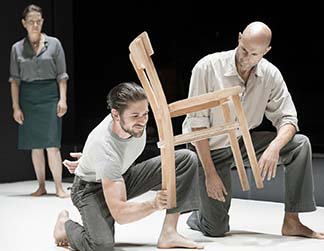 Nicola Walker as Beatrice, Michael Zegen as Marco, Mark Strong as Eddie. Photo by Jan Versweyveld.
Catherine, who has been kept from dating by Eddie, falls for Rodolfo. Eddie taunts him, "He sings, he cooks, he can make dresses." Eddie, looks dark, morose, possessed, his eyes sunken.
The men play macho games. Marco challenges him to lift a wooden chair from one leg. Rodolfo covers his angst with jokes and songs. Sometimes they all stand as if statues.
As all Miller's works, this is a morality play. The drama explodes in honor vs. betrayal.
Arthur Miller's story line is so deft and clear, that it can be dressed in a variety of directors' garbs – rather like Shakespeare's plays – and still make sense, still keep its focus. The blood and tragedy are Shakespearean as well.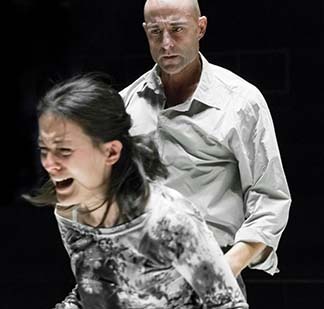 Phoebe Fox as Catherine and Mark Strong as Eddie. Photo by Jan Versweyveld.
Comparing Ivo van Hove's symbolic production with the naturalistic drama that stared Liev Schreiber and Scarlet Johansson at the Cort Theatre in 2010, I'd say the latter was more subtle, its passion climbing by the minute, while van Hove's starts out immediately as a pre-announced primal fight. It's worth seeing for the same reason you want to see many versions of Shakespeare's plays by innovative directors.
---
by Glenda Frank
"A View from the Bridge"
"A View from the Bridge" by Arthur Miller
directed by Ivo van Hove
Lyceum Theatre, 149 W. 45 St. , NYC.
Oct. 21, 2015 – Feb. 21, 2016.
Tickets $35 - $135 at https://www.telecharge.com or 212-239-6200.
Tickets are $55 with some half-price tickets (CheapTix) and Premium Seats ($65).
Call 866-811-4111. For more information: www.minttheater.org.
by Glenda Frank

Before I saw Ivo van Hove's take on Arthur Miller's "A View from the Bridge" I assumed people who were bewildered or downright hostile to the production were just the usual old school theater-lovers, whom I respect (since purists return us to the work) but don't usually agree with. But the new staging has so many problems I am re-assessing my admiration for van Hove, which began with his stripped down, half-naked Eugene O'Neill's "More Stately Mansions" in 1997 and was ensured with his version of Lillian Hellman's "The Little Foxes" (2010) at New York Theatre Workshop.
(Left to Right) Nicola Walker, Michael Zegen, and Mark Strong. Photo by Jan Versweyveld.
Even the haphazard "Scenes from a Marriage" did not sway me despite the many pedestrian scenes before the exciting second act. In 2014 I was again moved by his minimalist "Angels in America" at BAM – after I got over missing the great swoosh of angel wings.

But with his "A View From the Bridge," the problems – for me -- outweigh the innovations. The play, stripped down dramatically and scenically, runs almost two hours without an intermission. Some of us are seated in the plush audience section. Rush ticket holders, however, sit on bleachers located on both sides of the large stage of the Lyceum Theatre – perhaps to add human warmth to what is an overheated and yet cold production. Perhaps to reduce the size of the stage or to copy Mark Rylance's wildly popular staging of back-to-back Shakespeare in 2014. It was okay -- but I wondered why he made this choice, the first of my questions. (Nobility could sit on stage in Moliere's theatre, where they generally showed off their clothing and annoyed the actors. Greek audiences sat at a remove from the stage, and Miller was going for Greek tragedy.)

The questions continued, especially when the action on stage did not engage me. I didn't understand van Hove's choices. Throughout there was this continual, tedious music designed by Tom Gibbons. And then there were the bare feet. Shoes were worn from time to time – by lawyer Alfieri (Michael Gould), the choral outsider who comments on Eddie's life, but only at first. Later he took them off and even entered the Carbone living room. In Miller's play, his domain is distinctive. Catherine, Carbone's too beloved niece, put on high heels when Miller's script signals her sexual interest in Rudolpho, the illegal immigrant ("submarine") whom Eddie turns into Immigration or INS (now the Dept. of Homeland Security). At first I liked the bare feet, assuming they signaled the family's peasant roots, their intimacy with the earth and basic emotions. But that theory collapsed when Alfieri removed his shoes. The shoes became confusing and a distraction.

And then there was the soft porn, where the director exaggerated Catherine's relationship with her uncle. She practically did a lap dance while Beatrice, Eddie's wife, watched and said nothing. I usually like van Hove's distortions, but Eddie's comment about Catherine being a Madonna becomes ludicrous after that display. Miller's wonderful insight into common, but forbidden sexual longing – Lolita and Electra urges that become absorbed as we mature – loses nuance to vulgarity.

The family huddle and blood bath at the end of the play – spoiler alert – just reminded me of the movie "Carrie." I was moved and disturbed by the vision of the family covered in blood – and somehow also indifferent. I really missed seeing the knife that Eddie armed himself with to meet Marco, and Marco took away from Eddie to stab him. It was such wonderful symbolism, replaced by something far less delicate. After the show I overhead audience members, bewildered by the ending, asking each other questions.
But this is a van Hove production, so of course there were points of brilliance. Marco's lifting the chair by its leg was a transfiguring moment in the play when the silent man becomes visible and his actions prophetic. Van Hove has the actor keep the chair aloft so that he becomes the Statue of Liberty holds the torch, perhaps to his family. It seemed a sign of triumph. Then, for me, it was a reminder of Liberty welcoming "the tired and the poor." But the pose was held so long that my mind wandered and I began to wonder how illegal aliens fit into Liberty's welcome and then – it was held really long – how the actor was managing to keep the chair elevated, and then how the director was going to end this gymnastic feat – all of which took me out of the play completely.

Mark Strong as Eddie Carbone and Nicola Walker (Olivier Award for The Curious Incident of the Dog in the Night-Time ) as his wife, Beatrice – a nod in Miller's script to Dante's absent beloved whom he feel in love with when she was eight – brought powerful, insightful performances. While Strong's posture was more actor than longshoreman, he had enough of the accent to sound convincing. Russell Tovey's Rodolpho was magnificent as a performer and an interpreter of the sexual ambiguity of the role. It's the best casting of Rodolpho I have ever seen. Tovey could play a gay football player or a remarkably attractive, straight construction worker. Van Hove's Rodolpho is a kid with lots of promise, a sense of humor, and a driving need to escape a dead end life of poverty. I wish these actors could have kept me more emotionally engaged. Michael Zegan's Marco was too much a cipher. It was hard to feel the inner burning. (Marco's dilemma usually breaks my heart.) Phoebe Fox looks the role of Catherine, but things kept shifting: her accent, her through line, and the clarity of the words.

The production was very well received in London at the Old Vic, where it won Olivier Awards for Best Revival, Best Director, and Best Actor (Strong) and by the New York critics. It certainly sets a higher standard for future productions, challenging directors to see old favorites with new eyes and to take more risks. I met people who weren't sure if they liked the production but were excited by it and wanted to talk about it to anyone, friends or strangers.