"The Count Meets The Duke: The Andersons Play Basie And Ellington."

"The Count Meets The Duke: The Andersons Play Basie And Ellington."
Created and directed by Peter and Will Anderson.
59E59 Theaters (59 East 59th Street, bet Park and Madison Avenues)
212-279-4200; http://www.59e59.org/moreinfo.php?showid=228
Tkts $25 to 35; student rush $10 to $20.
Opened Dec 8, 2015; closes Jan 3, 2016.
Reviewed by Lucy Komisar Dec 16, 2015.
Following their 2013 Drama Desk nominated "Le Jazz Hot: How the French Saved Jazz," the brothers Peter and Will Anderson are back with another video and music show, this one about jazz greats Count Basie and Duke Ellington. Featured in "Le Jazz Hot," Ellington was one of America's black jazz musicians who went to France beginning in the 1920s, because the French were a lot more hospitable to them than were Americans.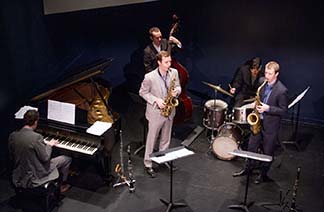 Jeb Patton on piano, Clovis Nicolas on acoustic bass, Phil Stewart on drums, Will Anderson (light suit) on alto sax, and Peter Anderson (dark suit) on tenor sax. Photo by Eileen O'Donnell.
But the Count and the Duke did have celebrated success in the U.S. The Andersons show video clips of them speaking (they were cool and articulate) and playing. And the Andersons' quintet, with Peter (tenor saxophone, clarinet) and Will (alto saxophone, clarinet), Jeb Patton (piano), Clovis Nicolas (acoustic bass), and Phil Stewart (drums) performs some of their hits from the 1930's through 60's.
Among them are Ellington's signature "Take the 'A' Train," "Mood Indigo," and Single Petal of a Rose" and Basie's "Blues in Hoss' Flat,""Lil' Darlin," and "Corner Pocket." Hearing Ellington's jazzy "Nutcracker" was a seasonal treat.
The quintet is excellent. The brothers' horn playing has just the right brassy tone. Jeb Patton is fine tinkling the tunes of the remarkable composer/pianists the show honors.
The intimate space conjures up a jazz club. I wish the theater's artistic director had put in the small tables with red checkered cloths that were used in a past musical event I saw there. And let people bring in drinks from the theater bar. 59E59 could be a new and welcome jazz venue.