"Cuckooed," a riveting true story by British comic and activist, of how arms company spied on him

"Cuckooed."
Written and performed by Mark Thomas, directed by Emma Callander.
All for One at 59E59 Theaters, 59 East 59 Street, New York City.
Opened Nov 4; closes Nov 21, 2015.
Reviewed by Lucy Komisar Nov 4, 2015.
It's either theater as investigative reporting or investigative reporting as theater. However you cut it, Mark Thomas, a British TV actor/comedian and activist, has created a fascinating show. It's by him and about him: how he ran stings that put some illegal arms traffickers out of business or in jail and how he was deceived and betrayed by a "comrade" who turned out to be a spy for BAE Systems, the UK's largest aerospace and weapons company.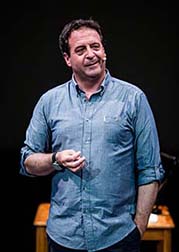 Mark Thomas, photo Richard Davenport.
Oh, and one must mention that all of this has led to hearings by a committee of Parliament into corporate spying on British citizens. So, even before the reviews on this theatrical exposé came in, Thomas had won.
The performance, directed by Emma Callander. was first presented at the Traverse Theatre in Edinburgh at the Festival Fringe in 2014. Traverse is the most innovative space for Edinburgh theater. Callander is co-director of the global movement Theatre Uncut. The play won a "Fringe First" at Edinburgh. Callander keeps the pace fast, partly comic, mostly serious, with a strong tinge of outrage.
This is Michael Moore on steroids. Thomas, in casual blue shirt and pants and brown walking shoes, stands on a set that includes a table and a couple of filing cabinets. Yellow bands around the cabinets say, "Warning, arms trader at work. This is not OK."
In the back is a large screen that begins the show with a BAE promotional video of planes and weapons. BAE is the major bad guy in the play, as well as a major bad guy among arms traders, albeit one wonders who the good guys are. (In 2010, BAE pled guilty in the U.S. to charges of false accounting and making misleading statements in connection with an arms sale to Saudi Arabia. The issue was bribery to get a Saudi contract. British Prime Minister Tony Blair quashed an investigation there, as he wanted the contract.)
Thomas is (in real life) part of the Campaign Against Arms Trade, CAAT. He participates in demonstrations and non-violent actions. At one point, after an arrest, he jokes about a cop who is critical of his TV performance. "Name? address? Keys, phone. Occupation?" "Comedian." The cop says, "On a fucking good night he is." Thomas: "I have just been heckled by a cop!"
Thomas does voices, he jokes about accents. But as an actor, he has some special skills.
He persuades people attending an arms fair to ride on his "free" bus from their hotel to the fair and then lets them off a mile away (he claims he doesn't have the proper pass to go beyond police lines), so they have to walk passed the protesters. But that is mild.
Mark Thomas with spy document, photo Richard Davenport.
His "gotcha" moments are elaborate stings (helps to be an actor), such as one that flummoxes an Indonesian general into admitting on camera that his government engages in torture. Thomas, who had set up a booth at a real arms fair, was pretending to be a public relations advisor offering free training on what to do "when Amnesty International comes calling."
Or he pretends to want to buy arms and phones dealers to get them to agree to sell weapons to countries that are embargoed. He gets several dealers arrested or their companies closed.
He says, "If an arms dealer talks to you they will explain what they are willing to do. First one is a South Londoner arms dealer offering to sell illegal electro shock torture equipment. But it wasn't enough that he agreed to supply them, I asked, "Would you supply them to Zimbabwe and break UN sanctions?"
"Yes"
"I call HMRC [Her Majesty's Revenue and Customs] and he is shut down."
Among the most important revelations is the discovery of organized corporate spying on activist critics. A Sunday Times Insight Team exposes the spying by BAE. CAAT discovers that for years a trusted activist has been forwarding emails from members of the group to a company called Threat Response run by Evelyn le Chene. On the firm's board sits Barrie Charles Gane, ex-deputy director of MI6, the UK's CIA. (Evelyn le Chene now has a hotel in France.) Threat Response works for corporations that target activists who target them.
In court documents, BAE Systems will admit to spying on CAAT (a legal consent order is projected onto the main screen) and to hiring Evelyn le Chene.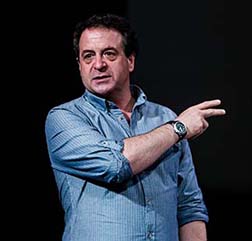 Mark Thomas tells how he caught the villains, photo Richard Davenport.
Much of the drama in the piece involves discovering that a "comrade" named Martin, who for seven years had been the CAAT campaign coordinator, was actually a spy for BAE. The reason BAE did this goes back decades.
The company had supplied fighter jets to Indonesia, which used them against its colony, East Timor, in a war that killed a third of that population. In 1966, three British women got access in Lancashire to a BAE fighter jet which was destined for Indonesia and smashed the cockpit. In court, the judge allowed them a defense that says it is legal in English law to commit a small crime in order to prevent a greater crime from occurring, ie it is legal to break a plane in order to stop the plane killing civilians.
The jury heard representatives from BAE, East Timor and human rights groups, and it acquitted the women.
Thomas declares, "BAE have the ignominy of having lost a £13 million state of the art fighter plane, which ironically is not hammer proof, they then end up on trial, lose in the court of public opinion and the jury let the activists walk free. And it is at this point that BAE decides to put Campaign Against Arms Trade on the radar."
Much of the play — a bit too much for outsiders — involves Thomas discussing with fellow campaigners (via video on screens pulled out of the filing cabinets) their reactions to what Martin had done. One reason they trusted him was his working class roots, including militant talk in a heavy Cockney accent. Thomas says, "It was as if he had walked out of every Johnny Cash song I ever loved." Which makes Thomas as naïve as some of the arms traders he suckered. The campaigners' sense of betrayal is reflected in the title "Cuckooed."
Thomas presents evidence to a select committee of Parliament. He criticizes the Revenue and Customs Service for not properly controlling arms exports. Three weeks later, he says, he is the target of a tax inspection.
Mark Thomas and video interview, photo Richard Davenport.
He also talks about companies running a blacklist against 3200 construction workers who want to join unions or raise concerns about health and safety. He runs videos of some of the blacklisted workers. The companies have admitted liability, and the case is in the courts.
Now, Thomas and five other members of the National Union of Journalists are suing the London Metropolitan Police for spying.
Political theater has always been among the best theater, telling stories of the issues raised by political campaigners and activists. But in this case, stirring political theater is activism itself. For a final dig, Thomas rented a BAE sports and social club to which he invited friends and activists for a preview of the play.