Pinter's "Old Times" teases and fascinates with memory and fantasy

"Old Times"
Written by Harold Pinter.
Directed by Douglas Hodge .
Roundabout Theatre Company at American Airlines Theatre,
227 West 42nd Street, New York City.
212.719.1300, http://www.roundabouttheatre.org/Shows-Events/Old-Times.aspx
Opened: Oct 6, 2015; closes Nov 29, 2015.
Reviewed by Lucy Komisar Oct 10, 2015.

Pinter is a wonderful trickster, playing games with the audience as they watch characters on the stage playing games with each other. This one, first staged in 1971, is about memory, or imagining, or both.
Clive Owen as Deeley, Kelly Reilly as Kate, Eve Best as Anna. Photo by Joan Marcus.
And the actors — Clive Owen, Eve Best and Kelly Reilly — pull it off and pull the audience in subtly, as if they were hardly trying. Credit director Douglas Hodge for getting the mystery right.
Deeley (Owen) and Kate (Reilly) are a married couple living in the country, a ways from London. Anna (Best) arrives for a visit. But the start is curious. Anna is wearing an elegant cocktail dress with a halter top and open back, very high heels, not what you'd wear to dinner at the country house of middle class friends.
Anna is strong, sensual. Katy is reticent, timid. Deeley is mild but not unassertive.
As the conversation goes on, they are looking back to memory, but they remember different things. Kate knew Anna. But did Deeley? And what's the point of Kate telling Deeley that Anna, her roommate, wore her underwear? What was the relationship between Kate and Anna?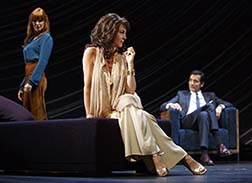 Kelly Reilly as Kate, Eve Best as Anna, Clive Owen as Deeley. Photo by Joan Marcus.
Bit by bit pieces of the memory puzzle fit together. As Pinter often does, the facts move between the present and the past.
The women recall their girlish memories as secretaries sitting in cafes with writers, artists, and actors.
Kate offers Anna a coffee. Odd, I thought, for an evening cocktail hour drink. When Deeley asks, "Do you drink brandy?" Anna quickly assents.
Music pulsates, and a circular eye on the backdrop turns. Light flashes over long purple couches that are sometimes beds.
Eve Best as Anna, Clive Owen as Deeley. Photo by Joan Marcus.
Anna says that she now lives in a villa in Sicily. The conversation appears to reprise the past. She and Deeley do a medley of tunes from the American songbook. Their language is lines from songs. Anna: "I get no kick from champagne." Is that underlining fantasy? They talk about Kate as if she weren't there.
We learn that Deely and Kate met at a cinema 20 years ago. Kate was interested in the arts. Deely remarks that his job takes him traveling. He says, "I probably caught a glimpse of that villa." Anna's villa.
Kate leaves them to take a bath. That is odd if there is company. Is there really company?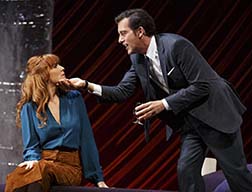 Kelly Reilly as Kate, Clive Owen as Deeley. Photo by Joan Marcus.
Deely remembers picking up a young woman in a bar and taking her to a party where he sat looking up her skirt. At underwear. Hmm, is that Kate's underwear. What does that mean? Kate remembers a man sobbing in her room, bent over her bed. "Then he left, as if I were dead." Deely tells Kate that he and Anna met before.
Then surprise, Kate tells Anna, "I remember you lying dead. You didn't know I was watching you. I leaned over you. Your face was dirty. You lay dead, your face scrawled with dirt, all kinds of earnest inscriptions, but unblotted, so that they had run, all over your face, down to your throat. Your sheets were immaculate. I was glad. I would have been unhappy if your corpse had lain in an unwholesome sheet." True? Fantasy?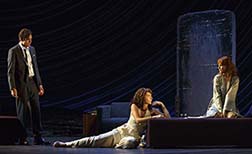 Clive Owen as Deeley, Eve Best as Anna, Kelly Reilly as Kate. Photo by Joan Marcus.
I found it all engrossing, fascinating, and perfectly acted by the three. Best as Anna is strong and erotic, Reilly as Katy is childlike, diffident. Owen as Deeley seems quite normal, but you wonder if he has been bested by the women.
So is this a memory of life, past, death, is Anna really there? And what was the relation between/among any of the three? Well, it's Pinter, so you'll never be sure.