"Gigi" revival airbrushes the dark story of young girls raised to be courtesans

"Gigi."
Book and lyrics by Alan Jay Lerner, based on the novel by Colette; music by Frederick Loewe, directed by Eric Schaeffer, choreographed by Joshua Bergasse.
The Neil Simon Theatre, 250 West 52 Street (between Broadway/8th Ave.).
(877) 250-2929 http://www.gigionbroadway.com/.
Opened April 8, 2015; closes June 21, 2015.
Reviewed by Lucy Komisar April 14, 2015.
Vanessa Hudgens as Gigi. Photo by Joan Marcus.
The set is Art Deco inspired by the Grand Palais in Paris. It's the Belle Époque of the early 1900s. But how belle depends on how you look at it.
The 1944 Colette story on which the play is based is about the demi-monde of Paris, where elegant courtesans with their rich lovers dined out at Maxim's, drinking Veuve Cliquot and flicking their gowns and feathers.
Dee Hoty as Aunt Alicia. Photo by Margot Schulman.
But though the production has a lot of allure, and Joshua Bergasse's dance numbers are enthralling, director Eric Schaeffer airbrushes the dark side of the story.
Two sisters, Alicia (played as high-pitched and snooty by Dee Hoty,) and Inez (a warm, appealing Victoria Clark), are raising Inez's granddaughter, whose mother is apparently singing in the opera and isn't discussed. Neither is Gigi's father. In the original story, she is 16. Now closer to 18.
Inez, who Gigi calls Mamita, wants what's best for the girl and is easily led by Alicia, who's always been the mistress of some rich guy and seems to have done economically well at it, judging from her jewels, mansion and servants.
Victoria Clark as Mamita, Vanessa Hudgens as Gigi and Corey Cott as Gaston Lachaille. Photo by Margot Schulman.
Into that world comes Gaston (Corey Cott), the scion of a sugar fortune who has run through various vacuous women, whose bills he generously pays. He visits Inez and Gigi for homey relaxation.
What kind of woman does he prefer? Gaston dips into his wallet for Liane (Steffanie Leigh), who is taking singing lessons to prepare for a recital, and by the way cheating on him with her coach. We see her again at Maxims. Leigh has an elegant, buttery sound.
Gigi (a very good Vanessa Hudgens) has a fine voice and a comic edge. She starts out naïve, "I don't understand the Parisians."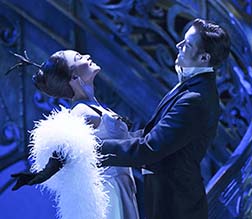 Vanessa Hudgens as Gigi and Corey Cott as Gaston Lachaille. Photo by Margot Schulman.
Wholesome young Gigi doesn't seem to know what she's getting into when she agrees to become Gaston's mistress. The word isn't used. She just notes en passsant that she'll have to share his bed. Which she says with as much significance and understanding as agreeing to a play date.
Gigi's mother and aunt are sophisticated about how the deal works. Apparently, when a girl marries a man, she consults a priest, if she just lives with him, she brings in attorneys. The comic pre-nup meeting shows lawyers in top hats negotiating demands for a townhouse and more.
The demi-monde at Maxim's. Photo by Margot Schulman.
When Gigi arrives on the money scene, we are treated to a parody of the gossips who inhabit Maxim's. Reminds one of what one could read in today's society pages, "society" being a euphemism for the rich.
Shift to the beach at Trouville in Normandy, where Gigi goes with Gaston. She is again playful and girlish. She doesn't seem like the sisters' creation. Will mid-20th century morality win? Or, gasp, love?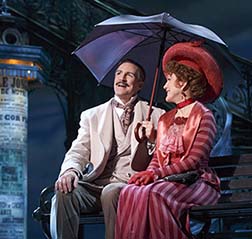 Howard McGillin as Honoré Lachaille and Victoria Clark as Mamita. Photo by Joan Marcus.
The Lerner and Lowe songs are lively and deft, and you go out singing them. "I Remember it Well," a charming duet between Clark and Howard McGillan (Gaston's uncle Honoré) as long-ago lovers, "The Night They Invented Champagne," and "I'm Glad I'm Not Young Anymore."
The voices of Clark, Hoty, and Hudgens are worthy of the music. Costumes by Catherine Zuber and sets by Derek McLane are exquisite.
The male actors are not as good as the women. Cott's Gaston gives off the air of a rich but good-natured fraternity boy, just this side of being empty-headed. McGillin as Honoré lacks the panache you'd expect from an old roué. There's no edge.
Of course, he doesn't reprise the famous Maurice Chevalier doing "Thank Heaven for Little Girls." That's sung by the sisters. What was Alan Jay Lerner thinking? Hints of pedophilia are not in vogue.
Visit Lucy Komisar's website http://thekomisarscoop.com/