"Street Singer" is dramatic story of French icon Edith Piaf in song and modern dance
"Street Singer."
Concept and choreography by Pascal Rioult.
Written and directed by Drew Scott Harris. Musical Director Don Rebic.
Featuring Christine Andreas.
Rioult Dance New York at 42West Nightclub, 514 W. 42nd Street, New York City.
www.rioult.org.
May 13-16, 2015.
Reviewed by Lucy Komisar May 14, 2015.
The very fine Broadway and cabaret singer Christine Andreas channels Edith Piaf in an elegant, sharp, charming dance production choreographed by Pascal Rioult, a former Martha Graham Dance Company principal dancer.
The space is a cabaret/dinner theater space at the 42West Nightclub. Tables are set around a center runway and look at a proscenium stage.
Christine Andrea. Photo byPaul B. Goode.
Andreas in gamine hairdo, black glittery silk dress, looks (a bit) and sounds like Piaf, her trills and tremors.
Drew Scott Harris wrote the story that takes Piaf from the dance halls of Pigalle, the seedy neighborhood in Montmartre, in the north of Paris, to her triumph as a French icon.
It opens with her signature "Je ne regrette rien."
Non, Rien de rien
(No, nothing of nothing)
Non, Je ne regrette rien
(No, I regret nothing)
Ni le bien qu'on m'a fait
(Not the good things that have been done to me)
Ni le mal tout ça m'est bien égal
(Nor the bad things, it's all the same to me)
Andreas pulls you into the dark story. Piaf's character is a fille de joie, a prostitute. The famous Milord, which she sang on the Ed Sullivan show (did they really understand the text?) says:
Allez, venez, Milord
Vous asseoir à ma table
Il fait si froid, dehors
Ici c'est confortable
……Je vous connais, Milord
Vous n'm'avez jamais vue
Je ne suis qu'une fille du port
Qu'une ombre de la rue.
"Come on M'lord, sit down at my table,
It's cold outside. It's comfortable here….
I know you very well, but you never saw me……
I'm just a girl in the harbor, a shadow in the street."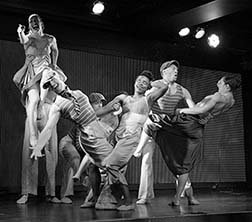 Dance hall dancers. Photo by Paul B. Goode.
The dancers fill out the story. Cartoonish wiggles and turns represent the Can Can. We learn that performing at a Nazi camp, Piaf helped some prisoners escape; she dressed and smuggled them out as troop members.
The drama of couples separated by war is expressed by "La vie en rose." And a stunning pas de deux of a man physically abusing his lover is realistic, not sexist. In one piece, dancers are dressed in white to represent the pills Piaf took.
Rioult has built his vivid fluid ballet theater on elegant Martha Graham inspired dance. Rioult makes an appearance with Andreas as an anonymous guy, maybe Piaf's lover.
But our views are caught by the elegant movements on stage, the story dances that makes us feel Piaf's life.
The central catwalk should be higher for the sake of people at the back tables who, blocked by those seated in front of them, miss the full aspect of the dancers. The mediocre sound system doesn't do justice.
But I was very glad to have the chance to see the Rioult troop which has performed in New York City for about twenty years. This production should have run longer.
Visit Lucy Komisar's website http://thekomisarscoop.com/