"The Bullpen" is a prisoner's surreal comic riff on the justice system.
"The Bullpen"
Written and performed by Joe Assadourian; directed by Richard Hoeler.
The Playroom Theater, 151 West 46th Street, New York City.
Produced by Eric Krebs in association with The Fortune Society.
866-811-4111; http://www.stepinthebullpen.com/
The video http://vimeo.com/109062568
Performances Tues & Wed 9pm, Sat 4pm. Tickets $30.
Opened June 22, 2014; closes March 21, 2015.
Reviewed by Lucy Komisar Feb 7, 2015.
A prisoner's account of what goes on in New York City's holding pen for arrested men is unexpectedly and often hilariously funny. He deftly skewers, no, impales, the Alice-in-Wonderland quality of the criminal justice system, there and in the courtroom.
Joe Assadourian discovered his theatrical talents in prison. He got in trouble at 22. He'd always been in trouble, but that depends on how you define trouble. He said, "I'd been doing voices in school. If I was sent to the principal, I'd do him." An upper class family would have sent young Joe to acting school. But soon he would get into big trouble — a gun, a struggle, a shot — and land in jail for 12 years. For a long time he wrote in notebooks for himself. Then he got into a prison theater program where Richard Hoeler, now his director, unearthed his very large talent.
Joe Assadourian, from video.
In this 70-minute production, Assadourian perfectly mimics the voices, facial expressions, body language, and attitudes of men he met in the "bullpen," the holding cell where men awaiting court appearances are held. Hoeler's spot-on direction cuts out any sentimentalism. This is tough stand-up comedy, as good as any solo performance can get.
The staging I saw February 7th was given added poignancy by the presence of three of the Central Park Five, who as black and Latino teenagers were convicted and spent 7 to 13 years in prison for a 1989 rape they didn't commit. They were released only after the confession of the real culprit backed up by DNA evidence. They had been railroaded by police into confessing. Their DNA should have proved them innocent, but the inconvenient evidence was ignored, or maybe suppressed.
Assadourian wears jeans and a hoodie. He's been arrested for the nonfatal shooting of a man outside a nightclub. He is perplexed in the holding cell. One guy with a Spanish accent speaks English so fast it sounds like Spanish. (Assadourian mimics him brilliantly.)
Shane, eyes crossed and bulging, hand deep in the back of his jeans, pulls out somewhat contaminated "weed." Ali, the Muslim, gets stoned and breaks out in (Arabic) song. The rapper Roscoe Jones wants to be a lawyer on TV. A flouncing cross-dresser declares, "Call me Kitty," and Assadourian is confused: "I thought they separated us; I didn't think they let women in here."
Assadourian protests to a guard, "I can't understand what most of these people are saying."
To prep him for his court appearance, they do a play within a play, imagining his appearance before the judge. The Italian Vinny volunteers, "I'll be the guy who intimidates the witnesses so they don't testify." Ali, who plays the judge, is not enamored of the system. He declares, "Where I'm from they tell you, you have no right. This American they tell me, you have all the rights, but they don't give you shit."
In the real court, we see a toothy judge and a public defender with an impenetrable upper crust marbles-in-his-mouth accent. The judge for no obvious reason dismisses the case against Jones because he claims to be Spanish and there's no interpreter. When Assadourian pulls the same shtick, he is threatened with contempt. Meanwhile, the defender, who protests, is jailed for contempt himself.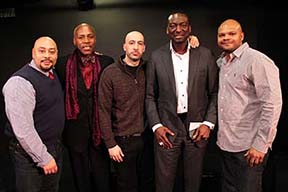 Raymond Santana, State Senator Bill Perkins, Joe Assadourian, Yusef Salaam, Kevin Richardson, photo Ben Mann.
But just as exceptional were the talk-back comments by Raymond Santana, Yusef Salaam, and Kevin Richardson, three of The Central Park Five, who were falsely arrested and convicted for the beating and rape of a white woman in Central Park. They had all gone through what Assadourian described.
Raymond Santana said, "For us, going to "The Bullpen" is therapy. We went through 17 months of that. I knew a Roscoe Jones, the jailhouse lawyer. It took me back."
He said, "I was 14 years old in the bullpen. It wears down on you." He explained, "Prison can kill your spirit. The five to ten year sentence was social death."
Kevin Richardson said of the play, "It was hilarious, and if it was raw, it's because it shows you what went on inside."
He said he was in the 9th grade in 1989 and had to drop out of school even before the boys were convicted because of the notoriety in the press, especially the New York Post and the Daily News, which virtually pronounced them guilty. Never one to avoid the spotlight, New York Mayor Ed Koch also railed against the "crime of the century."
Yusef Salaam agreed, "This is therapy for us. They [the attack media and politicians] wanted us to die in prison, get hurt in prison." But he found some kindness there. He recalled, "The prison I was in, there were folks trying to help. I'd come back to my cell. A woman would leave orange juice and Entenmann's cake in my cell. She was an officer. After a while people recognize if you're a criminal. Someone came in to help us with poetry."
But he said he "came home to a reality that was death. The city turned its back on us. The Police Department never would admit they did anything [wrong]." He noted that people made careers on the case and ended up unscathed. "The Daily News, The Post… Those articles made people turn their back on us. It was a battle to exonerate us. They [the Bloomberg administration] dragged a civil suit for ten years."
Even now, he says, "I can't ride the trains. I can't let people get too close to me."
The big change came with the 2010 Ken Burns film, "The Central Park Five," which exposed the injustice of the youths' indictment, trial and incarceration. Salaam said, "We didn't get justice till the film came out." Santana said Ken Burns' film "saved us."
Joe Assadourian as the Judge, from video.
Assadourian has a sharply honed sense of the irony of reality. He said, "Before I was released, I saw the documentary. I was out a year and 3 months ago. Now you guys are watching me. It's surreal!"
Assadourian added that the prison theater program changed his life, gave him something to do. He explained, "That's the problem with the prison system. Most of the time people were doing wrong things. [But] it's all about punishment. Sit in this cage and don't do anything. If we don't want people to come out and repeat those mistakes, they need something to do. It saved my life. Now I'm doing this a year later."
The Central Park Five sued New York City, police and prosecutors, charging that they were guilty of false arrest, malicious prosecution and a racially motivated conspiracy to deprive them of their civil rights. While the Bloomberg administration fought their suit for ten years, some politicians supported them. One, who was at the performance, was State Senator Bill Perkins, who had been president of the tenants association of Schomburg Plaza, where three of the youths lived.
Last June, under Mayor Bill de Blasio, New York City agreed to pay the Central Park Five a $41-million settlement – giving the men about $1 million for each year of wrongful imprisonment. Now most of them have jobs and families. And they give talks to schools and colleges about what a corrupt justice system did to their lives.

Visit Lucy Komisar's website http://thekomisarscoop.com/