Sutton Foster is eloquent in "Violet," a southern country-gospel musical

"Violet."
Book and lyrics by Brian Crawley based on "The Ugliest Pilgrim" by Doris Betts; music by Jeanine Tesori; directed by Leigh Silverman.
Roundabout Theatre, 227 West 42nd Street, New York City.
212.719.1300; http://www.roundabouttheatre.org/Shows-Events/Violet.aspx.
Opened April 22, 2014; closes Aug 10, 2014.
Reviewed by Lucy Komisar April 24, 2014.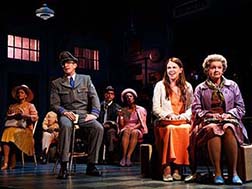 Sutton Foster as Violet and the cast, waiting at a bus station. Photo by Joan Marcus.
"Violet" is like an expressionist painting with brush-stroked characters. We see the visual depth of the central figure (Sutton Foster), and the others that interact with her add bits of color.
It is a picture with sound. The production by Brian Crawley (book and lyrics) and Jeanine Tesori (music) is a chamber operetta, with Foster's strong, rich voice underpinned by deep sweetness. The score moves through a terrific panoply of southern music, from country in Nashville, to blues in Memphis and gospel in Tulsa.
Sutton Foster is superb as Violet, a young woman from the mountains of North Carolina who is on a religious odyssey seeking healing – not just spiritual. When she was 13, her father was swinging an axe when the blade flew off and hit her on the cheek. You don't see the scar. Foster wears no make-up, but you see the wound through her anguish. Director Leigh Silverman makes the injury a metaphor rather than a horrific event.
Now, it is September 1964 and the grown woman has started out from Spruce Pine by bus to travel to Tulsa, Oklahoma, to see a TV evangelist who can perform the miracle of giving her a new face. She has a fantasy of being a movie star — she names them all: Bardot, Cyd Charisse, Grace Kelly, Rita Hayworth, Ava Gardner, Ingrid Bergman.
Joshua Henry as Flick, Colin Donnell as Monty, Sutton Foster as Violet. Photo by Joan Marcus.
Along the way at a bus station rest-stop she meets two servicemen, one white and one black, who are traveling together. Violet is cynical, not trusting, but they win her over. Joshua Henry is excellent as Flick, the intense black soldier, whose unforgettable stentorian voice powers a bluesy, R&B sound.
The white soldier, Monty (Colin Donnell) makes a comment, "Last year, he coulda been thrown in jail for sittin' here." The civil rights act had just passed, though real desegregation didn't happen so quickly after the law, so it was odd to see black man traveling with a white man on the bus and Violet socializing publicly with both.
When they stop in Memphis, the music is country. Monty sings about looking for a woman. Annie Golden is very good playing a hotel hooker in the number, "Anyone Would Do." Anastacia McCleskey is excellent as an R&B music hall singer doing "Lonely Stranger."
There are interactions that seem more modern than past. The white soldier starts out seeing Violet as a girl to put her legs up, but then curls up on her lap. He has joined the Green Berets and will go to Vietnam. The black soldier is more protective.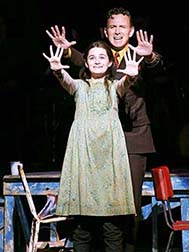 Emerson Steele as young Violet, Ben Davis as the preacher. Photo by Joan Marcus.
The dénouement is the arrival at Tulsa and the religious healing. Fortunately for the audience, the backdrop to the faith healer is a troop of evangelicals in red robes riveting audience attention with gospel vocals and frantic dances. Rema Webb is smashing as the jazzy gospel performer Lula Buffington who joins the preacher (Ben Davis) and the choir in "Raise Me Up."
Among others in the cast, Emerson Steele is excellent as the young Violet, a little girl with a powerful country singing voice. Father (Alexander Gemignani) is a sweet and sensitive guy who schools his young daughter in poker to teach her arithmetic.
Finally, Violet is "healed," because the people she meets care for her in spite of the scar. Both soldiers, in fact, want her, and not just for a one-night-stand. So it's a metaphor, but not a hokey one. And the southern music is a standout.

Visit Lucy Komisar's website http://thekomisarscoop.com