"The City of Conversation" is great fun for politics junkies


"The City of Conversation."
Written by Anthony Giardina; directed by Doug Hughes.
Mitzi E. Newhouse Theater, Lincoln Center, 165 West 65th Street, New York City.
212-239-6200
www. lct.org
Opened May 5, 2014; closes June 22, 2014.
Reviewed by Lucy Komisar May 8, 2014.


Jan Maxwell as Hester Ferris. Photo by Stephanie Berger.
It starts in a Georgetown drawing room. Now you already know half the juicy story by Anthony Giardina, presented by Lincoln Center Theater. It's Washington politics. Insider stuff. In this case, as usual, a conflict between liberals and conservatives. With a little morality thrown in. You know which ones are moral and which are opportunists, right? (They say that liberals become playwrights and conservatives become bankers.)
Giardina's play, directed with panache by Doug Hughes, is a very clever and entertaining take on dealing in Washington over the decades from Jimmy Carter to the inauguration of Barak Obama. With a family drama to tie up the loose ends. Accomplished director Hughes keeps it this side of TV drama, of which there are now several of the genre.
Hester Ferris (Jan Maxwell as a smooth, glamorous hostess whose veneer covers inner toughness) is very well connected. It's not clear if her money comes from family or former husband, as she doesn't seem to have a paid job. But she has a fine Georgetown townhouse. (Sets by John Lee Beatty.) And gorgeous clothes. (Costumes by Catherine Zuber.) And she likes dealing in politics, effecting change on the liberal side.
Kristen Bush as Anna Fitzgerald, Michael Simpson as Colin Ferris, Jan Maxwell as his mother Hester. Photo by Stephanie Berger.
Hester has arranged a dinner for Kentucky "good ole boy" Senator George Mallonee (John Aylward) and his wife Carolyn (Barbara Garrick) to persuade him that the Judiciary Committee shouldn't approve judicial candidates who belong to all-white country clubs. (Yes, this was an issue in the late 70s.)
The fourth at dinner will be her boyfriend, Chandler Harris (Kevin O'Rourke), a (married) liberal senator from a border state.
Then an unexpected fifth and sixth arrive, her son Colin (Michael Simpson) and his girlfriend Anna Fitzgerald (Kristen Bush), who weren't expected till a day later. They are returning from the London School of Economics, he a bit bedraggled and long-haired, she with sexy high boots. She slips readily into the slinky black dress Hester lends her for the dinner. After dinner, she joins the Kentucky senator for a cigar. She slips just as easily into his conservative politics.

John Aylward as Sen. Malloneee, Kristen Bush as Anna, Kevin O'Rouke as Sen. Harris, Jan Maxwell as Hester Ferris. Photo by Stephanie Berger.
As the evening wears on, the early arrival turns out not to be a mistake by the manipulative Anna, who advanced travel plans when she heard by chance from Hester's sister Jean (Beth Dixon) about the dinner with an important conservative senator. Though Colin went to Sidwell Friends (the trendy liberal private school where the Clintons and others sent their kids), he and his girlfriend are right-wingers. Anna wants "a bill declaring the 60s officially over." She's for Reagan's belief in "personal responsibility." That's Reaganspeak for government cash for wealthy corporations and uplifting advice for struggling citizens.
Transition to 1987, the Reagan presidency. Anna is working for the Justice Department. She is big for Ollie North. No mention of his evading personal responsibility as well as federal law by illegally passing weapons to the Contras. But, the New York audience knew.
Colin, now sporting a mustache, sideburns and slicked back hair, is on staff of a conservative New Hampshire senator. Hester is working against Reagan's nomination to the Supreme Court of ultra-conservative Robert Bork.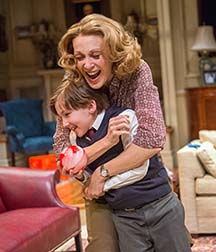 Luke Niehaus as young Ethan Ferris, Jan Maxwell as his grandmother Hester. Photo by Stephanie Berger.
She says, "Approving the sterilization of women is not a subject that makes me want to take up my knitting and retire." Bork had backed a policy by a West Virginia chemical plant that required women, whose future unborn children might be harmed by the chemicals, to be sterilized or quit. Rather than the plant institute safety procedures. Five women got sterilized to keep their jobs.
Hester's efforts to derail Bork would drive a wedge between her and her son and now daughter-in-law and estrange her from Ethan (Luke Niehaus), the 6-year-old grandson she loves.
Years later, we meet grown-up Ethan (Michael Simpson) who has worked with Move-on for the election of Obama. We learn that his as parents are divorced. You get the feeling that Colin was not ambitious enough for Anna. Ethan's own personal setup seems a bit too pat, more like a feel-good sit-com than a Broadway play.
That aside, it's an engrossing and smartly acted production. Maxwell, as usual, commands the stage and Kristen Bush is a good foil as the self-promoting Anna.

Visit Lucy Komisar's website http://thekomisarscoop.com
---
"The City Of Conversation" Is a Word to the Wise
The City of Conversation
Directed by Doug Hughes
Mitzi E. Newhouse Theater
150 West 65 Street
Opened May 5, 2014
Tue. - Sat. at 8pm, Wed. & Sat. at 2pm and Sun. at 3pm
Tickets: $77 800-432-7250, 212-239-6200 or www.telecharge.com
Closes: June 22, 2014
Reviewed by Paulanne Simmons May 28, 2014
Kristen Bush, Mickael Simpson and Jan Maxwell. Photo by Stephanie Berger.
While "All the Way" on Broadway has become the talk of the town, "The City of Conversation" is causing a smaller stir off-Broadway at Lincoln Center. Its author, Anthony Giardina, deftly mixes family saga and political drama in a play that traces the vicissitudes of American history and familial feuds from Jimmy Carter to Barak Obama over three generations.
"The City of Conversation" is smoothly directed by Doug Hughes, whose task it is to juggle the political with the personal without dropping the ball. The production stars Jan Maxwell as Hester Ferris, the materfamilias, a mover and shaker in the political world who understands that words, both spoken and written, do matter. The parties she ably hosts in her Georgetown apartment (marvelously reproduced by set designer John Lee Beatty) are both battlegrounds and conference rooms for the well-connected.
We first meet Hester in 1979, when she is backing Ted Kennedy in his bid to unseat the incumbent Jimmy Carter. Right before a major dinner party, her son Colin (Michael Simpson) who has been studying at the London School of Economics, arrives with his girlfriend, Anna (Kristen Bush). It soon becomes apparent that there has been a radical shift in Colin's politics, mostly due to his strident, manipulative and very conservative girlfriend. The crack in family alliances does not bode well for the future.
Left to Right, Barbara Garrick, John Aylward and Jan Maxwell. Photo by Stephanie Berger.
In fact the next time we see the family it's 1987, Colin and Anna are married and have a six-year-old son, Ethan (Luke Niehaus). Ethan is often left in Hester's care, but being a grandmother has done nothing to curb Hester's involvement in politics. This time the fight is against Reagan's nomination of Robert Bork to the Supreme Court. But the stakes are higher now, as both Colin and Anna are working for the Reagan administration.
In the final scene there is some resolution, if not between mother and son, at least between mother and grandson, when Ethan (now 27 and played by Simpson) unexpectedly shows up at his grandmother's house on the night of Obama's victory celebrations.
Excellent performances are turned in by John Aylward and Barbara Garrick as Kentucky's Republican senator, George Mallonee as his wife, Carolyn, as well as Beth Dixon as Hester's long-suffering, wise and loyal sister, Jean. But "The City of Conversation" belongs to Maxwell. She plays a complex character over a thirty-year time period and she does it with sensitivity, grace and wit.
In fact, the very best moments of the play are those in which we see the battle of wits between Anna and Hester, two equally capable women. What separates them is not only politics but their understanding of the rules under which Washington operates. Hester is old school. She believes in the bonds of friendship and the efficacy of brokerage. Anna puts winning above friendship and family. She practices brinkmanship.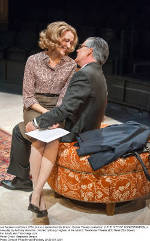 Jan Maxwell and Kevin O'Rourke. Photo by Stephanie Berger.
It's pretty clear where Giardina's heart lies in this battle. And while this does give "The City of Conversation" energy and passion, at times it makes the play too much of a melodrama for its own good. This is most apparent in Anna's unrelenting determination to win, which ends up as monstrously destructive.
However, "The City of Conversation" is so well-written and well-staged that it should be enjoyable to anyone who appreciates good theater. What's even better, most people will go home with something to talk about.