"Amaluna" shows women circus performers in charming choreography.

"Amaluna."
Creative Direction by Fernand Rainville; Directed by Diane Paulus.
CitiField in Queens, at the Willets stop of the 7 train.
800 450-1480; http:// www.cirquedusoleil.com/amaluna
Opened March 27, 2014; closes May 18 2014.
Reviewed by Lucy Komisar March 27, 2014.



Amelia Pedlow as Isabelle, Suzanne Bertish as Mme Argante, Dave Quay as Eraste. Photo by Richard Termine.
The greeting is "Meine Damen und Damen." In German, it means "My ladies and ladies." Amaluna in Latin means mother and moon. Clearly this is a woman's show, by and about women. There's even a moon goddess.
It's not feminist in the sense it has a political message.
But showing women circus performers in roles other than their bodies being tossed around by men is certainly feminist and very welcome.
Comparing this to other Cirque du Soleil production's I've seen, the distinction was that the women exhibited grace above proficiency in tricks. They are aerialists, trapeze artists, acrobats, tumblers, balancers.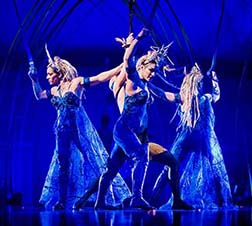 Virginie Canovas, Kylee Maupoux, Marina Tomanova, Photo by Charles William Pelletier.
The best guy was Viktor Kee, a juggler with a lizard's tail that he flicked around expertly.
Lili Chao, who balanced precariously on the edge of a huge glass bowl, also swam in it. I didn't know what that was about.
Viktor Kee. Photo by Charles William Pelletier.
The only part I didn't like – and I never like this in Cirque du Soleil productions – was the clowns. The female clowns were no less unfunny than the usual male clowns. Is this something about French
Canadians, or what? A bit about a woman in a baby carriage undergoing labor and giving birth to a bunch of footballs was especially silly.
Postscript: I read later that the "plot," to the extent there is one, was inspired by Shakespeare's "The Tempest." Oh, the huge water bowl was the sea. But it didn't say that to me. And without a scorecard (appropriate for Citifield) or a written program, it might have been anyone's guess. Why weren't audience members informed?
But, if you like elegant acrobatics, especially as performed by women, this is a good show. Very good.
Visit Lucy Komisar's website http://thekomisarscoop.com
---
"Amaluna," a Cirque du Soleil Extravaganza at City Field, 126 St. and Roosevelt Ave., Queens, NYC.
Conceived and directed by Diane Paulus. March 20 - May 18, 2014. Days and times vary. $40-$145.
Tickets and information at 1-800-450- 1480 and http:// www.cirquedusoleil.com/amaluna.
Reviewed by Glenda Frank
Cirque du Soleil. Photo by Charles William Pelletier.
Founded in 1984, Cirque du Soleil is dedicated to expanding its range and appeal. In "O" (1998), it added water acts, Beatles' music joined the shows in 2006, and opera director Robert LePage was hired for "Ka" in 2004. Early on, Cirque made projections integral to performance. "Amaluna," its latest experiment and 32nd production, is directed by the same Diane Paulus who won Drama Desk, and Outer Critics Circle nominations and awards for revivals of "Hair" and a magnificent "Pippin."
Cirque gave Paulus control. She conceived, directed, and cast "Amaluna" with 70% women. In a world where 75% of all roles go to men and women playwrights still haven't capped 20% of annual productions, that 70% is a milestone. But even better: "Amaluna" is one of the finest shows in Cirque's history. The athletic daredevilry complements the romantic courtships, each creating a crowd-pleasing center stage. The acts are cloaked in a multicoloured world of imagination. Talent, including an all-female band, abounds from air, ground and water.
Cirque du Soleil. Photo by Charles William Pelletier.
The story line is a mixture of Shakespeare's "The Tempest" and "The Hunger Games." (Paulus made her name with "The Donkey Show," a spin off "A Midsummer's Night's Dream") Director Julie Taymor 's 2010 film version of "The Tempest" featured Helen Mirren as Prospero. "Amaluna" brings us Prospera and a Miranda (Iuliia Mykhailova, Ukraine), who is both a feminine teen in cut-offs and a remarkable athlete.
Cirque du Soleil. Photo by Charles William Pelletier.
The story line begins with a shipwreck. The young lover (Evgeny Kurkin, Russia), named Romeo, not Ferdinand, finds himself on a strange island. There he spots Miranda, Prospera's beloved daughter whose playmate is a possessive giant lizard (Viktor Kee, Ukraine). He is smitten. Even an amorous dancer in a flowing white gown cannot divert his attention, try as she may. Local Amazons battle the sailors, moon and island goddesses weave their magic, and two comical lover (Shereen Hickman, United States, and Nathalie Claude, Canada) meet suspicious, court ardently, and eventually give birth to a litter of odd shaped creatures, who become part of a tossing routine. At the end, the whole community -- in their magnificent costumes and make-up -- celebrates the nuptials of the young lovers, clad in white, on the dais. The peacocks fan their tails and performers carry orchid stems.
Cirque du Soleil. Photo by Charles William Pelletier.
The star of the gymnastic side is Lili Chao Rigolo (Switzerland), hands down. Lifting large ribbed-shaped cudgels with her foot to her hand, she creates a giant construction in the air -- something like a dinosaur spine, held up by a single rib resting in her palm. It is beautiful and breath-taking to watch her balanced the pieces, one addition at a time (over 14), and with new piece shift the center of gravity so that the sculpture -- which represents renewal, rebirth, balance: the themes of "Amaluna" -- never even trembles.
The Amazons on the uneven bars twist, spin and leap with an agility and speed that is exhilarating The castaway males on the teeterboard always remember the audience, adding boyish charm and preening to their precision acrobatics. The woman seated next to me was ecstatic.
The heavens too are alive with goddess acrobats with the moon as their anchor, triple aerial strap daring , and mysterious, ethereal performers. Prospera (Julie McInnes, Australia) seems to control the air itself in her wondrous red scarf as she conjures up a storm. Male and female aquatic routines in a giant fish bowl bring in an underwater dimension and highlight the motif of longing as a lone female, then a lone male gazes through the glass separation.
With A-list performers, elaborate and elegant Cirque costumes (Mérédith Caron), and an unpredictable clown couple with a telescope, "Amaluna" is splendid and astonishing.