"Arguendo."
Created and performed by Elevator Repair Service; directed by John Collins.
The Public Theater, 425 Lafayette Street, New York City.
(212) 967-7555
http://publictheater.org/component/option,com_shows/task,view/Itemid,141/id,1084
Opened Sept 24, 2013; closes Oct 27, 2013.

I think the Elevator Repair Service could dramatize the telephone book.
I went to its performance of "Arguendo" — it's the legal term for the sake of argument – with a soupçon of curiosity leavened with "ok, show me." After all, the play text was the transcript of the Supreme Court arguments in the 1991 case of Barnes v. Glen Theatre. It was a challenge to the Indiana law that banned nude dancing in clubs. The law said dancers had to wear pasties and G-strings.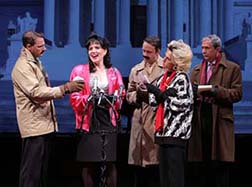 Ben Williams as a reporter, Maggie Hoffman as the nude dancer, Mike Iveson, Susie Sokol, and Vin Knight as reporters, photo Joan Marcus.
Was it an issue of free expression protected by the First Amendment? It wasn't at the top of my civil libertarian agenda.
But this production at the Public Theater is not only a fascinating look into how the Supremes (the justices) interrogate lawyers, but how brilliant a director and actors can be in interpreting just about anything.
We start out with Rebecca Jackson (Maggie Hoffman), 23, a rather tacky, not very bright slightly overweight lady with breasts hanging out, who is making $2 to $5G a month dancing at a strip club. I thought the part about Rebecca went on too long but maybe it was to divest us of any sympathy for the case protagonists.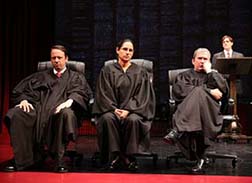 Mike Iveson, Susie Sokol, Vin Knight as justices, and Ben Williams as Indiana prosecutor, photo Joan Marcus.
The justices (Mike Iveson, Vin Knight, Susia Sokol and Ben Williams) are first seen in rolling desk chairs on an upper level but then suddenly roll down ramps and move around the space in a slow dance. Or they rock back in their chairs. Only three actors play the nine justices, but they shift their rolling chairs to different places on the stage to become different characters. Suddenly Rehnquist is White.
When they refer to cases, the transcripts are projected on the backdrop.
Susie Sokol, Mike Iveson as justices, Ben Williams as Indiana prosecutor, and Vin Knight as justice, photo Joan Marcus.
One is impressed by the justices' questions. How do you draw the line between the opera "Salome" (nudity permitted) and the Kit Kat Lounge? The argument hangs on artistic merit.
The lawyers (Ben Williams as Indiana prosecutor Uhl and Mike Iveson as ACLU attorney Bruce Ennis) stand at lecterns which they move back and forth, upstage and down. So together with the justices' movements, this becomes a performance dance.
At one moment there is a crescendo of rock music. And then Bach.
Most of the audience would not be aware of the decision that is announced. On January 21, 1991, the Supreme Court ruled that the Indiana law requiring pasties and G-strings didn't violate the First Amendment.
But if the nude dancers didn't have artistic merit, the Supremes would have to rule unanimously that this production does.

Visit Lucy Komisar's website http://thekomisarscoop/.