---
An Excellent and Overdue Revival of
"You Never Can Tell"
by Paulanne Simmons
You Never Can Tell
Directed by David Staller
The Pearl Theatre Company
555 West 42 Street
From Sept. 3, 2013
Tues. at 7pm, Wed., Sat. & Sun. at 2pm, Tues.-Sat at 8pm
Tickets: $65, Seniors $35, Student and Thursday Rush $20 (212) 563-9261 or pearltheatre.org
Closes Oct. 13, 2013
The title of George Bernard Shaw's 1897 play, "You Never Can Tell," is a pretty good indication of what the playwright is trying to tell us. The phrase is repeated several times by he wise waiter, Walter Boon, while meditating on the problems of a family in which the father has been banished and the eldest daughter finds herself falling in love with a penniless dentist and about to abandon her mother's feminist ideals.
Sean McNall, Amelia Pedlow, Dan Daily (background) Photos by All Foote III
"You Never Can Tell" uses Shakespearean comedic techniques (mistaken identity, unknown parentage) to explore the conflict between traditional love and marriage, and modern, more egalitarian views on the subjects. In fact, that very wise waiter has been dubbed "William" because of his resemblance to the Bard.
The play has also been called a satire on Oscar Wilde's own tale of mistaken identity, "The Importance of Being Earnest." Only in Shaw's world, the rich can be a lot more sinister than merely lovable and foolish. Both the lightness and gravity of Shaw's approach can be seen in The Pearl Theatre Company's revival, the first in fifteen years.
"You Never Can Tell" takes place at the turn of the century when Victorian society found itself attacked by a host of radical political and social theories. Margaret Clandon (Robin Leslie Brown) has returned to England with her two daughters, Gloria (Amelia Pedlow) and Dolly (Emma Wisniewski), and son Philip (Ben Charles), after eighteen years of living in Madeira. The children are eager to find out who their absent father is, and Mrs. Clandon is equally eager to keep them in the dart - until a certain Fergus Crampton (Bradford Cover) shows up to claim his paternal rights.
The play is directed by David Staller, the founder/artistic director of Gingold Theatrical Group and a frequent international lecturer of all things Shaw. His thorough understanding of GBS is evident throughout.
Sean McNall, Ben Charles, Emma Wisniewski, Zachary Spicer, Dominic Cuskern photos by All Foote III.
In the first place, the cast is so perfect one hesitates to single out any one actor at the risk of slighting another. Nevertheless, one cannot help but mention the superb Brown, whose commanding gestures and supercilious tongue are riveting. Wisniewski and Charles are effective as the clownish younger siblings. And Dan Daily, despite the strength of his colleagues' performances, comes close to stealing the show as the very proper and perspicacious waiter who knows lots more than he's saying.
What's more, Harry Feiner has created a beautiful Victorian set that is both elegant and evocative of the times. And Barbara A Bell's costumes emphasize not only the era but also the characters' personalities and changing perspective. Thus Dolly and Philip sport whimsical and silly matching attire throughout, and Gloria exchanges her masculine suit and tie for a dazzling gown when she throws her lot in with her dentist, Mr. Valentine (the excellent Sean McNall).
Like all of Shaw's play, "You Never Can Tell" is the product of Victorian society and a mind shaped by it. And like most of Shaw's plays, it is saved from irrelevance today by Shaw's tremendous wit and the fact that people don't really change as much as we would like to believe they do. However, the task of making Shaw exciting to modern audiences becomes even smoother when the play is produced by such a talented group as the one gathered for The Pearl Theatre Company and the Gingold Theatrical Group's co-production of "You Never Can Tell."
---
"Shaw's "You Never Can Tell"
satirizes Victorian "modern" relationships
by Lucy Komisar
"You Never Can Tell."
Written by George Bernard Shaw, directed by David Staller.
Pearl Theatre, 555 West 42nd Street, New York City (at 11th Avenue)
(212) 563-9261, http://www.pearltheatre.org/
Opened Sept 15, 2013, closes October 13, 2013.

I wondered why the Pearl Theatre Company decided to stage George Bernard Shaw's "You Never Can Tell." Shaw (1856-1950), who wrote more than 60 plays, is known for trenchant political criticism of the economic and social systems of the London he inhabited. He was a socialist and a feminist, a free thinker. His plays skewer the hypocrisy and pompousness of British 1% society.
Robin Leslie Brown as Mrs Clandon. Photo Al Foote III.

Yet in spite of the requisite good social politics, this 1897 play about marriage and the relations between the sexes is a fluffy confection. It's part of a group called the "Plays Pleasant."
Then I learned that this is the final work in director David Staller's marathon staging of every Shaw play. Maybe Shaw was taking a rest from serious stuff. But even lesser Shaw can be diverting if it is given a good production, as it is here by the Pearl.

Mrs. Clandon (Robin Leslie Brown), having fled her husband 18 years before, is residing with her grown children Gloria (Amelia Pedlow), Phillip (Ben Charles) and Dolly (Emma Wisniewski) in a seaside village in England where they've just arrived after their years in Madeira. While on that Portuguese island, she had written a modern woman's best seller, the "Twentieth Century Treatises," which attacked
"a life in which husbands open their wives' letters and call on them to account for every farthing of their expenditure and every moment of their time; in which women do the same to their children; in which no room is private and no hour sacred; in which duty, obedience, affection, home, morality and religion are detestable tyrannies, and life is a vulgar round of punishments and lies, jealousy, suspicion."

That's the feminist Shaw speaking. But those assertions really don't anchor the play beyond suggesting why Mrs. Clandon left her husband.

The stage story begins when daughter Dolly goes to a beginning dentist, Valentine (Sean McNall), who pulls her tooth. Without gas. She tells him "It's your business to hurt people." Turns out she didn't have the 5 Shillings for the gas.
Sean McNall as Valentine, Emma Wisniewski as Dolly,P hoto Al Foote III.

McNall doesn't make him seem more than the jerk he might be. He will end up falling for Dolly's sister, Gloria (Amelia Pedlow), a modern women who evinces no interest in love and marriage. But Valentine is not given that name for nothing.

The children complain that they want to know who their father is. Their mother replies, "I have kept him out of your life: keep him now out of mine by never mentioning him to me again." But now that they are in England, she plans to have her solicitor finally inform them. Her meeting with the lawyer, Finch McComas (Dominic Cuskern), offers more opportunity for Shaw's feminism. McComas asks "…you are still ready to make speeches in public, in spite of your sex? To insist on a married woman's right to her own separate property? To champion Darwin's view of the 'origin of species', to read Huxley and George Eliot, and to demand University degrees, the opening of the professions, and the parliamentary franchise for women as well as men?"

Well, of course, and she has educated Gloria to take up her work.

He replies that times have changed, that "There is only one place in all of England where your opinions would still pass as shockingly advanced. … the theatre." A good dig by playwright Shaw at theatrical censorship, which he endured.

Meanwhile, Valentine also pulls the tooth of his landlord, who has broken it on a Brazil nut. Seems that's the way he always cracks nuts. And he brings him to lunch at the Clandons. The family has just been told by the solicitor that the landlord is the long estranged-husband and father, Fergus Crampton (Bradford Cover). Mrs. Clandon had changed the family name.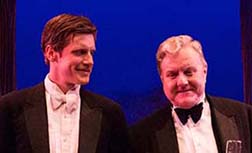 Zachary Spicer as Walter Bohun and Dan Daily as his
father the butler Walter Boon, Photo Al Foote III.

The most sensible person in the bunch appears to be the butler, Walter Boon (Dan Daily). He is a calming influence, and whenever something untoward happens, he intones, "You never can tell." Daily is smart and fresh in the role, "to the manor servant born," one might say.
The butler's son turns out to be a Queens Counsel who spells his name Walter Bohun (Zachary Spicer). The butler dropped the h because it was "Norman," which he thought not a good recommendation for a waiter at a seaside resort. The waiter tells Crampton, "where's the difference after all? If I must put on a dress coat to show what I am, sir, he must put on a wig and gown to show what he is. If my income is mostly tips, and there's a pretense that I don't get them, why, his income is mostly fees, sir; and I understand there's a pretense that he doesn't get them!"

In a display of social snobbery, Crampton is annoyed at the waiter entering the conversation. He says, "While he's a waiter it's his business to wait. If you had treated him as a waiter ought to be treated, he'd have held his tongue. His daughter Dolly rejoins, "What a loss that would have been! Perhaps he'll give us an introduction to his son and get us into London society." And her father declares, "London society! You're not fit for any society, child." The lunch is a disaster.
Sean McNall as Valentine, Amelia Pedlow as Gloria, Photo Al Foote III.
Crampton's efforts to reconcile with the children are unavailing. He couldn't be more retrograde. He tells Gloria he expects from his children "duty, affection, respect, obedience!"

She replies, "I obey nothing but my sense of what is right. I respect nothing that is not noble. That is my duty. As to affection, it is not within my control. I am not sure that I quite know what affection means."

He reminds her that as a child he let her come to his study and never said a word –except to tell her that she must sit still and not speak. And it goes on with Shaw skewering Victorian society. Gloria will tell Valentine, "I do not think the conditions of marriage at present are such as any self-respecting woman can accept."

There ensues a funny pas de deux, a satire of Valentine's attempt to entrap Gloria into love. He admits to Mrs. Clandon, "I learnt how to circumvent the Women's Rights woman before I was twenty-three: it's all been found out long ago. You see, my methods are thoroughly modern." It wouldn't have worked for an old-fashioned girl. Shaw shows the verbal courtship as a bit ridiculous.
Ben Charles as Philip and Emma Wisniewski as
Dolly, Photo Al Foote III.

So are the expectations of parents. Crampton challenges the separation agreement with his wife and says he wants custody of the two younger kids though he doesn't like their behavior or dress.

The Queens Counsel advises him, "You think you'd like to have your two youngest children to live with you. Well, you wouldn't…. You'd want this young lady here to give up dressing like a stage columbine in the evening and like a fashionable columbine in the morning. Well, she won't—ever."

In the end, a lot of social expectations are upended. As Shaw would says, "you never can tell."

Robin Leslie Brown is always ballast in any play. Charles and Wisniewski are good as Phillip and Dolly. Spicer makes a lively, challenging Queens Counsel. The sets by Harry Feiner are colorful and charming. Albeit not one of Shaw's best, "You Never Can Tell" is fun for those who want to see the master's entire oeuvre.

Visit Lucy Komisar's website http://thekomisarscoop/.