"Talley's Folly" is Charming, Subtly Sentimental Tale of Love
"Talley's Folly"
Written by Lanford Wilson,
Directed by Michael Wilson.
Roundabout Theatre Company at Laura Pels Theater,
111 West 46th St., New York City.
(212) 719-1300, http://roundabouttheatre.org.
Opened Mar 2013; closes May 5, 2013.
Reviewed by Lucy Komisar Mar 7, 2013.


Lanford Wilson's play is a sharp, funny, charming look at romance, with a bitter-sweet sauce. Its hero leaps over barriers of religion, age, and economic and social status. Just what New York theater-goers want. It's one of the best revivals of the season, directed by Michael Wilson with the right mix of humor and nostalgia.
The scene is an abandoned boat house. An old broken row boat is parked on one side, a Victrola with its iconic conical speaker sits on an old crate, and undefined debris is scattered around. The slats of the door are broken. Sea grass and willows push through broken siding. It appears that nobody has been here in years.
Danny Burstein as Matt, Sarah Paulson as Sally. Photo by Joan Marcus.
But that appearance would be deceiving. This is where two very unlikely would-be lovers (this is 1944) spent a few weeks getting to know each other and have returned to gingerly, tenderly, consider what those moments meant.
One of the erstwhile lovers is Matt Friedman (Danny Burstein), a 41 year-old Jewish accountant from St. Louis. With beard and brown suit, rimless glasses and suspenders, he is a bit shlumpy. He was born in Poland or Lithuania and refers to himself as a "Probable Lit." Members of his family were tortured and repressed by the French and Germans. Burstein is a delight as the comic, hyper-energetic, in-your-face guy. (I was about to say New Yorker.)
The lady he has traveled to a small Missouri town to pursue is Sally Talley (Sarah Paulson), a 31-year-old Protestant from an upper class family. She is a nurse's aid caring for the war wounded. She is attractive, with reddish blonde hair and a pretty light yellow dress. She wants to leave the narrow-minded family that now considers her an old maid. She remarks, "I'm a liberal Midwestern college graduate!" Paulson is a terrific opposite as the cool, reserved WASP with a sense of control.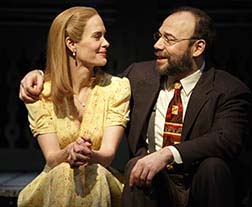 Sarah Paulson as Sally, Danny Burstein as Matt. Photo by Joan Marcus.
Matt had given up thoughts of ever finding a woman he could love. Sally had written off the chance of finding a man appropriate for marriage. And then…!
Matt met Sally the last summer when he came to Lebanon, Missouri on vacation. They spent seven days at the town band shell and in secret meetings in the boat house. He's back because he realizes he's in love and want to marry her. It's unusual that at that time, at their ages, neither is married.
Because this is Langford Wilson, there's a political context. Matt comments, "Once again we have been told the country has been saved by war."
Danny Burstein as Matt, Sarah Paulson as Sally. Photo by Joan Marcus.
But then the dialogue is more subtle. He says: "Now, you would think that in this remote wood, on this remote and unimportant, but sometimes capricious river, that world events would not touch this hidden place. But such is not the case. There is a house on the hill up there, and there is a family that is not at peace but in grave danger of prosperity. And there is a girl in the house on the hill up there who is a terrible embarrassment to her family because she remembers that old hope, and questions this new fortune, and questioning eyes are hard to come by nowadays. It's hard to use your peripheral vision when you're being led by the nose."
Ah, politics. Which is, of course, what makes this pay brilliant. Her parents call him a communist, a traitor, infidel. He reacts with comedy: A family sister-in-law is named Olive. He calls her "pickled herring" and "the relish tray." He notes that behind the screen door she is safe from mosquitoes and infidels. He is very Jewish-funny.
When he digs at the South, she protests it's not the South, it's Missouri. He says that outside New York City and isolated neighborhoods in Boston, the rest is "South." Sometimes he does a sophisticated imitation of Humphrey Bogart.
Matt has to persuade Sally that the dice have been rolled again, and they can be winners. So are we all. What could have been a sentimental older boy means older girl (well, 31 and 42 were old then) is not. It's sharp and funny and deservedly won a Pulitzer Prize.
Visit Lucy Komisar's website: The Komisar Scoop