"Love Goes to Press" skewers an unseen Hemingway in feminist romp
Heidi Armbruster as Annabelle Jones, Angela Pierce as Jane Mason. Photo by Richard Termine.
"Love Goes to Press"
Written by Martha Gellhorn & Virginia Cowles; directed by Jerry Ruiz.
Venue: Mint Theater, 311 West 43rd Street, New York
866-811-4111; http://minttheater.org/
Opened June 18, 2012; closes July 29, 2012
Reviewed by Lucy Komisar June 22, 2012.
This witty, pointed, clever play, which opened on Broadway in 1947, was written by Martha Gellhorn, ex-wife of Ernest Hemingway, and by Virginia Cowles. Both were journalists who had met covering the Spanish Civil War and then chronicled the Nazi assaults in Europe and North Africa. Their alter-egos, Jane Mason (Angela Pierce) and Annabelle Jones (Heidi Armbruster) have arrived at an Allied press camp near Naples in February 1944 to cover the campaign against German forces in Italy.
The production is a terrific feminist romp as the two very smart, ambitious women, as well as a singer who arrives to entertain the troops, show themselves more adroit, more gutsy and also more ethical than their male peers. The mood and big band music reminds one of a forties movie. The three are blonde and glamorous like the tough women who filled the screens in those days. Pierce and Armbruster, both charmers, are in the tradition of Katherine Hepburn, and Margot White is good as the shrill Daphne Rutherford, the visiting singer, who turns out to be smarter than she seems. Jerry Ruiz's fluid direction is filmic as well.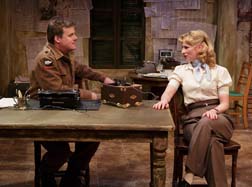 Bradford Cover as Major Philip Brooke-Jervaux, Angela Pierce as Jane Mason. Photo by Richard Termine.
The fun part is cataloging the Hemingway traits ascribed to the various male characters. The play is just this side of camp.
Major Philip Brooke-Jervaux (the fine Bradford Cover), the stodgy British public relations officer, wooing Jane, a reporter for the New York Bulletin, tells her how wonderful it will be when they are married and they can ride, hunt, fish and get up before dawn to wait in lake-side blinds to shoot ducks. He is a caricature of a male chauvinist. When Jane demurs about some of his plans and indicates what she wants to do, he declares, "You're mine now!" And, "You don't have to think of anything!" Or, "She's a dreadful woman. All she can think about is her silly career." Jane, of course, is the ultimate sophisticate. When he tells her that he lives in Yorkshire, in the country, she nods at the word country, "I love the Riviera."
Annabelle Jones of the San Francisco World has to deal with ex-husband Joe Rogers (Rob Breckenridge) of the competitive San Francisco Dispatch. In the past, he has stolen her stories, and now while pledging undying love and pleading for reconciliation, he cheats her out of covering a scoop by not passing on a crucial letter and taking the plane seat she had been granted. Hemingway did something comparable, though on a much larger scale, by acing Gellhorn out of her position as European war correspondent for the magazine Collier's. Breckenridge is good as the irascible Rogers.