Lucy Komisar

Michael Frayn's "Alphabetical Order" is appealing comic satire of newspaper life
"Alphabetical Order."
Written by Michael Frayn; directed by Carl Forsman.
Keen Company, at Theatre Row, 410 West 42ndStreet, New York City.
212-239-6200.
Opened Sept 28, 2010; closes Oct 23, 2010.
http://www.keencompany.org/.
Reviewed by Lucy Komisar Sept 25, 2010.
Michael Frayn's sprightly 1975 comical satire of newspaper life brought back some memories. "Alphabetical Order" takes place in the library (we called it the morgue) of a provincial paper. Mine was at "The New York Post." These were the days before computers, when librarians clipped the local papers and folded and filed the stories so reporters could get background on what they were writing. Hard to imagine such a horse and buggy system today!
In spite of the title, Frayn's newspaper library is anything but ordered, and filing by alphabet seems haphazard as well. But the ordered and disordered personalities that pass through among the piled high cabinets provide some comic pleasure as well as a gentle lesson about managing one's life.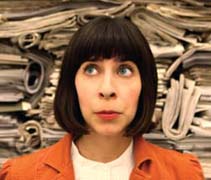 Audrey Lynn Weston as the new Assistant Librarian. Photo by Suzi Sadler.
When Lesley (Audrey Lynn Weston), the new assistant librarian arrives, she is appalled by a room in which file cabinets are open, folders are scattered around the room, cardboard boxes have clippings (the Brits call them cuttings) hanging over their sides. Weston quietly steals the show with a demeanor that must be described as exhibiting cryonic freezing before death; she embodies the rigor and commitment to rules of a drill sergeant.
John (William Connell), a slightly lackadaisical and lazy young reporter, immediately hits on her.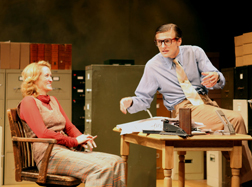 Angela Reed as Lucy the Librarian and William Connell as John the reporter. Photo by Suzi Sadler.

Lucy the laid back, muddled librarian (Angela Reed), who has been having a casual affair with him, exhibits neither jealousy nor authority complexes. She seems glad that someone is taking charge.
John and the other journalists who wander in and out of the room must have been characters Frayn knew. Some were certainly characters I knew.
Librarians and Reporters: Audrey Lynn Weston, Margaret Daly, Paul Molnar, Brad Bellamy, Angela Reed. Photo by Suzi Sadler.
Taciturn, cynical Arnold (Brad Bellamy), in his 50s, looks and moves like a plodding walrus; he has an ill wife he doesn't get along with. Nora (Margaret Daly), the features editor, has eyes for Arnold. Wally (Paul Molnar), pushing fifty, with mutton-chop sideburns, carries on loudly about planning to run away with Lucy. There's also a white-haired fellow, Goeffrey (John Windsor-Cunningham) who delivers the papers to be cut up.
There's a lot of running in and out of the room and carrying on, though no doors slam. Is anybody putting out that paper? How chaos is overcome is the surprise of the second act, so I won't give it away.
This was one of Frayn's earlier plays. He worked as a reporter for The Guardian and The Observer. But you see here a hint of his insight into character that comes full blown in works like "Democracy" and "Copenhagen," not to mention the fun of "Noises Off."
The acting team is agile and seems to enjoy working together. Director Carl Forsman, who has made the Keen Company an Off-Broadway staple, seasons the production with just the right mix of absurdity and reality.
The situations may be bizarre, but the characters show strengths and foibles (mostly foibles) you see every day. The play exhibits the talent we would see explode in Frayn's works in the decades that followed.