Lucy Komisar
"Million Dollar Quartet" channels 50s country-rock greats
"Million Dollar Quartet."
Book By Colin Escott and Floyd Mutrux; directed by Eric Schaeffer.
Nederlander Theatre 208 West 41st Street, New York City.
212-307-4100.
Opened April 11, 2010.
http://www.milliondollarquartetlive.com/.
Reviewed by Lucy Komisar April 10, 2010.
"Million Dollar Quartet" is hot on music and slight on story, the latter a chance 1956 gathering of country and rock innovators Elvis Presley, Johnny Cash, Carl Perkins and Jerry Lee Lewis at a Memphis recording studio. Fans will like the stars' doubles' performances of the songs that made them famous. And this jukebox musical jumps off the charts whenever Levi Kreis, who plays Jerry Lee Lewis, dominates the stage with his wild jazzy piano playing and furious rock lyrics.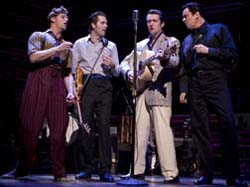 Levi Kreis, Robert Britton Lyons, Eddie Clendening and Lance Guest. Photo by Joan Marcus.
The idea is that Sam Phillips, who created Sun Records and launched major country, rock and R&B talents of the 50s, has arranged a recording session for John Perkins (Robert Britton Lyons), whose last records haven't done so well. Elvis Presley (Eddie Clendening), who has become a big success in Hollywood and on TV, is in town and calls to say he'll stop by. Phillips asks Johnny Cash (Lance Guest) to come over; he wants to sign him to another contract. Presley is 21, the others are in their mid-20s except Phillips who is 33. A fourth, Jerry Lee Lewis, 20, representing the young and hungry undiscovered talent the others had been, arrives to demand that Phillips take him on.
Jerry Lee Lewis, Carl Perkins, Elvis Presley, Johnny Cash and Marilyn Evans.
Phillips gets them to perform in solos and group jams and records it all. Later, he produces the record as the Million Dollar Quartet, the title inspired by a journalist's comment. A newspaper photo was made of the event, showing Lewis, Perkins, Presley, Cash and Presley's then girlfriend Marilyn Evans.
The story offers a vision of the cultural and economic origins of these country and rock singers – small town boys from the South, some from families of sharecroppers or with histories of prison. Needing the money, Phillips has sold Presley's contract to RCA. Will the others stay with Sam or answer the lure of the big-time record companies? But that's largely a frame on which to hang the songs, the performers' greatest hits. They were not all on the famous recording.
Levi Kreis, Elizabeth Stanley, Eddie Clendening, Hunter Foster, Lance Guest, Robert Britton Lyons. Photo by Joan Marcus.
Kreis does a brilliant "Great Balls of Fire" and some virtuoso piano playing, even stretching down to the keys from a position lying on his back across the spinet's top. Guest is excellent and very persuasive as the cool, mellow Cash. His "Folsom Prison Blues," "Sixteen Tons" and "I Walk the Line" could have been sung by the master himself. Clendening, doing "Memories Are Made of This," "That's All Right" and "Hound Dog," lacks some of the spark and sizzle that Elvis had, as I recall him. And Lyons' Perkins ("My Babe" and others) is a flat character, noisy and uninteresting. But I never heard Perkins, so that may be an accurate representation.
Hunter Foster is good as Sam Phillips, the small town impresario with big time stars. Elizabeth Stanley plays Dyanne, based on Marilyn Evans, a dancer who had gone out with Elvis when they both performed in Las Vegas and was visiting him in Memphis. Evans' voice is heard on the recording. In the play, she is a singer, and does a nice job with "Fever" and "I Hear You Knocking." The real Evans continued as a dancer, including 13 years as director of the Fresno Ballet.
I laughed when Phillips declares in frustration that maybe rock and roll won't last. "Hell, you got Congress passin' laws 'gainst it!" Well, rock lasted, and so did no-nothingism in Congress.