Lucy Komisar
"Clybourne Park" is a tart witty commentary on racism
"Clybourne Park"
Written by Bruce Norris; Directed by Pam MacKinnon.
Playwrights Horizons, 416 West 42nd Street, New York, NY.
Opened February 21, 2010; Closes March 21, 2010.
http://www.playwrightshorizons.org/mainstage.asp. 212-279-4200
Reviewed by Lucy Komisar February 19, 2010.
"CLYBOURNE PARK" -- Christina Kirk, Frank Wood. Photo by Joan Marcus.
About fifty years ago, a guy named Karl Lindner from the all-white Clybourne Park neighborhood in Chicago, visited the Youngers, a black family that was buying a house there. He carried the message of a community organization that they should live with their "own kind" and offers them cash if they stay away. But the family in Lorraine Hansbury's "Raisin in the Sun" is determined to move from the Southside to this better neighborhood, and they will.
Playwright Bruce Norris has given us a different look at Karl Lindner in his imaginative, tart and witty "Clybourne Park," which like Hansbury's play begins in 1959. We see the other side of the story from the house that is being sold by a white couple. Their friend Karl (Jeremy Shamos) is furious when he finds out the buyers are "coloreds." He offers to top their price.
Bev (Christina Kirk) and Russ (Frank Wood) are in their late 40s and still unnerved by the death in this house of their son, a Korean veteran. They're moving, Russ repeats, to be closer to his job. Boxes are piled around the plum couch and armchair, a rug is rolled up under a back table. Kirk and Wood are excellent as a couple who only half communicate yet somehow seemed wordlessly connected.
They are not wealthy or sophisticated. Norris has a subtle way of locating his characters by class. Russ travels vicariously, reading National Geographic and intoning "Ulan Bator." Bev doesn't know that Neapolitan refers to Naples.
Brendan Griffin, Jeremy Shamos. Photo by Joan Marcus.
Norris's pointed comedy, acted by a superb cast under the fast paced direction of Pam MacKinnon, plumbs the depths of racism to see how it's changed from the blatant late 50s to the more subtle present.
Norris picks the elements of prejudice that seem mundane but that weave the fabric of racism. Karl is a Rotarian, and Shamos plays him perfectly to exude an insular mentality.
Karl insists that "This is a progressive community." He explains, "If you take the case of Gelman's grocery: That's a fine example of how we've all embraced a different way of thinking." He acknowledges that there was "mistrust at first…but in the end of all Murray Gelman found a way to fit in."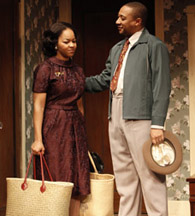 Damon Gupton, Crystal Dickinson. Photo by Joan Marcus.
In the ensuing conversation, Karl points out that Negroes don't ski. He insists that "for some reason, there is just something about the pastime of skiing that doesn't appeal to the Negro community. And feel free to prove me wrong." It means they're of a different class, they're not like them. Not, of course, that Russ and Bev ski.
Russ and Bev's maid Francine (Crystal Dickinson) and her husband Albert (Damon Gupton) become foils when Karl asks why they even would want to move into the neighborhood. "But, I mean, your preferred food items, would such things even be available at Gelman's?" and Albert rejoins, "Do they carry collards and pig feet?… 'Cuz I sho couldn't shop nowhere didn' sell no pig feet."
Christina Kirk, Jeremy Shamos, Annie Parisse, Brendan Griffin, Damon Gupton, Crystal Dickinson. Photo by Joan Marcus.
The white minister (Brendan Griffin) interjects that styles of worship in different neighborhoods really are different. Russ can't abide him. It's not clear where Russ's objection to the local racism comes from; perhaps he shares the guilt his son felt for having killed Korean civilians.
Okay, that was the bad ole fifties. Plus ça change. Fast forward 50 years to 2009. We're back in the same house. Now Clybourne Park is mostly black. Lena (Crystal Dickinson) and Kevin (Damon Gupton), a black couple who live there, as well as Tom (Brendan Griffin) representing the property-owners and Kathy (Christina Kirk), a lawyer, are meeting with Steve (Jeremy Shamos) and Lindsey (Annie Parisse). The white newcomers need local approval to build a house 15 feet higher than the adjacent buildings to replace this more modest structure they have bought. The neighborhood is being gentrified!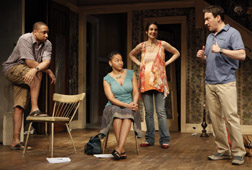 Damon Gupton, Crystal Dickinson, Annie Parisse, Jeremy Shamos. Photo by Joan Marcus.
Now they are all middle, even upper middle class. Everybody competes in recalling trips to Prague and beyond. Gelman's has been replaced by Whole Foods.
Damon Gutpon, Crystal Dickinson. Photo by Joan Marcus.
Still, the Karl character, now called Steve, thinks of himself as a liberal but is crudely racist. He interjects a remark about the one black kid he knew in high school who was on the 10th grade wrestling team. He tells a racist joke.
Kathy, the lawyer, turns out to be Karl's child in more ways than one and recalls when the neighborhood was German and Irish. After that, in the 70s and 80s there was "decline" and "trouble." Kirk switches brilliantly from portraying the nervous Bev to the laid back Kathy.
Decline for whom? Lena, whose aunt, a domestic worker who we will know as Mrs. Younger, saved to buy this house 50 years ago, is worried about the gentrification, suggesting that certain economic interests are served by the changes. "If you have a residential area, in direct proximity to downtown? …And if that area is occupied by a particular group?"
Norris only hints at what moneyed people could do to the neighborhood. But Norris's turnaround raises numerous issues, including the notion that race trumps class.