Lucy Komisar
"Guys and Dolls"
"Guys and Dolls."
Music & Lyrics, Frank Loesser, Book Jo Swerling & Abe Burrows
Directed by Des Mcanuff, choreographed by Sergio Trujillo.
Nederlander Theatre, 208 W. 41st Street.
212-307-4100; ticketmaster.com.
Opened March 1, 2009.
Reviewed by Lucy Komisar March 4, 2009.
http://www.guysanddollsbroadway.com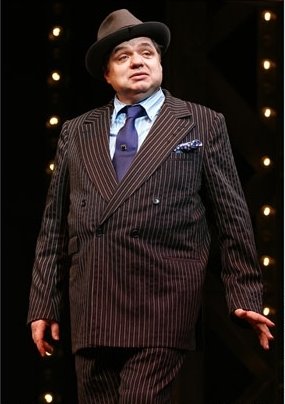 Oliver Platt as Nathan Detroit.
The score carries this sprightly if not perfect production of the classic 1950 musical comedy about a Salvation Army missionary who reforms a couple of hard-boiled but appealing gamblers.The book by Jo Swerling & Abe Burrows was based on "The Idyll of Miss Sarah Brown" and "Blood Pressure," two short stories by Damon Runyon, who gets stage credit via the opening scene of a writer typing "Broadway Stories" on an old Remington. We see a screen projection of letters typed on paper. I liked the conceit.
Guys and Dolls Company. Photo by Carol Rosegg.
Sarah Brown, the engaging Kate Jennings Grant, is out to save some souls. Nathan Detroit (Oliver Platt) is committed to finding a place to run his floating crap game for the night. And to deflecting the importuning of his 14-year fiancée Adelaide (the perky Lauren Graham) to finally get married. The gambler Sky Masterson (Craig Bierko) shows up from out of town and, ready to bet on anything, takes a wager from Detroit that he can't get the prim Sarah to fly to Havana for lunch.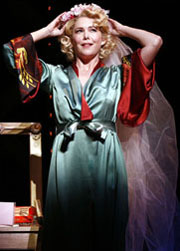 Lauren_Graham as Adelaide. Photo by Carol Rosegg.
But the show is less about the unlikely plot than the music and lyrics by Frank Loesser and the production numbers, directed with style and verve by Des Mcanuff. Graham's delivery of "Adelaide's Lament" – which explains how being put off by her fiancé for more than a decade, "a person could develop a cold" – is full of heart and charm and is the first show stopper. Grant displays a thrilling, luscious soprano in "I'll know (when my love comes along)" and "If I Were a Bell (I'd be ringing)."
Bierko, who has a fine baritone, does a smashing "Luck be a Lady Tonight" in the sewers where the low-life gamblers have repaired for their game. He smokes, he seethes; the dancers leap and twirl. There's more good choreography (by Sergio Trujillo) at a jazzy Havana dance club scene.
L-R: Kate Jennings Grant and Lauren Graham. Photo by Carol Rosegg.
Tituss Burgess as Nicely-Nicely Johnson seems rather milquetoast until he gets his hands around the smashing gospel number, "Sit Down, You're Rockin' the Boat." (Mary Testa steals that scene for a few moments with her panache and lungpower.) Graham and Grant sparkle again with the clever cynical duet, "Marry the Man Today (and change his ways tomorrow)."
This is a show where a lot of joy washes over the audience in spite of the fact that the songs are over-miked and the talk scenes between the numbers don't sparkle as much.
The major negative of the production is Oliver Platt as Nathan Detroit. A very fine actor in other productions, he can't sing and has adopted a rather odd accent that is supposed to be New Yorkese or Brooklyn, but turns out rather fey. He should listen to Graham's Adelaide or to Steve Rosen, who delivers a perfect caricature of the gambler and horseplayer Benny Southstreet.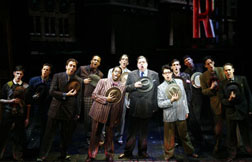 Oliver Platt as Nathan Detroit and Company in "Guys and Dolls." Photo by Carol Rosegg.
Adelaide's scene at the Hotbox Café, transformed from a dance club to a strip joint, is also a big mistake. Instead of dance, we get vulgar gyrations.
The set by Robert Brill, with videos by Dustin O'Neill, creates a design that pulls the audience into the action. Times Square's bright lights extend into the orchestra. Backdrop projections show the gray buildings of New York side streets, the elevated with a train in the station, and a long trip down into the depths of the sewers. (I could have done without the plane taking off for Havana.)
Welcome, you guys and dolls, back to Broadway!