Lucy Komisar
"The Cripple of Inishmaan" seeks love under mean-spirited cruelty.
"The Cripple of Inishmaan."
Produced by Atlantic Theater Company and the Druid Theater Company
Written by Martin McDonough, Directed by Garry Hynes.
Atlantic Theatre, 336 W. 20th Street, New York.
212-279-4200.
Opened December 21, 2008, closes March 15, 2009.
Reviewed by Lucy Komisar Feb 19, 2009.
http://www.atlantictheater.org/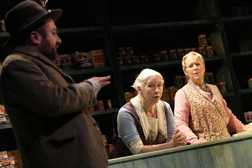 David Pearse, Marie Mullen, Dearbhla Molloy in 'The Cripple of Inishmaan,". Photo by Keith Pattison.
Could there be love under so much mean-spiritedness and cruelty? Was there something about this corner of rural Ireland that left so many inhabitants so bereft of human kindness? In Martin McDonagh's first rate dark comedy, "The Cripple of Inishmaan," Aaron Monaghan gives a bravura performance as "Cripple" Billy, who desperately wants to be valued for himself and not by his infirmity. But he must navigate the shoals of a town where most of those around him lack civility, much less compassion.
Playwright Martin McDonagh grew up in South London; his parents had come from Galway in the west of Ireland, and they took him back there for summers. McDonagh must have been both amused and appalled at the characters he met there, and the author of "The Beauty Queen of Leenane" has built a reputation on exaggerating their overweening heartlessness. This play was first performed in 1997 at the Royal National Theater in London.
Garry Hynes, the founder and director of Ireland's Druid Theater Company, stages the work with both toughness and sensitivity, backed up by a stellar cast that seems truly to live in the little village on the island of Inishmaan, off the west coast of Ireland. It is a very rewarding production.
It is 1934. Billy, 17, a young man with a twisted foot and a gnarled hand, has a bloated face with an expression that seems permanently hurt and quizzical.
Monaghan's ability to move on the side of his foot and keep his face in an unnatural pose is quite a physical feat. He has to switch good and bad legs each show to prevent injury. And he puts ice on the "crippled" foot at night.
Billy's heart and mind seem healthier than any of those around him. Who is really warped? Or crippled? He is seeking to find out how it was that in his infancy his parents died setting off in a boat at night without him.
He won't get the truth from two spacey sisters in their 60s, his "aunties" who raised him after his parents disappeared. He's told they fell overboard in rough seas trying to get to the mainland on the way to America. But "didn't they have a sackful of stones tied between themselves?" Hmm.
The sisters, who run a small grocery, never smile. They repeat their sentences incessantly, and Kate (the stone-faced Marie Mullen) occasionally talks to a rock. Francis O'Connor's set shows a small shop of half-stocked greenish wooden shelves seriously in need of paint. The women's lives are so isolated and boring that they pay the snooping, disagreeable JohnnyPateenMike (the excellent David Pearse) in eggs and peas to bring them gossip.
The townsfolk treat Billy with utter insensitivity. He is so lonely that he finds peace by sitting in green fields and staring at cows. Occasionally he will ask someone not to call him "Cripple" Billy. The countryside may be pretty, but the psychological landscape is bleak.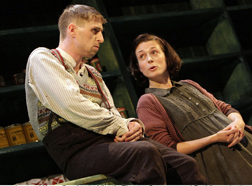 Aaron Monaghan and Kerry Condon in 'The Cripple of Inishmaan." Photo by Keith Pattison.
The meanest character is JohnnyPateenMike, who trades in peoples' personal tragedies and is trying to murder his aged mother with hard drink. Pearse, who seems to have his engine running all the time, peers through beady eyes and speaks as if everything he said was a run-on sentence.
Competing for the meanness title is the foul-mouthed Helen (a full-of-fury Kerry Condon), a violent 17-year-old troublemaker who takes cash from two feuding townsmen to kill each other's cat and goose with an axe. She explains that she threw eggs at the priest because he pinched her "arse" in choir. Condon speech is littered with curses, every other word being "feckin."
Billy, who is determined to create a normal life, tags along with Helen and her younger brother Bartley to the nearby Isle of Aran where an American director is making a documentary. Some lucky local will be picked to be in the movies, even taken back to Hollywood. Billy thinks of it as his chance to get away from Inishmaan.
Leave Ireland? A running gag is McDonagh's ribbing Irish nationalism. Bartley declares to his tyrannical sister: "Well there comes a time for every Irishman to take a stand against his oppressors." Telling him they are playing that she is England and he is Ireland, she smashes a couple of raw eggs on his head. Various characters proclaim that "Ireland mustn't be such a bad place, if colored fellas want to come to Ireland….[or]… if the Yanks want to come here to do their filming…. [or] … if French fellas want to live in Ireland…. [or]… if sharks want to come to Ireland."
McDonagh spins a tale full of surprises. As things develop, people are better or worse than they seemed. And the true story of Billy's parents' departure reveals both surprising cruelty and unexpected generosity.
#