| return to columnists page | go to other departments |

Eric Bentley receives Lifetime Achievement Award
by Koen Machielse
Eric Bentley received a Robert Chesley Foundation 2007 Gay and Lesbian Playwriting Award for Sustained Achievement on May 7th at the New School in Manhattan. The ceremony was held in conjunction with the annual Publishing Triangle Awards, which honor the best lesbian and gay fiction, non-fiction, and poetry published in 2006. Bentley, born September 14, 1916 in Bolton, Lancashire, England, is renowned for his work as a playwright, translator, editor and teacher.
He received the award in person and was introduced by Michael Paller, dramaturg and director of humanities at American Conservatory Theater.
Michael Peller introducing Eric Bentley. Photo by Koen Machielse.
In his speech, Paller introduced Mr. Bentley by referring to some of his plays such as "Are You Now, or have you ever been", "Lord Alfred's Lover" about Oscar Wilde and "The Recantation of Galileo Galilei." Coming to America in 1939 to study at Yale, he was a man with a sense that he was different from others. As an example, Paller described how Bentley took himself to the induction center for joining the army and fight in World War II. Asked by an army psychiatrist if the sight of a good-looking young man gave him an erection Bentley answered "not usually," which ended his military career. Bentley declared his homosexuality in 1969.
"A Century of Hero-Worship," "The Playwright as Thinker," "Bernard Shaw," "What is Theatre?," "The Life of the Drama," "Theatre of War," "Brecht Commentaries," and "Thinking about the Playwright" are among his most important books. He has also edited "The Importance Of Scrutiny" (1964) and "Thirty Years of Treason: Excerpts from Hearings Before the House Committee on Un-American Activities," 1938–1968 (1971). His most-produced play, "Are You Now Or Have You Ever Been," published in 1972, was based on these texts. Last, but not least, Bentley's translation of the works of Bertolt Brecht helped to introduce the German playwrights in the United States.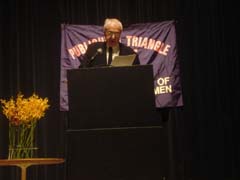 Eric Bentley during his acceptance speech. Photo by Koen Machielse.
In his acceptance speech, Bentley was ascending the New School podium for the second time. "I have an honory doctorate for my appearance on this platform," Bentley said. He stated that in the last forty years, society had made extraordinary progress toward equality for woman and gays of both sexes. Notwithstanding that progress, Bentley told the audience that not everything is "gay friendly" these days. The American President would, by a constitutional amendment, make gay marriage forever impossible, and the Chairman of the Joint Chiefs of Staff would, despite the shortage of troops in Iraq, never hire a gay soldier.
But not only the United States has a lot of work to do, according to Bentley. What about Saudi Arabia, where homosexual acts are still capital offenses? And what about Western Europe, which has recently had gigantic problems with immigration of Muslims? (Homosexuality is not allowed in Islam.) " For if Muslims become lethally intolerant of others, those who survive are going to be intolerant of Muslims," he stated. Bentley mentioned the Netherlands as a country that is not a gay paradise anymore. The murder of Dutch film director, television producer, publicist and actor Theo van Gogh on the streets of Amsterdam by Muslim extremist Mohammed Bouyeri proves that even this model European country is not as tolerant as it once was, he asserted.
Speaking as a Dutch citizen from Amsterdam, I am sorry to hear that some people think the Netherlands is not as tolerant is it once was. Yes, just like other countries, the Netherlands faced and faces difficulties with the integration of Muslim people. Yes,Theo van Gogh was murdered by a Muslim extremist as a result of his ongoing criticism of Islam, and his movie, "Submission," criticizes the way Muslim woman are treated. But his murder didn't make a whole country or city more or less tolerant toward gay people. The murder was an isolated event.
In fact, Amsterdam is still one of the gay capitals in the world. Two things that favor gay tourism are that most people in Amsterdam speak English very well (that's good for visitors from here, for example) and they have a tolerant attitude towards different lifestyles. Amsterdam has more than a hundred gay bars, discos, saunas, bookshops, video stores, restaurants and hotels, ranging from very classic to trendy. Since September 5, 1987, a Gay monument has been located in the center of Amsterdam, close to the Westerkerk and Anne Frank House, and since 1995, the Canal Parade has taken place on the first Saturday in August. It is an extravagant parade of hundred multi-colored, decorated boats sailing the canals of Amsterdam. With 250,000 spectators, this happening has become the most popular gay event in Europe. A survey done by INHolland University in 2006 showed that 70% of gay visitors were very positive about Amsterdam as a gay city. People especially mentioned equality and the city's open attitude. The percentage is unchanged since the year before the murder.
Paller traced the major events of Bentley's life as a lesson for gay artists, saying, "In 1969, he threw over this life as one of the handful of great theater critics in the English language...and left the security of Columbia to become a playwright and to live openly as a gay man. The two were not unrelated." Paller them drew a thematic line between Bentley's life and his plays. "To me, many of Eric's plays, including 'Are You Now and Have You Ever Been?,' his Oscar Wilde play called 'Lord Alfred's Lover,' 'From the Memoirs of Pontius Pilate' and 'The Recantation of Galileo Galilei,' the significant action is to recant, and then to recant that recantation. In 'Are You Now...,' several people are pressed, in effect, to recant their political convictions, and a bright line is drawn between those who do and those who stand firm. In his plays about Oscar Wilde and Galileo, a man under severe pressure recants a deeply-held belief in the hope that doing so will make his life more bearable. Instead, it makes it more unbearable. Finally, Wilde and Galileo recant their recantations to live as free men, although one does so in poverty and as a non-person to his former friends and peers, and the other under permanent house arrest.Whether I ought to or not, I can't help but connect this recanting of a recantation to Eric's life."
Paller recounted Bentley's public "very public coming out," saying, "In 1969, at an age when most of us are settling into comfortable ruts, he recorded an album of songs by Jacques Prevert and called it The Queen of Forty-Second Street." He summarized, "As a playwright, he looks into himself but reflects the world he lives in, and there has been little distinction between his art and his political convictions."
.
At the end of the evening, I noticed a young guy approached Bentley, who told him he was a former student of his classes. He wrote a book, he said, and wanted Bentley to read an advance copy. I'm not sure Bentley recognized the guy, but he graciously accepted the invitation. I appreciated his generosity.
In the same evening, an Emerging Playwright Award was bestowed on Chris Weikel, whose "Penny Penniworth" was produced in the 2003 FringeNYC Festival. Weikel's "Dansport" was featured in the Samuel French Festival of New American Plays in 2002. He is a founding member of the gay and lesbian theatre company TOSOS II and was a member of Emerging Artists Theatre Company (EAT) from 1999 to 2005. His plays have been produced by TOSOS II, the Emerging Artists Theatre Company (EAT), D-Stages and others. As an actor he has performed regionally at such theaters as Paper Mill Playhouse, GeVa Theatre, American Stage, Seaside Music Theater, Florida Stage, Sacramento Music Circus, and the New York State Theater Institute.