"A CHRISTMAS CAROL, OY! HANUKKAH, MERRY KWANZAA"
A Holiday Treat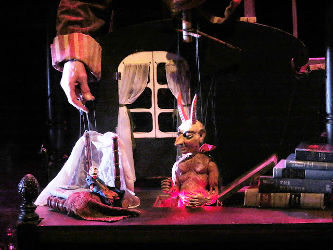 Scrooge is visited by Ghost of Christmas Present, played by an antique Czech Devil Marionette. Photo by Tatiana Ronderos.
December 5-14, 2014
La MaMa E.T.C. (The Club), 74A East Fourth Street
Presented by La MaMa E.T.C. in association with GOH Productions
Fridays @10:00 PM, Saturdays @ 2:00 PM &10:00 PM, Sundays @ 6:00 PM
$18 General Admission, $13 students and seniors.
Ten $10 tickets will be available to every performance on a first-come, first-served basis.
Box office (646) 430-5374, www.lamama.org
Reviewed by Kelly Aliano December 5, 2014
L-R: Bob Cratchit, Mrs. Cratchit, Tiny Tim with Christmas Goose. Photo by Tatiana Ronderos.
Charles Dickens' "A Christmas Carol" is one of the most beloved--and most commonly retold--holiday tales. Yet, every year, new artists take it upon themselves to put a new spin on it. One such version, "A Christmas Carol, Oy! Hanukkah, Merry Kwanzaa," currently at LaMaMa, is a perfect treat for this holiday season. The expert puppeteer and supporting singers turn this story into a relevant and delightful evening's entertainment.
Vit Horejs and Scrooge puppet. Photo by Line Krogh.
Despite its intermittent modern allusions and anachronistic cultural references, this is a fairly faithful rendering of the Dickens original. We meet Scrooge on a 19th century Christmas, feeling every bit as bah humbug as we have come to expect him to be. Of course, in this case, Scrooge is a miniature marionette, yet he has all the emotional depth and complexity of an actor ten times his age. The story, which might seem clichéd to some, rings true here, reflecting not just the 1800s of which Dickens wrote, but our complex and trying contemporary age.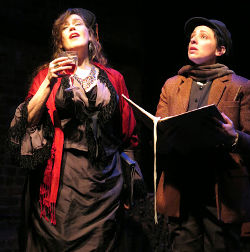 Czech, English, Hebrew & Swahili songs are performed by an "a capella monumentale" choir of Judith Barnes (L) and Hayden DeWitt (R). Photo by Line Krogh.
The puppetry is marvelous and these little dolls are expressive and exquisitely designed. Vít Horejš gives life to all of these tiny figures, making the stage seem fully populated with life. The scene is fleshed out with two singers, Judith Barnes and Hayden Dewitt, who fill the world of the play with traditional carols in both English and other languages. The performers do not shy away from the reality of the audience and add some fun metatheatrical touches.
Scrooge is visited by Ghost of Christmas Yet to Come, played by an antique Czech marionette. Photo by Line Krogh.
In general, the show is its most endearing when it focuses on "A Christmas Carol" or when it is celebrating in a traditional fashion. A scene opens with the lighting of a Chanukah menorah, which is particularly lovely. There are many laugh-out-loud moments, but, at times, the added humor seems a bit tacked on and unnecessary. Most of the play's hour-long production clips along, but some scenes do seem to drag and could benefit from a touch of editing.
All in all, though, "Christmas Carol" is exactly what an audience would want from a holiday show. It tells a familiar tale with an added twist, it reminds us about the spirit of the season, and it puts a smile on the face of even the scroogiest of spectators. There is no mention of Tiny Tim's most famous line, but the overall tone of the show makes everyone lucky enough to have seen it feel truly blessed indeed.