A New World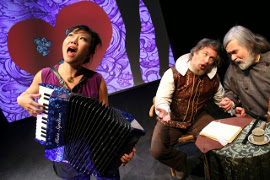 Susan Hwang, Bob Holman and Julian Kytasty in "Capt. John Smith Goes to Ukraine." Photo by Volodymyr Klyuzko.
Review: "Capt. John Smith Goes to Ukraine"
February 27-March 9, 2014
La MaMa E.T.C. (First Floor Theater), 74A East Fourth Street
Presented by La MaMa E.T.C. and Yara Arts Group.
Thursdays through Saturdays at 7:30 PM, Sundays at 2:30 PM
$18, $13 students/seniors
Box office (212) 475-7710, www.lamama.org
John Smith is someone who every American schoolchild feels he or she knows. We all saw the Disney film "Pocahontas" and know the stories of the Jamestown settlement. What Yara Arts Group accomplishes in "Capt. John Smith Goes to Ukraine" is to shed light on a lesser-known aspect of Smith's adventuring career: how he became a captain and his travels to Ukraine, before he ever helped found the Virginia colony. This at times extremely delightful musical-experimental work of theater gives its history lessons a much-needed makeover with fun, liveliness, and an accordion.
Although the play is based on specific historical events recorded in Smith's autobiography, those facts are not told as a linear narrative. Instead, the piece is constructed like a mosaic, collaging together traditional Ukrainian music, projections, humorous scenes and multi-lingual poetry. The effect this layering creates is like that of an artistic combine construct; meaning is made by how the elements are juxtaposed, not just the bits themselves. This structure is compelling and smart and makes what could be a dry history class into an entertaining romp.
All three performers are wonderful. Susan Hwang is particularly enjoyable to watch, with her fabulous characterizations and impressive accordion playing. Julian Kytasty adds gravity to each scene with his brilliant playing and singing, while Bob Holman engages the audience for the play's entire hour, making John Smith into a relatable, human individual.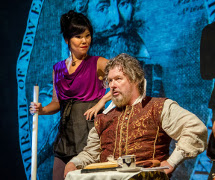 Susan Hwang and Bob Holman in "Capt. John Smith Goes to Ukraine." Photo by Victor Serbin.
The best scenes of this work use music and imagination along with clever projections to show something of the emotional effect of Smith's adventures. There are scenes that drag, however, especially an extended recitation in Ukrainian, which is a tad too alienating to lead the audience to deep intellectual contemplation. Yet, the play does not shy away from the political possibility of doing a play about Ukraine at this particular historical moment. Rather, they bring current events right into the world of this play, showing how what we know of what happened can help us understand that which is happening now.
Overall, "Capt. John Smith Goes to Ukraine" is a fun theatrical experience. The ending, in particular, is worth the price of admission. So set sail with Captain John Smith at La MaMa; he and this production will take you to a brand new world, one you'll be glad to have visited.