Flamenco Surprises from Rebeca Tomás
Rebeca Tomás and Company: "A Palo Seco"
Theater 80 St. Marks, 80 St. Marks Place, East Village
May 14-16, 2010
Reviewed by Jack Anderson, May 16, 2010
Rebeca Tomás in "Alegrias." Photos by Cathy Rocher.
Ordinarily, you do not expect the leading dancer in a Spanish flamenco program to begin a solo by sitting down at a piano and playing Beethoven's "Moonlight Sonata." Nor do you expect the musicians for such a program to launch into "Somewhere over the Rainbow." But all these things happened during Rebeca Tomás's "A Palo Seco," and the fact that they did was a sign that Tomás is seeking to develop flamenco in new ways.
Innovations in traditional dance forms, be they flamenco, tap, or classical ballet, can make purists uneasy and fear that great arts are being diluted or even debased. Just this March at the City Center, Maria Pagés raised some eyebrows when she combined flamenco with ballet in her "Soleá" for the Corella Ballet Castilla y Léon. But as long as traditional forms continue to be rigorously taught at their most traditional, purists need not worry about what happens to them on stage. Experimental new works are welcome in every dance form; otherwise, that form stagnates. Tomás and her company know their flamenco, yet they're willing to play with its conventions.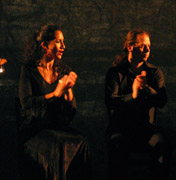 "Somewhere Over the Rainbow," sung by Barbára Martinez (L), sitting next to vocalist - percussionist Oscar Valero (R).
"Somewhere over the Rainbow" was only a jest added to a musical interlude. But Tomás's "Metamorphosis," the solo with the Beethoven, was a serious effort that might be described as flamenco modern dance. A former student at the Eastman School of Music, Tomás played the first movement of the sonata quite well, and then let its brooding emotions inspire her to rise and dance as Beethoven gave way to a recording of Regina Spektor's "Après Moi." Portraying someone undergoing an emotional crisis, she made jagged gestures as the long train of her skirt swirled about her. Then she cast off that skirt, revealing a simple costume that made the rapid gunfire of her footwork fully visible. The choreographically intense "Metamorphosis" may have flirted with melodrama, yet it always drew back from excess.
| | |
| --- | --- |
| | |
| Rebeca Tomás plays "Midnight Sonata" | ...which leads her into "Metamorphosis." |
Tomás and her other two dancers, Laura Castellano and Sol "La Argentinita," could also grow emotionally intense both alone and together, and their allegro steps were sharp and clear. Sol "La Argentinita" attracted special attention in a "Soleá," notable for its dynamic variety; here, she showed herself to be in full control of pauses as well as movements and that she was not afraid of taking all the time in the world before moving on to the next emotionally charged sequence.
Yet Tomás's dancers and the musicians directed by Pedro Cortés (vocalists, plus players of percussion and various stringed instruments, including violin) were particularly effective when they were playful. Thus, although Tomás could be imperious or seductive in bearing, she could also be capricious. There were many occasions when musicians and dancers gathered together in a comradely fashion spiced with touches of friendly rivalry like members of a jazz combo in a flamenco jam session.
| | |
| --- | --- |
| | |
| Rebeca Tomás, Laura Castellano and Sol "La Argentinita" in "Bulerias." | Musical ensemble directed by Pedro Cortés. |
During the finale, musicians as well as dancers danced, and no one cared if the musicians lumbered a bit: they all appeared to be having a grand time, as if cutting loose at a flamenco disco.
| lobby | search | home | cue-to-cue | discounts | welcome | film | dance | reviews |
| museums | NYTW mail | recordings | coupons | publications | classified |