Jack Anderson
Doug Varone Dreaming Awake
Doug Varone and Dancers
Joyce Theater, 175 Eighth Avenue at 19th Street, Chelsea
February 24-March 1, 2009
Tuesday and Wednesday at 7:30 p.m.,
Thursday and Friday at 8 p.m.,
Saturday at 2 and 8 p.m.,
Sunday at 2 and 7:30 p.m.; $45, $35, $19
Tickets: (212) 242-0800 or www.joyce.org
Reviewed by Jack Anderson, February 26, 2009
Doug Varone turned three dances into dreams fleshed out before our eyes. Although the figures in them had solid bodies, they moved with the speed and fluidity of phantoms, forming images that were often as vivid, transitory, and inscrutable as those in dreams.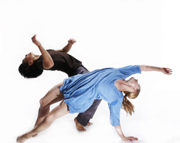 Eddie Taketa and Natalie Desch in Doug Varone's Alchemy. Photo by Phil Knott.
"Tomorrow" combined moody love songs by Reynaldo Hahn with choreography that transformed six dancers into various manifestations of romantic rapture, and the production's intensity was heightened by the live performances of Theodora Hanslowe, mezzo-soprano, and Dennis Giauque, pianist. Love both pained and exhilarated Varone's characters, often unexpectedly, and everyone appeared emotionally intoxicated.
"Lux" proved even more heady. As a moon steadily rose on the backdrop, eight dancers in black costumes by Liz Prince seemed moonstruck with enchantment as they surged forward to swirling music by Philip Glass, only to keep getting caught in whirlpools of circling movements that made "Lux" as exhilarating and dizzying as a dream of flying.
In contrast, "Alchemy," a New York premiere, was a harsh nightmarish vision to Steve Reich's clangorous "Daniel Variations." Music and dance were inspired by the fate of Daniel Pearl, the American journalist kidnapped and slain by Islamic extremists in Pakistan in 2002. Although Glass's score includes quotations from Pearl and from the biblical Book of Daniel, a text recounting many perils and bad dreams, there are no specific characterizations or narrative developments.
From L-R Daniel Charon, Alex Springer, Ryan Corriston, and Eddie Taketa. Photo by Phil Knott.
Yet Julia Burrer, Erin Owen, Netta Yerushalmy, and Natalie Desch at various times could have been prophets, mourners, comforters, or avenging furies, and Ryan Corriston, Daniel Charon, Alex Springer, and Eddie Taketa surely symbolized political prisoners held captive in a gloomy walled set by Timothy R. Mackabee. The men spent much time running with desperate intensity, their agitation occasionally crystallizing into horrific little scenes, as when they knelt as if awaiting beheading, or when limp swayings, during which each man raised an arm, suggested they were lynching victims dangling from trees. In another moment, people briefly appeared to scribble words on the air, perhaps a reference to the famous scene in Daniel in which a ghostly hand writes a message of doom on a wall.
Near the end of "Alchemy," men and women assumed poses implying states of courage and Jane Cox's lighting hinted that dawn was breaking over the prison. Such changes in "Alchemy" did not convincingly convey momentous alchemical political metamorphoses from leaden oppression to golden liberation. And, of course, none occurred in Pearl's actual case. Nevertheless, Varone did create a poignant tribute to all who must endure violence and persecution.