Jack Anderson
Chamber Ballet
New Chamber Ballet
City Center Studios, 130 West 56th Street, Midtown
February 7-8, 2009 (closed)
Reviewed by Jack Anderson, February 9, 2009

It's easy to like Miro Magloire's New Chamber Ballet. It's a tiny troupe: on this occasion, just four dancers, all women and all proficient. And they danced to fine music well played by Ariana Kim, violinist, and Melody Fader, piano. Everyone seemed at home in the Spartan environment: a bare room with folding chairs, no scenery, simple costumes by Candice Thompson, and bright white lights that, no matter what mood a ballet evoked, just kept burning on. This is a gallant group. No wonder you start liking it.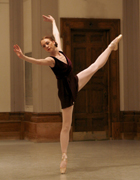 Elizabeth Brown, featured in Magloire's companyt. Photo by Kristin Lodoen Linder.
But you may soon wish you could like it more, for it never quite makes you willing to overlook the evening's restrictions. Magloire obviously loves music and devises nothing maladroit to it, yet his movement, though appropriate, never seems truly distinctive in its response to either the structure or the emotional content of the compositions.
For "Romantic Pieces," to some gorgeous pieces by Dvorak, the piano and the violinist were stationed downstage right, and three women skimmed, as if carried along on gusts of music. Although feet sped smoothly, arm movements were often angular, Magloire by these contrasts avoiding mere wafting about.
He plastered dancers against walls in his new "Monologue," to Morton Feldman, whose little blurbs and spurts of piano sounds prompted Elizabeth Brown to move downstage on a diagonal, her long legs ascending confidently into arabesques, while Emily SoRelle Adams and Madeline Deavenport tended to hover close to the walls.
The piano was shifted to center stage by Magloire himself for "Klavierstück," a ballet to Stockhausen that began with Adams and Emery LeCrone sitting beside Fader on the piano bench, obviously listening to the music and its insistent repeated chords. A musical pause and a change to a slow tempo prompted them to slump to the floor and then rise en pointe. Throughout the ballet they stayed near the piano, circling and hugging it as if bewitched by it, yet also occasionally moving away in possible declarations of independence. Magloire thereby ingeniously made the piano seem a character in this ballet, his most effective piece of the evening.
But his choreography in all of his ballets never fully took on a life of its own. Although seldom slavishly duplicating musical notes with dance steps, he still
remained so bound to his scores that his ballets failed to achieve a richness of either formal patterning or emotional content.
Hints of drama surfaced in "Viduity," by Constantine Baecher, an American dancer with the Royal Danish Ballet who was prompted by a Janacek sonata to create a dance about widowhood for four women in long black gowns who marched solemnly upstage with their backs to the audience, raising and extending their arms, often in unison. Although they eventually shed their skirts for simpler attire, the change in costuming did not signal a change in dramatic tone or theatrical impact.
Dancers of the chamber ballet. Photo by Kristin Lodoen Linder

Magloire surely wishes his company to affirm the virtues of simplicity. Yet he may be limiting himself unnecessarily. Simplicity need not suggest impoverishment. Back in the 1930's, London's Ballet Rambert worked choreographic and scenic wonders on a minuscule stage. Here in New York, Diana Byer's New York Theatre Ballet has been conjuring up its own little marvels in recent years.
As a concept, "chamber ballet" is quite suggestive. Sensitive choreographers and their collaborators can let tiny spaces, small casts, and limited technical resources inspire productions of great intensity and subtle detail. There are possibilities in chamber ballet Magloire has yet to explore, possibilities which, if realized, might make his company's offerings seem not just likeable, but memorable.