Jack Anderson
Blue Bird Takes Flight
Witness Relocation
"The Blue Bird," by Mikuni Yanaihara; translated by Aya Ogawa and Kameron Steele
Clemente Soto Velez Cultural and Educational Center Inc., 107 Suffolk Street, Lower East Side
January 7-24, 2009
Wednesdays through Saturdays at 7:30 p.m.; $18, $12 students
Tickets: (212) 868-4444 or www.smarttix.com
Reviewed by Jack Anderson, January 19, 2009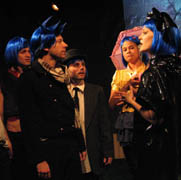 L-R: Sam Pinkleton, Orion Paraban, Joe Baker, Damaris Webb, Laine Rettme in "The Blue Bird."
"The Blue Bird," produced by Witness Relocation, is one of those wacky concoctions that cause you to stare at the stage, slightly befuddled, and ask yourself, "What are these people doing that for?" Then you wonder, "What on earth will they do next?" And when they do it, you think, "So what else is new?" Something always is. Eventually, you may also ask, "What's the point of all this?" There's surely a point of some kind, but theatergoers may start arguing over whether the production is really making it.
Witness Relocation delights in unusual mixtures of dance and theater. This one, directed and choreographed by Dan Safer, had sets and lighting by Jay Ryan, costumes by Laura Berlin Stinger, videos and projections by Kaz Phillips, original music by Nihiti, and sound by Ryan Maeker; the result was a rough-and-tumble ruckus.
Scientists dance a Ladybug Dance. Foreground: Laine Rettmer. Behind: Orion Taraban, Mike Mikos.
Its source was a contemporary Japanese play by Mikuni Yanaihara, partly inspired by a Japanese Anime series by Hiroshi Sasagawa which, in turn, derived from "The Blue Bird," Maurice Maeterlinck's 1908 fairy-tale play about a search for happiness. The Maeterlinck has inspired several film versions, including a silent one of 1918 by Maurice Tourneur, brought back by the Film Society of Lincoln Center to this year's Dance on Camera Festival, and a much later sound remake by Gene Markey starring Shirley Temple, which I supposedly saw as a small child, but which has vanished from my memory. Many years later, my mother told me I screamed through it from beginning to end. As sources, the various "Blue Birds" (minus my screaming) prompted Witness Relocation to create some surprising theatrical sights.
Before the show itself began, the audience could watch performers with blue hair (and some with white facial makeup, as well), wandering across the stage batting blue balloons about. Then stuff started happening. Lots of it.
Animal Dance: Wil Petre (in horse mask), Orion Taraban (in pig mask).
People wearing animal masks bounded in, stared at the audience, and launched into a chorus-line routine. Many more followed, one with dancers holding
fans with Japanese faces on them. A commentator remarked that birds are vanishing from the world and scientists are looking for the last blue bird, whereupon the performers collapsed, but not for long. Running hither and thither like scientists in lab coats, they started discussing dogs and cats and, leaping at one another, they even fought about the merits of these beasts. A decision was made that there was a need for pet research.
Videos depicted creatures appearing and disappearing. A live woman (Abigail Browde) writhed miming the death agonies of a ladybug. After a video showed creatures gathered at what looked like a trendy bar, live performers prepared to conduct an expedition in search of a wild cat. Three people babbled simultaneously about rehearsals, and the cast gathered for a chorus routine imitating ladybugs. A bear, played by Randy Thompson, stuck apples into everyone's mouth. But one apple had a bug in it, which led to discussions about the plight of the stag beetle and speculations about whether it might be justifiable to exterminate some lives for the sake of restoring an entire ecosystem.
So things went on for about an hour and twenty minutes, and it was all quite lively. But, early in the show, a character had asked, "What does this have to do with anything?" A good question.
The cast performed with unrelieved gusto, delighting in the action's nonsense. However, unlike some Surrealist or Dadaist works, gleeful incoherence for its own sake did not seem to be the production's point: there were too many references to ecology, the environment, and species extinction. Yet, although Witness Relocation deserves credit for avoiding numbing didacticism, it was hard to discern just what the troupe's specific message was. Its "Blue Bird" kept flying off into theatrical absurdity.